Samsung today announced that it has started mass production of 128GB DDR4 modules built using 'through silicon via' (TSV) technology. This is an industry first at this capacity; Samsung introduced the world's first 3D TSV DDR4 DRAM (64GB) back in 2014. It is claimed that the new memory modules represent both a breakthrough in capacity and in energy efficiency.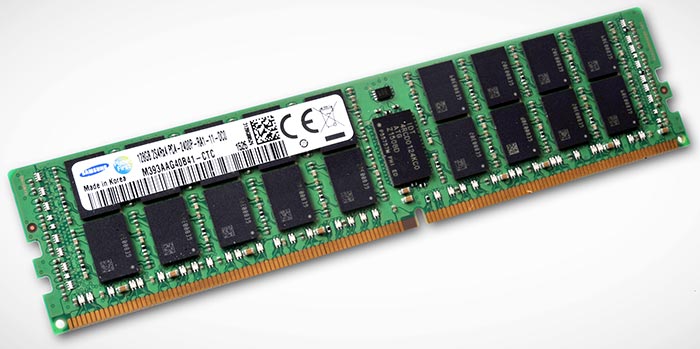 The new RAM modules are aimed at enterprise servers and data centres. Joo Sun Choi, executive VP, Memory Sales and Marketing, Samsung Electronics summed up the attractiveness of the new 128GB modules, "our high speed, low-power 128GB TSV DRAM module will enable our global IT customers and partners to launch a new generation of enterprise solutions with dramatically improved efficiency and scalability for their investment."
TSV advanced circuitry connects the chip components using "hundreds of fine holes and vertically connected by electrodes passing through the holes, allowing for a significant boost in signal transmission," instead of traditional wire bonding, explains Samsung. A single 128GB TSV DDR4 RDIMM is composed of 144x DDR4 chips, arranged into 36x 4GB DRAM packages, each containing 4x 8Gb chips built on Samsung's 20nm process. Enhancing Samsung's design further, a master chip on each 4GB package embeds the data buffer function to optimise module performance and power consumption.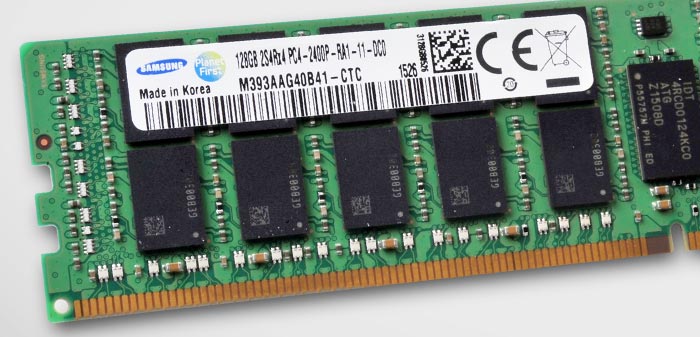 Samsung claims server performance can be enhanced with the new 128GB modules facilitating data transfer speeds up to 2,400Mbps – that's nearly twice the performance of servers using 64GB LRDIMMs. Furthermore power savings of up to 50 per cent result can be enjoyed thanks to the energy efficiency of the new modules.
TSV DRAM technology will continue to be pushed at Samsung with the firm aiming to bring out new modules with data transfer speeds of up to 2,667Mbps and 3,200Mbps to facilitate enterprise server performance enhancements. Samsung intends to bring TSV tech into high bandwidth memory (HBM) and consumer products too.