AMD really pushed the boat out yesterday with its launch of the Ryzen 3000 desktop processors, Radeon RX 5700 family of graphics cards, and its X570 chipset. HEXUS has its first Ryzen 3000 processor pairing reviewed already, in the form of the AMD Ryzen 9 3900X and Ryzen 7 3700X, with more to come of course. Our first Radeon RX 5700 XT and RX 5700 review is up too, for the reference models, with AiB partner designed cards following up in a few weeks. Last but not least, the editors are working testing a good selection of x570 motherboards to be published in the coming days/weeks.
While readers wait for our motherboard reviews to land it is worthwhile having a look at what motherboards have become available on day 1. For ease of reference I will be looking and comparing X570 motherboards from the big three; Asus, Gigabyte and MSI that are listed as in-stock in the UK, via our friends at Scan Computers in Bolton. There was a bit of worry about X570 chipset motherboards being quite expensive, and there are indeed some expensive options, but buyers will have lots of choice of capable products from about the £180 level all the way up to £725… Nicely Scan has a built-in compare function so you can pick any of the boards mentioned in this roundup and compare them side-by-side.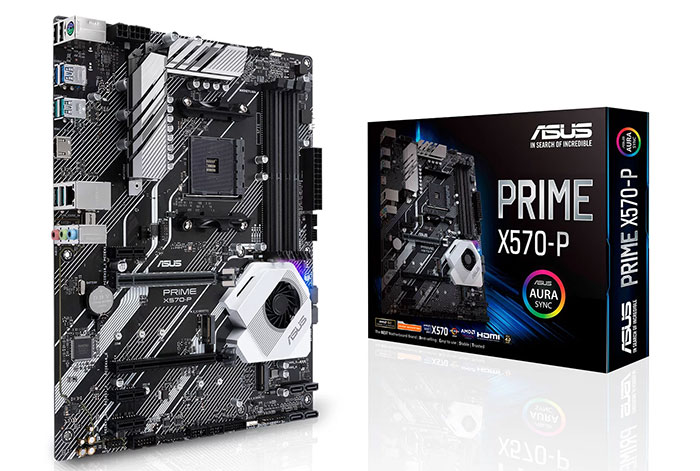 Starting from a little over £180, Scan is offering the MSI X570-A Pro (£181), the Gigabyte X570 Gaming X (£185) and the Asus Prime X570-P. If you are familiar with these manufacturers' boards and naming schemes from prior chipsets you will know these are no-frills motherboards

Looking through the comparative specs of the above they are all very similar, as one might expect. Choosing between these ATX motherboards might depend on your previous brand experience. I noticed the MSI and Asus boards used the superior ALC S1200A 7.1 HD Audio chip. On the other hand, the Gigabyte had space for two M.2 22-110mm devices (others had one slot limited to 80mm).
Moving up a notch I found a cluster of MSI, Gigabyte and Asus boards jostling around the £260 to £270 mark. For this extra outlay you will find you can choose between the MSI MPG X570 Gaming Pro Carbon Wi-Fi (£258), the Gigabyte X570 Aorus Pro (£269), and the Asus ROG Strix X570-F Gaming (£269).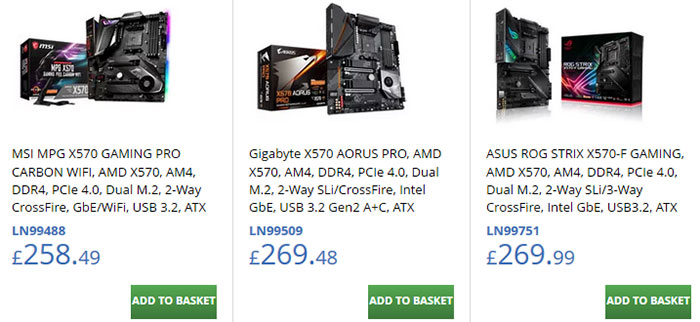 Common features of the above were more power phases in the VRM solutions, more advanced thermal design and monitoring, onboard RGB lighting, a Realtek ALC1220 audio chip, plus more connectors for USB, fans and so on. In favour of the MSI is the Intel Wi-Fi 6 AX200 (ax WiFi, BT5) fitted to the M.2 Key E slot. Only the Asus supports 3-way CrossFire and includes two on-board graphics connectors (HDMI 2.0b and D 1.2) - if those features are of interest to you.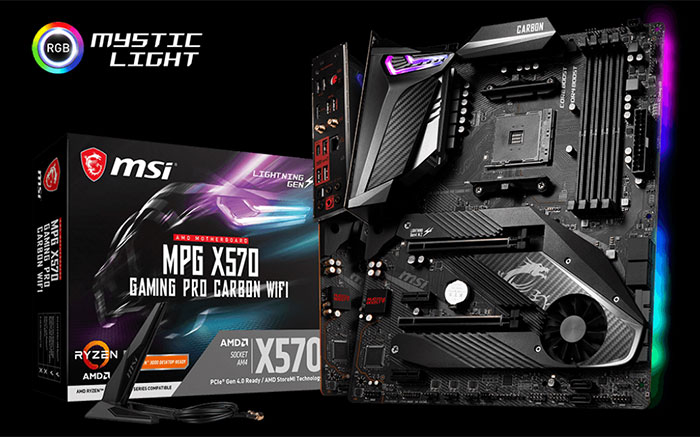 Moving on up to the premium priced boards we see that Scan has four AMD X570 motherboards that blast past the £500 mark. Only one is listed as available right now, the MSI MEG X570 Godlike (£725). If you follow that official MSI product page link you will find that this premium board offers features such as a 14+4+1 phases IR digital VRM, triple Lightning Gen4 x4 M.2 slots, MSI's best cooling/heatsink tech, an isolated Xtreme Audio DAC (still uses the ALC S1200A), Dual Killer fueled LAN & WIFI 6 extender, Pre-installed I/O Shielding, plus Mystic Light Infinity II.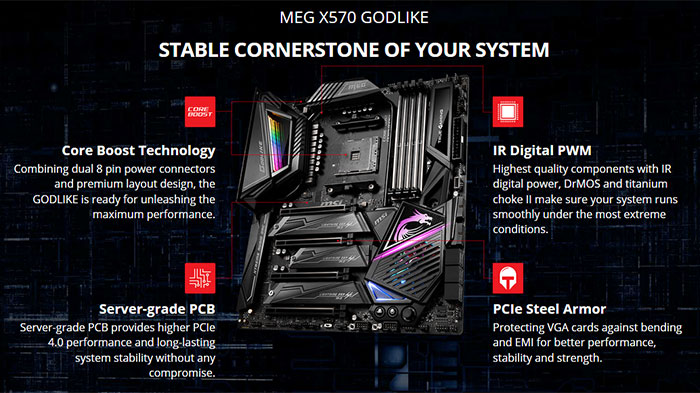 If you are interested in a MicroATX or Mini-ITX build, Scan only has such boards listed for pre-order at the time of writing. The only MicroATX board listed as coming up is the ASRock X570M Pro4 (£212). And the cute Gigabyte X570 I Aorus Pro Wi-Fi (£230) might appeal if you want an ultra-compact but powerful computer system (pictured below).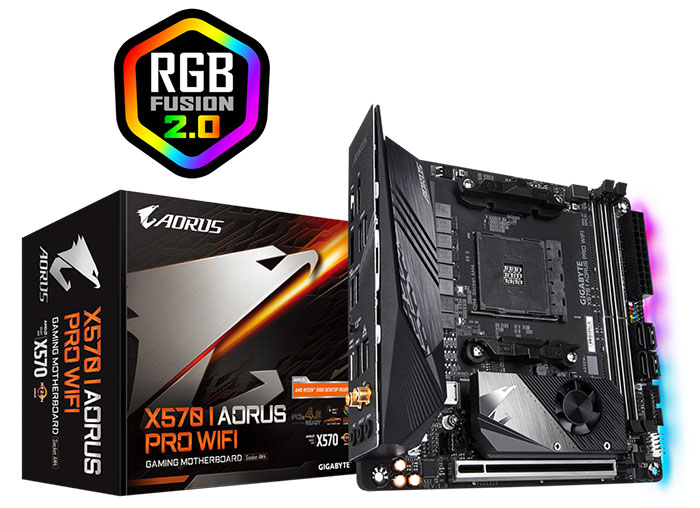 Please stay tuned for more AMD X570 news and reviews.