EK Water Blocks and InWin have collaborated to create the new EK-Classic InWin 303EK - Black. You won't be surprised that the partners have produced a stylish PC chassis infused with EK's leading liquid cooling technology. The question is did the pair produce something demonstrating synergy and will this be the start of a successful partnership? EK certainly thinks so, calling the new case one of a kind on the market and "really special".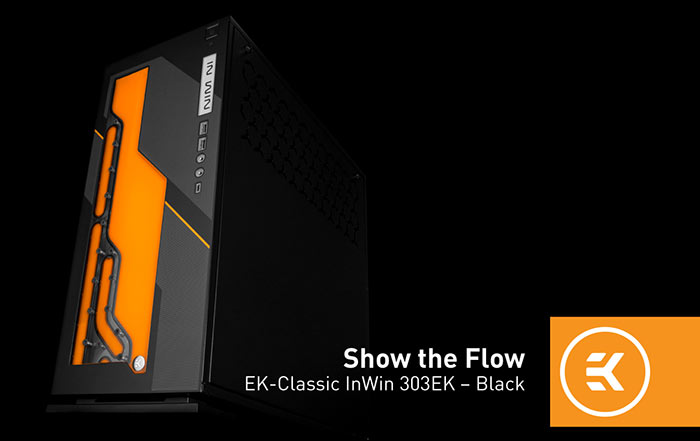 The InWin 303 is one of the firm's more reasonably priced and accessibly styled creations. It was launched as a 'premium affordable' mid-tower ATX case back in May 2016 (and it is still available for about £100 or less). Later the same year Nvidia thought the 303 good enough to lend its branding in a collaborative limited edition effort.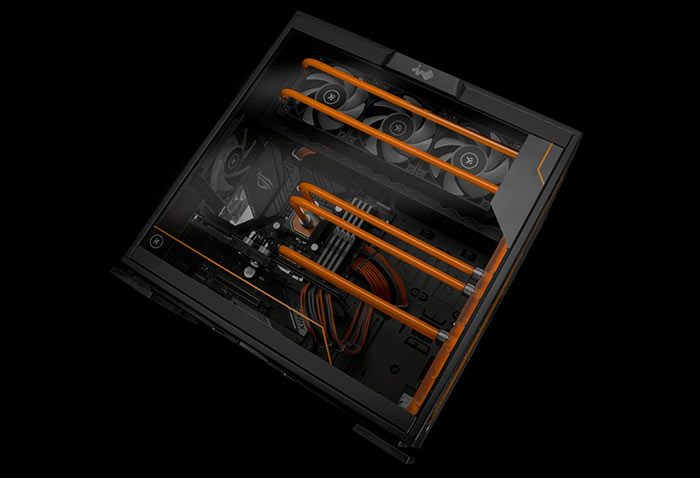 The new EK-Classic InWin 303EK – Black of course keeps the solid foundation of the popular 303 and says it has produced a "true one stop shop" chassis for those wishing to build a refined liquid cooled PC system. EK asserts that "this is the only mass-produced case that is specifically re-designed and modified to seamlessly integrate the coolant distribution plate equipped with a powerful DDC pump".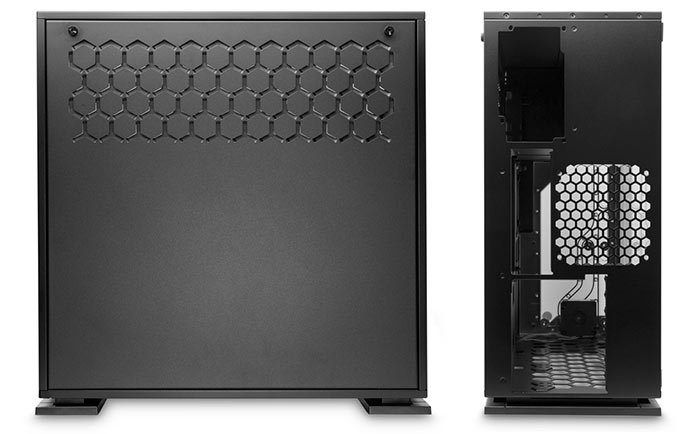 Building up this system from the ground up will require "little to no bending of the tubing," traditionally encountered in such a task says EK. The pre-installed pump and reservoir have multiple industry-standard G1/4-inch threaded inlet and outlets ready to support one CPU, up to 2x GPUs and a top mounted radiator.
EK-Classic InWin 303EK - Black specs
Technical Specifications of the case:
Model name: InWin 303EK
Dimensions (W x D x H): 215 x 487 x 480 mm
Colour: Black
Tempered Glass Panel: Yes
Power Supply Compatibility: ATX12V Length up to 200mm
Motherboard Compatibility: ATX, Micro-ATX, Mini-ITX
Maximum GPU Length: 350mm
Maximum GPU Width: 160mm
Fan and Radiator Compatibility:
1 x 120mm Rear Fan / 120mm Radiator
3 x 120mm Top Fan / 360mm SE or PE Radiator
3 x 120mm Bottom Fan / 360mm SE Radiator
Pump Technical Specifications:
Dimensions (W x D x H): 63 x 68 x 55 mm
Motor: Electronically commuted ball bearing motor
Rated voltage: 12V DC
Power consumption: 18W
Maximum head pressure: up to 5.2m
Maximum flow rate: up to 1000 L/h
Maximum liquid temperature: 60°C
Materials: Stainless steel, PPS-GF40, EPDM O-rings, graphite
Power connector: 4-Pin Molex- and 4-Pin PWM FAN connector
Xylem original model name: DDC-3.25 TPPWM4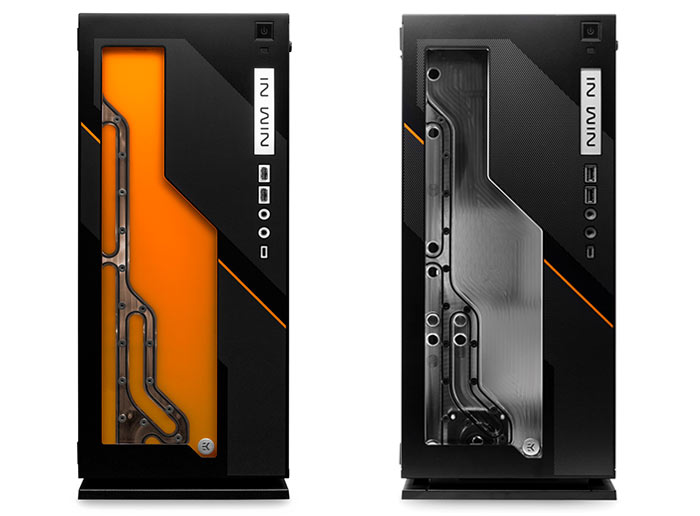 EK says that the EK-Classic InWin 303EK - Black will start to become available from 11th January next year though you can pre-order it today. Its MSRP is €339.90 but there appears to be a Black Friday sale on at the moment nudging the price down to €308.48. Please check the EK promotions page before ordering to make sure you get any discounts and freebies on offer.