Innovative and left field chassis specialist In Win has introduced a new PC gaming chassis today. The In Win 303 is constructed from 1.2mm SECC steel and 3mm tempered glass, but this 'premium' constructed chassis comes with an affordable price tag, according to its makers. The overall look is minimal except for a single neon strip along the upper right of the front panel which displays the In Win logo and lights up the array of easy access ports.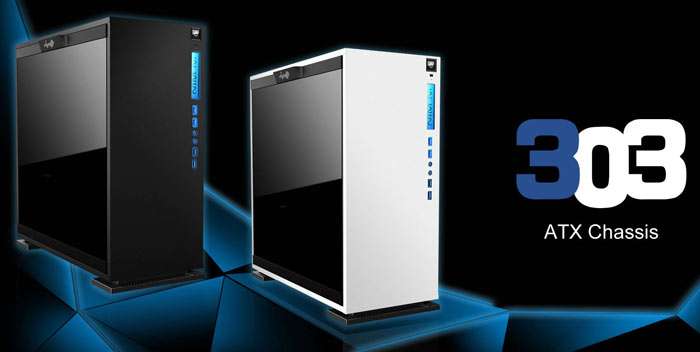 In Win says the design of the 303 chassis follows and "exquisitely modest aesthetic". However, its modesty can't be helped by the full pane tempered glass on the left side displaying all your throbbing LED-equipped components. Thankfully, if modestly really is your aim, In Win can provide a closed panel, with thumbscrews, rather than the tool-less glass option.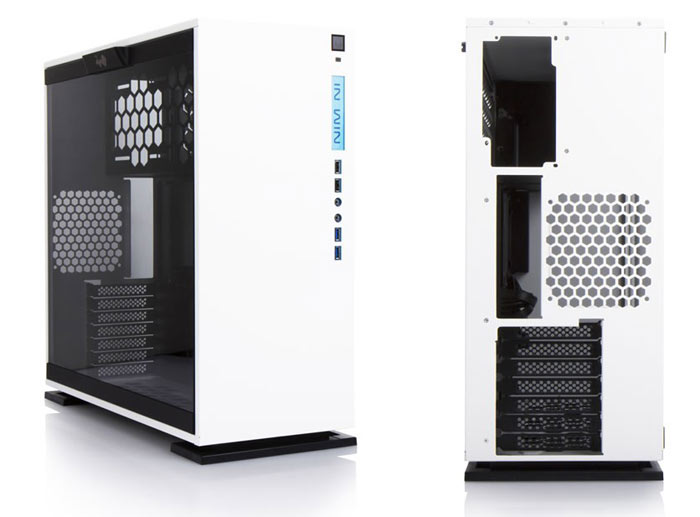 The chassis is a large mid-tower design measuring 500mm x 215mm x 480mm and weighing 10.9Kg. System builders can fit ATX, Micro-ATX, Mini-ITX motherboards with up to 7x expansion slots. For storage you can fit 2x 3.5-inch drives and 2x 2.5-inch drives, with a maximum of 3 drive bays fitted. Cooling is versatile, with fittings for fans at the bottom, back and top of the chassis as well as liquid cooling radiators up to 360mm in length and 70mm thick. Maximum compatibility is as follows; a CPU heatsink height of 160mm, a graphics card length of 350mm, and a PSU length of 300mm.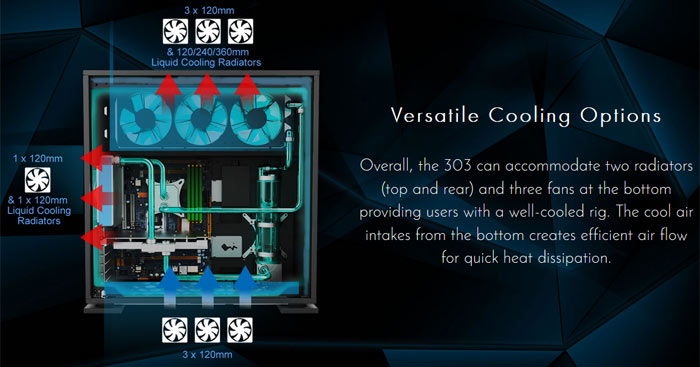 In Win boasts of its attention to detail with this chassis design and puts forward as examples the construction quality, the separated PSU chamber, and the thoughtful 'GPU holder' mechanism for longer graphics cards.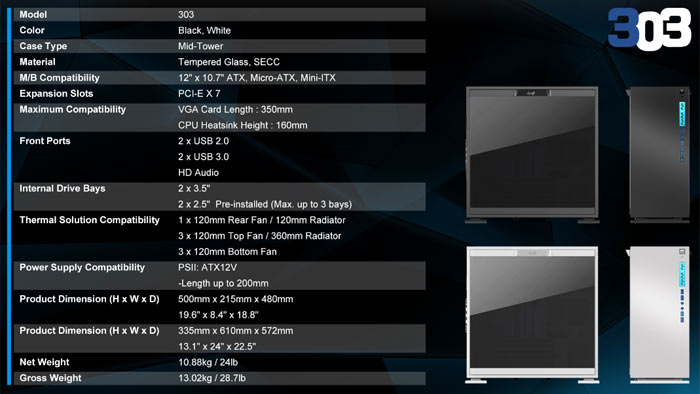 The In Win 303 will be available in black or white versions with the option of a solid or transparent side panel. Front connectivity includes USB 3.0 (2x), USB 2.0 (2x) and 3.5mm stereo HD audio jacks situated beneath the power button and In Win logo. We haven't been supplied with availability details, or with any pricing indications to back up the 'affordable' claims.