be quiet! had some interesting new products to show us in Las Vegas. In an appropriately subdued and modest suite the German PC components designer ahead information with HEXUS about upcoming chassis, coolers and fans which will reach retail later in 2019.
The first product highlighted by Martin Pajenkamp from be quiet! was the Dark Base 700 White Edition. Of course, this chassis is based upon the HEXUS Editor's Choice winning Dark Base 700 but brings a few, mostly cosmetic, tweaks to the design. Pajenkamp stated that the original chassis is still going strong and no need has been seen to implement any technical changes. It still includes Silent Wings 3 fans front and back, invertable motherboard layout, and sophisticated fan controller on-board.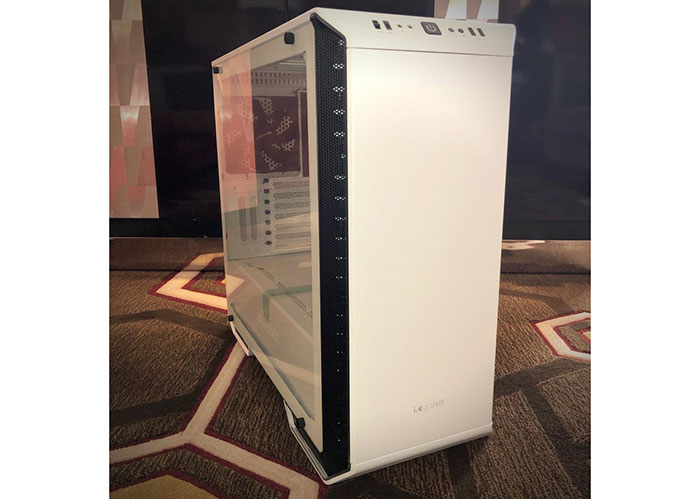 The first change that you might notice, apart from the overall whiteness of the chassis, is a clear colourless side window, rather than a tinted version. Nicely, the aluminium limited edition number plate comes separate in the box, so you can place it where you wish - if you decide to use it at all. be quiet! said that the Dark Base 700 white will be limited to 3,000 units.
On the topic of white PC components, the components designer will also be selling its Shadow Wings 2 fans in white. Yes, the black versions aren't even out yet, they will be released in a few weeks, and the white versions (not limited edition) will follow in Q2 this year.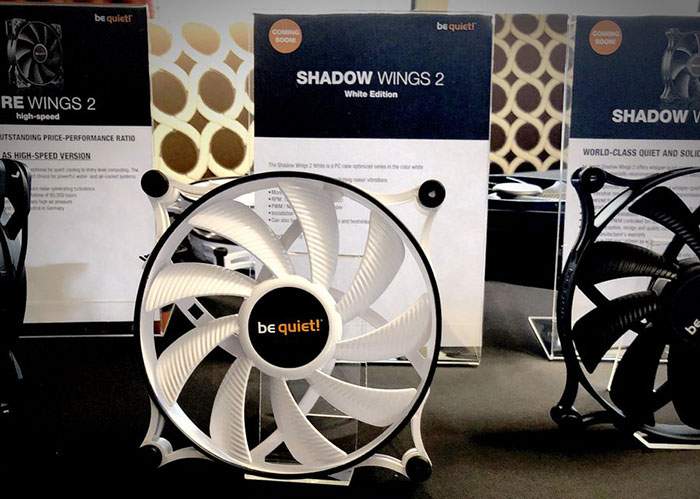 Tech specs of the original Shadow Wings successors include a refinement of the RPM response and rubber vibration-dampening components. The max noise output of a new Shadow Wings 2 fan will be 15.9dB. Expect similar mid-range pricing to the current Shadow Wings lineup.
Loading...
Been waiting a while?
Get Flash
to see this player.
Martin Pajenkamp from be quiet! at the CES 2019
The final product highlighted by be quiet! at CES 2019 was the Dark Rock Slim - shown to be considerably slimmer than the DarkRock Pro 4 which was reviewed by HEXUS last April. Pajenkamp explains that the new design responds to criticism about the Dark Rock 4 getting in the way of various RGB memory module designs and potential clearance issues for tall RAM modules.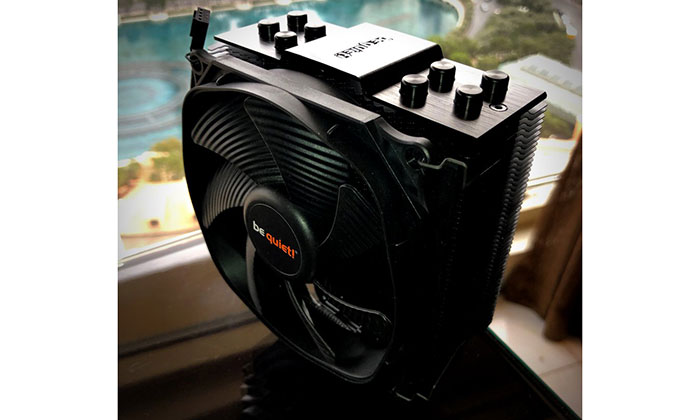 Naturally the new Dark Rock Slim has a reduced 180W TPD max cooling capacity (down from the Dark Rock 4's 200W, and the Pro's 250W). The new Dark Rock Slim, equipped with a Silent Wings 3 fan, will be sold at approx 50 Euros from Q2 this year.