Software and Summary
The KM780 can be used as a plug-and-play solution, but given the array of functions, you'll want to install the accompanying software to make the most of what's on offer. The lightweight Windows utility, current at version 0.81, is available to download from the G.Skill website and weighs in at under 50MB.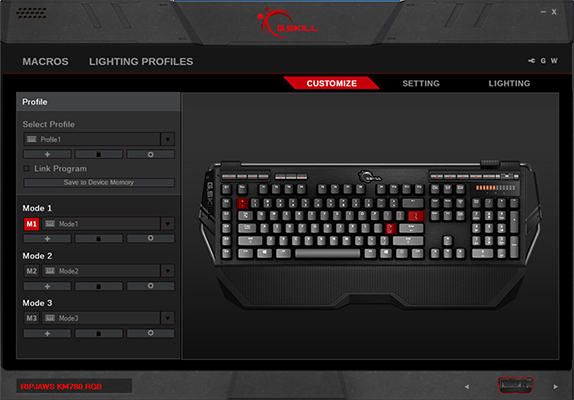 Look familiar? That would be because the utility looks almost identical to the one bundled with the MX780 mouse. They're so similar, in fact, that you could be mistaken into thinking that one piece of software covers both peripherals. That's sadly not the case, as owners of both devices will need to install each individual utility, resulting in two separate apps and two tray icons.
Much like the mouse, G.Skill's keyboard software is best described as serviceable but not class leading. The interface feels utilitarian and lacks the extra level of polish available from competitors, though that's not through a lack of effort. v0.81 is G.Skill's fifth release in the space of three months, so updates and improvements do appear to be frequent.
Creating macros is easy enough, as is reprogramming any of the individual keys, and we do like the fact that G.Skill has added one or two unexpected extras. We've already mentioned the timer - which can activate a lighting effect after a period of time - but there's also a sleep function, whereby the keyboard can be configured to light up however you see fit after a period of inactivity.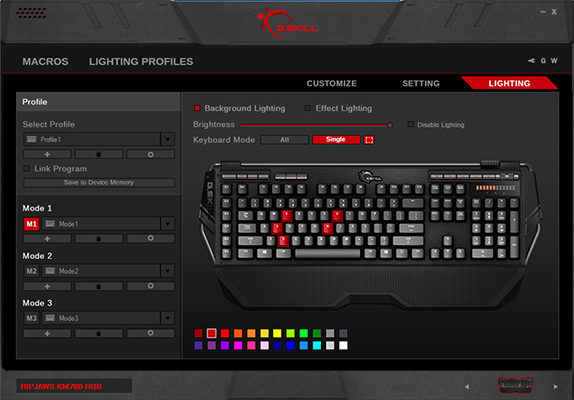 The catch is that the software isn't the most intuitive, and when you do make a change, it will at times take a moment for the settings to save. Onboard memory does alleviate the need to return to the software on a frequent basis, yet what's most likely to frustrate would-be buyers is the fact that the lighting customisation options aren't as comprehensive as those on offer from the likes of Corsair and Razer.
Users can select a colour for each mechanical key, or choose a lighting effect for the whole keyboard. The illumination is bright and the effects do catch the eye, but the level of fine tuning isn't as high as we'd hoped and there's nothing quite as fancy and dynamic as Razer's Chroma Workshop.
This is a software limitation, mind, and G.Skill will most probably close the gap with future updates, but there are a couple of hardware limitations to be aware of, too. The top row of non-mechanical keys can only illuminate in red, which totally puts a dampener on any effects you've created, and while the RGB keys offer millions of colour combinations, they struggle to achieve a true white as there's a subtle hint of pink.
Conclusion
...G.Skill understands that price needs to be competitive, and at $130 the KM780 undercuts many RGB competitors while offering a healthy number of functions.

G.Skill has made a steady entry into the world of PC gaming peripherals. Following on from the MX780 mouse, the KM780 RGB keyboard continues much of the good work through capable hardware, sturdy build quality and an array of features that gamers should appreciate.

As a relative newcomer in this space, G.Skill understands that price needs to be competitive, and at $130 the KM780 undercuts many RGB competitors while offering a healthy number of functions. Chief among these are multimedia shortcuts, dedicated macro keys, and both audio and USB passthrough.

Having RGB-illuminated mechanical keys should be the icing on the cake, but G.Skill's implementation in this area leaves something to be desired. The inability to change the colour of the non-mechanical top row is a genuine bugbear, and if dazzling illumination is high on your list of priorities, it's worth noting that G.Skill's software isn't yet as capable as the competition. As such, the KM780 RGB doesn't quite feel like the finished article, but if you can live without a rainbow of colour, the standard KM780, at $90, seems a safe bet.

The Good

The Bad

RGB effects do look cool
Sturdy build quality
Audio and USB passthrough
Dedicated multimedia keys
Competitive pricing

Top keys aren't RGB backlit
Software still needs work




G.Skill Ripjaws KM780




HEXUS.where2buy*

The G.Skill Ripjaws KM780 mechanical gaming keyboard is available to purchase from Newegg.

HEXUS.right2reply

At HEXUS, we invite the companies whose products we test to comment on our articles. If any company representatives for the products reviewed choose to respond, we'll publish their commentary here verbatim.