Meet G.Skill's Gaming Keyboard
Anybody who's anybody in the PC industry seems to want their slice of the gaming-peripheral pie. It's a seemingly lucrative market, and G.Skill staked its claim late last year with the launch of keyboards, mice and headsets under the established 'Ripjaws' brand.
The Taiwanese firm is best known for producing high-performance memory, yet on first inspection G.Skill's peripherals show promise. We came away reasonably impressed with the Ripjaws MX780 mouse back in November, and forum reader plexabit summed it up quite nicely in half a dozen words: "for $50 bucks, this ain't bad."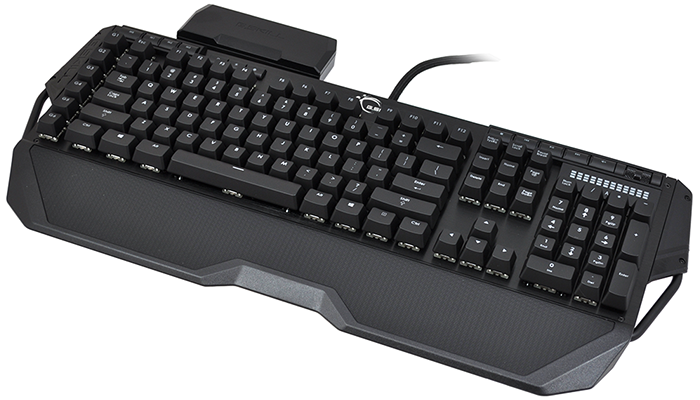 But mice are relatively easy, aren't they? Keyboards are arguably the trickier part of the puzzle, so we're following-up to see if the above-pictured Ripjaws KM780 RGB is as competent as the aforementioned mouse.
First, the important details. G.Skill offers the KM780 in half-a-dozen configurations. You can choose between standard and RGB models - the latter offer per-key illumination courtesy of Cherry MX RGB switches that were once exclusive to Corsair - and each variant is available with either Blue, Brown or Red key switches.
Plenty of choice, and G.Skill comes in aggressive on price. Right now, the standard KM780 is available for $90 in the US, while the premium KM780 RGB fetches $130. How about this side of the pond? Well, UK availability hasn't yet materialised, but G.Skill tells us to expect the KM780 to appear at popular retailers by the end of the month.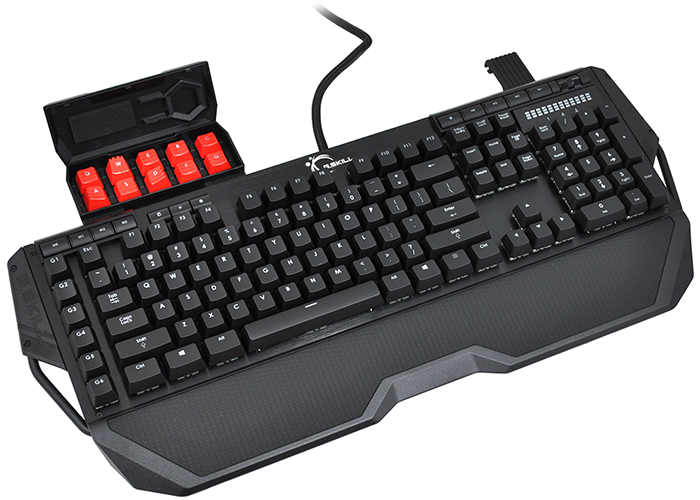 What are you getting for your money? Lots of bells and whistles, from the looks of things. G.Skill has sent in the KM780 RGB with Cherry MX Brown switches and it's a meaty unit, measuring 518mm wide and 172mm deep, or 228mm with the clip-on palm rest. The size bodes well for users who mix gaming with productivity, but for gaming purists, the large profile could be a drawback as it pushes your mouse further from the action.
Don't turn away just yet, mind, as G.Skill isn't short on gamer-specific features. See the little clip-on box attached to the top of the keyboard? That houses a key-removal tool as well as 10 heavily-contoured keycaps specifically for gaming in the WASD region, and if you're wondering what that little hook is on the top-right corner, it's for securing your mouse cable.
There are potentially useful additions among the keys, too. G.Skill has a column of six dedicated macro keys on the left of the keyboard, and the shallow keys along the top-left edge provide a choice of three profiles, as well as shortcuts for Windows key lock, backlight toggle and timer. The latter, configurable via the accompanying software, can be used to trigger a specific light effect after a user-defined period of time has elapsed. Useful for keeping tabs on a skill cooldown? Perhaps, but it's also handy for remembering not to let your cup of tea go cold.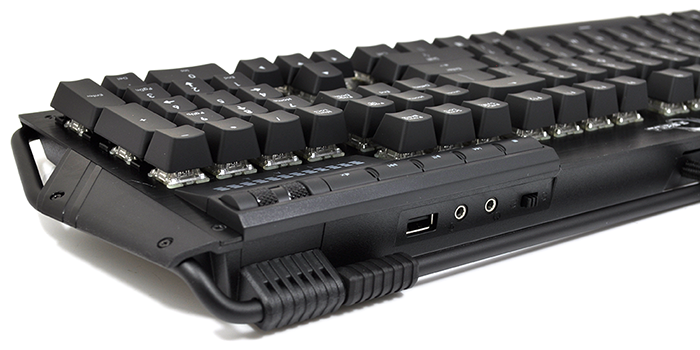 At the opposite end of the board, G.Skill has squeezed in five dedicated media keys as well as a volume roller that looks and feels awfully familiar to the dial seen on Corsair keyboards. Come to think of it, G.Skill's aluminium top plate also has shades of Corsair, though that's no bad thing.
We like the fact that the volume roller is accompanied by LEDs in an equaliser-type layout, provide at-a-glance volume information, but there is one rather obvious caveat: these shallow keys, and indeed the volume display, can only be backlit in one colour: red. That's a shame as it detracts from the KM780 RGB's otherwise flexible array of colour combinations.
Around back, G.Skill has included a USB 2.0 hub for connecting your mouse or another peripheral, and there are also audio jacks for hooking-up a headset. Handy, though do bear in mind this means a little more cabling from the keyboard - the KM780's braided cable branches off into four connectors and will occupy two USB ports, as well as line-out and microphone jacks.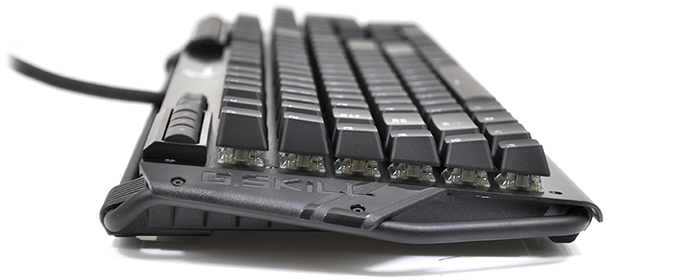 In use, the keyboard feels comfortable for the most part, with one or two minor caveats. We found the angular tip of the palm rest less ideal than those that taper off, and the single-height Enter key can be off-putting, though we suspect the latter may change on UK boards.
It's also interesting to note that G.Skill has widened the size of the Ctrl, Windows and Alt keys along the bottom row, making the Spacebar slightly smaller than we would normally expect. Build quality is robust throughout with rubber pads helping prevent unwanted movement, though there aren't rubber tips on the optional raised feet - kick them into the action and the top half of the keyboard doesn't feel as well glued to the desk.
There are a few hardware tweaks that we'd like to see in a second-generation model, but G.Skill has managed to bring together a good array of features at a competitive price. The Cherry MX Brown switches offer the feel you'd expect - i.e. mechanical without the noisy click - and per-key backlighting can be a whole lot of fun.