Most PC gamers will be aware that Rockstar will release Red Dead Redemption 2 for PC today. Following shortly after the announcement that the game would actually be released on the platform of choice for most HEXUS readers (early October), we got to check out the PC minimum and recommended specs, and now within a month, the game will be available to play. On the PC you can run it in 4K, HDR, across multiple monitors, at the fastest frame rates available.
Red Dead Redemption 2 PC unlocks at 3pm today in the UK. Other notable timezone release times are; 8am EST (New York etc), 5am PST (LA etc), and 12am AEDT (Australia on 6th Nov). In case you are wondering - this equates to a simultaneous unlock time worldwide. Those interested in playing today will have to buy Read Dead Redemption 2 PC via Rockstar's own shop / launcher or via the Epic Games Store. Steam devotees will need to wait until December.
As usual for the biggest AAA games releases on PC, both AMD and Nvidia have lined up games ready driver packages with optimisations in place to make sure the new game runs as fluidly, and prettily, as it can at this early stage.
AMD Radeon Software Adrenalin 2019 Edition 19.11.1 has support for Read Dead Redemption 2 PC listed as its solitary highlight. This driver is also of interest to those seeking improved Vulkan API support. A number of fixes come along with this update too, players of The Outer Worlds will be pleased with AMD quashing of an application crash source, and a fix for incorrectly rendered characters on the inventory screen.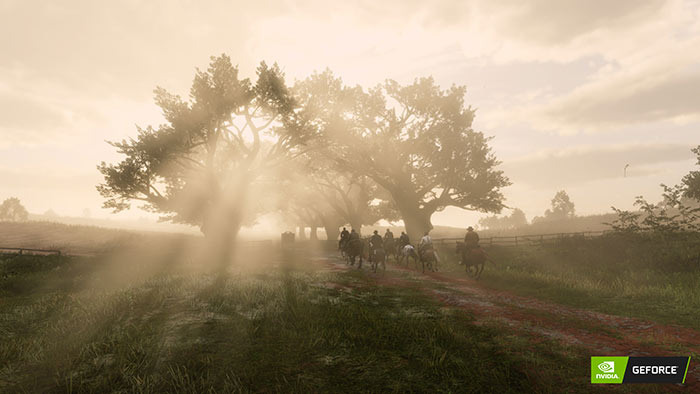 Nvidia's GeForce Game Ready 441.12 WHQL drivers have a few more attractions. As well as day-one support for Red Dead Redemption 2 and Need For Speed Heat, this release enables G-Sync Compatible support on LG's 2019 B9, C9 and E9 4K OLED TVs (as mentioned in the news recently).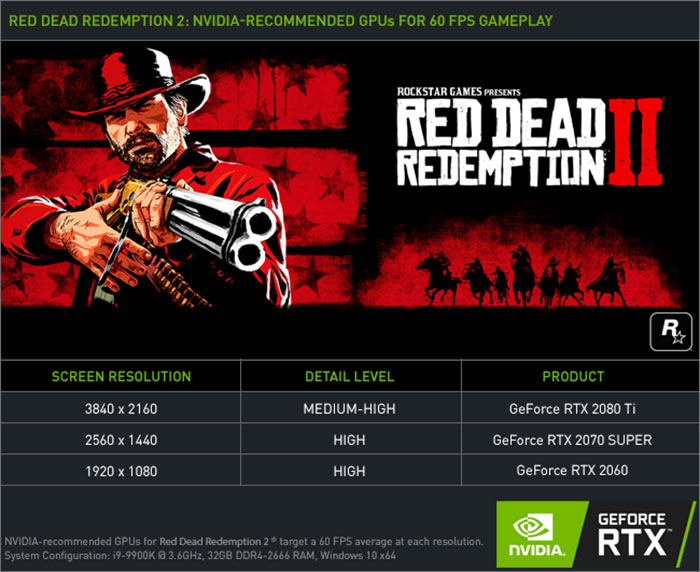 Handily, Nvidia published a separate article looking at which of its graphics cards are required for smooth and detailed 60fps performance. You can see a summary of that info in the graphic above. No, this game doesn't feature any real-time ray tracing effects.