Shadow of the Tomb Raider was one of a handful of AAA titles which was highlighted and featured during the launch of the Nvidia GeForce RTX rage of graphics cards. HEXUS reported upon the release of the first RTX gaming technology videos the day after the launch, when they were shared by Nvidia and partners on YouTube. Those videos, released back in August, included previews from Battlefield V, Metro Exodus, Control, Atomic Heart, and of course Shadow of the Tomb Raider. Now, at long last, the Shadow of the Tomb Raider game on PC has been updated to support Nvidia's raytraced shadows, and DLSS technology.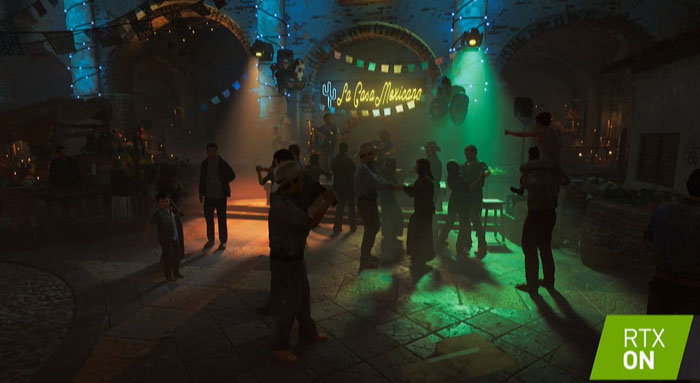 You can find the game patch and release notes available on Steam, and the update should auto-apply if you open up the Steam client then fire up the game. Before you run the updated game you might want to check you have the latest version of the GeForce graphics driver, for optimal performance.
In summary you will need the following to get Shadow of the Tomb Raider running, with RTX shadows and DLSS applied:
Window 10 update 1809 or higher
Nvidia's RTX 20- series GPU
Nvidia's latest drivers 419.35 and up.
With the above conditions satisfied, in game you will be able to set the raytraced shadow quality from medium to high to ultra, and adjust DLSS settings, among many other graphics quality options. TechPowerUp has already tested the full range of GeForce RTX graphics cards in Shadow of the Tomb Raider and usefully compares image quality and performance over several pages in a special feature it has published. Interestingly, TPU concludes that the raytraced shadows feel simply like an additional high-end quality setting rather than a game-transforming addition. The frame rate performance hit for turning on raytraced shadows is somewhere between a 30 and 50 per cent reduction.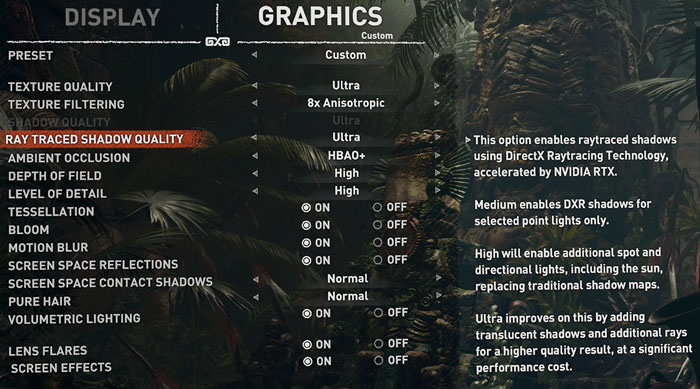 Remember, next month, after Nvidia releases a new graphics driver, those with GeForce GTX 1060 graphics cards and better will also be able to test out the raytracing facilities in this game. However, without the specialised RT cores, turning 'RTX On' on your GTX card might not be advisable for optimal gameplay.