Nvidia's CEO Jensen Huang presented many innovations in a keynote speech at GDC yesterday evening. If you head on over to the Nvidia news blog you can find stories about accelerated data science, GPUs powering Amazon Web Services, machine learning, 3D design collaboration tools, robotics, and automotive. Thankfully there was some good news for PC gamers and enthusiasts too, especially to do with Nvidia's real-time raytracing technology being available on more GPUs, the integration of real-time raytracing into more game engines, the introduction of GameWorks RTX, and the announcement of more upcoming games featuring real-time ray tracing.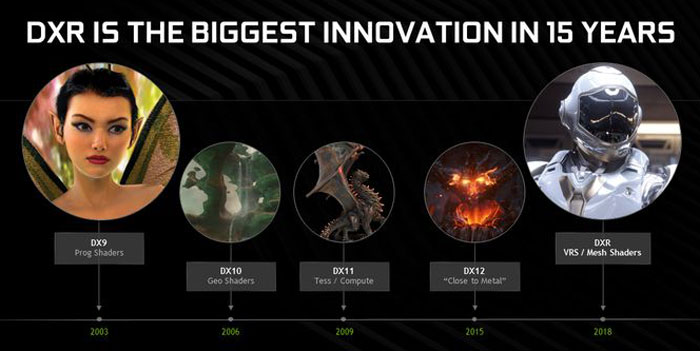 HEXUS previously reported upon Unreal Engine 4.22 Preview 1's support for real-time raytracing. At GDC Nvidia reminded people that this release was already available with final release details due on Wednesday, at Epic's GDC keynote. Another popular game engine, Unity, will imminently announce raytracing features, revealed Nvidia, making adoption of the technology more widespread. Nvidia reminded conference-goers that first-party engines such as DICE/EA's Frostbite Engine, Remedy Entertainment's Northlight Engine and engines from Crystal Dynamics, Kingsoft, Netease and others, all support real-time raytracing.
Real-time raytracing comes to the GeForce GTX 1060 and better
In April Nvidia will expand the "raytracing-capable GPU installed base to tens of millions". A new driver will support this rendering technique on GeForce GTX 1060 and better graphics cards.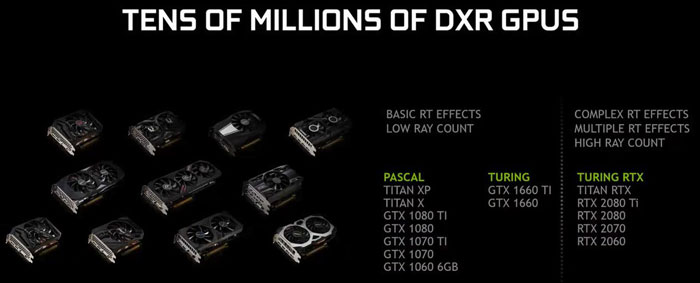 Nvidia admits that on these older Pascal GPUs, and on the new GTX16 series, raytraced effects will execute on shader cores. Meanwhile RTX GPUs use dedicated RT cores for better performance. "Game performance will vary based on the ray-traced effects and on the number of rays cast in the game, along with GPU model and game resolution," explained the green team.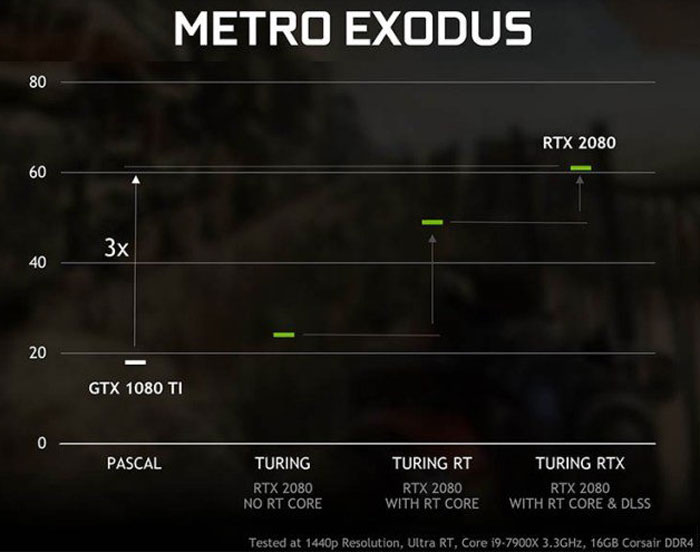 To help developers in their work of preparing raytraced games, Nvidia has introduced GameWorks RTX. Nvidia is making the open source GameWorks RTX code available as well as plugins for Unreal Engine 4.22 and Unity's 2019.03 preview. Notable GameWorks RTX elements include; the RTX Denoiser SDK for fast real-time ray tracing (lowers the required ray count), and the Nsight for RT tool for DXR debugging and profiling.
At GDC Nvidia debuted a number of games and experiences utilising real-time raytracing. It is showcasing the Control demo from Remedy Entertainment featuring ray-traced global illumination, reflections and shadows. Additionally, Dragonhound is Nexon's upcoming online action RPG monster battle game that will feature real-time raytraced reflections and shadows.
Quake II RTX
Nvidia has re-energised the 1997 vintage Quake II with real-time raytracing effects in Vulkan. The new game demo was released in January as Q2VKPT – where the PT suffix stands for Path Tracing, a compute-intensive ray tracing technique that unifies all lighting effects.
Quake II RTX is the first ray-traced game using Nvidia VKRay, a Vulkan extension that allows any developer using Vulkan to add ray-traced effects to their games.