A lengthy portion of the Nvidia GeForce Gaming Celebration last night centred upon games that are currently in development and the difference that real time raytracing, via GeForce RTX graphics cards, will make in "enabling unparalleled realism" in these upcoming games. That is rightly so, as the GeForce range is targeted at PC gamers and enthusiasts and the weight of sales will be achieved only by creating a product that makes a tangible difference.
Remember, there are three important parts to the new Turing GPU; completely reworked SM cores capable of traditional 3D gaming graphics like we enjoy today, the RT cores that make light work of raytracing tasks, and the Tensor cores which accelerate artificial intelligence. It is obvious what the new RT cores do, thanks to their name and the strong presence of this tech in movies and games development for many years. However, the developers on stage last night showed some not-so-obvious impacts to realism - such as lighting from off screen sources being accurately portrayed in a scene.
All the new lighting, reflections and shadows are impressive. Perhaps to some they will look overdone, hyper-real compared to real-life but these are early showcases for the tech. For realistic imaging subtlety it is interesting how the Tensor cores come into play. Nvidia's CEO Jensen Huang discussed various ways that AI can be leveraged in real time to make gaming graphics better thanks to the Tensor cores. During the presentation he talked about Nvidia NGX, a neural graphics framework for AI image processing, and being able to intelligently (re)colour, recognise shapes, create super zoom imagery, and segment an image (to know where to apply real time raytracing for example).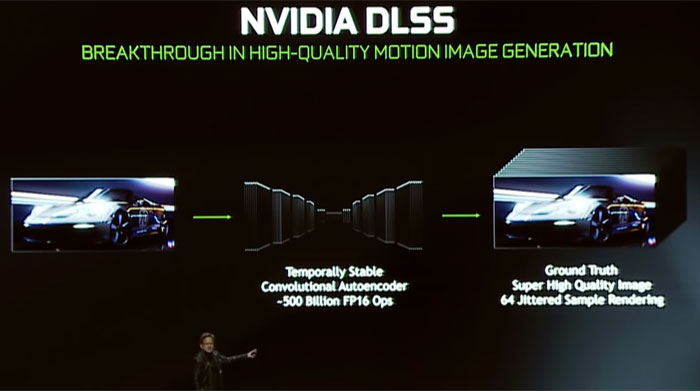 A key improvement to in-game imagery leveraging Tensor cores, as outlined briefly last night is Nvidia DLSS, described as a "breakthrough in high quality motion image generation". You can see the result in the section of the launch event starting at 1hour and 1 minute, as Huang shows off the Epic Games Infiltrator demo.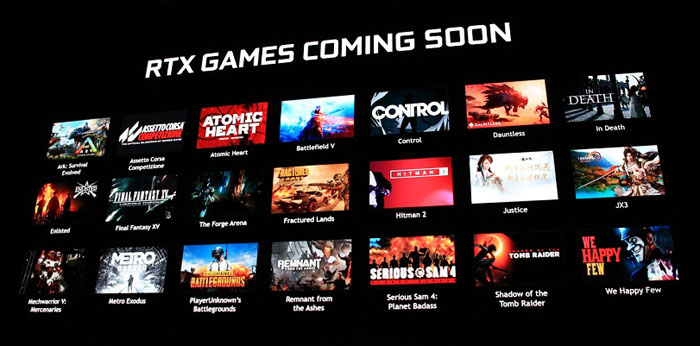 What upcoming games will feature Nvidia RTX technology so you can see the difference raytracing and AI can make? You can refer to the above overview graphic which highlights 21 titles. It is best to see the difference in video though, and as well as an overview video we now have some individual games videos to share (top). Below I've embedded videos from Gamescom, mostly uploaded by Nvidia for highlighting RTX technology, but there are some more if you visit the GeForce channel. Lastly it is probably worth keeping an eye on this YouTube channel for updates and more games as they are shared.
Nvidia has just published a full official list of games that support real time raytracing and/or DLSS, both of which are described as RTX enabled games.
Battlefield V: Official GeForce RTX Trailer
If you head on over to the official GeForce RTX 2080 Ti product page you will find an interactive Battlefield V RTX On / RTX Off slider graphic.
Shadow of the Tomb Raider: Exclusive Ray Tracing Video
Metro Exodus: Official GeForce RTX Video
Control: Official GeForce RTX Trailer
Atomic Heart: Official GeForce RTX Video