Borderlands 3 was expected to be a huge success, even though Gearbox / 2K Games decided to do go ahead with an exclusivity deal with the Epic Games Store on PC. Now, perhaps with some relief, the publisher has revealed some cold hard sales numbers to prove this game has lived up to its sales expectations, if not far exceeded them.
Last week Gearbox CEO Randy Pitchford announced that launch day peak player numbers were double that of Borderlands 2, now 2K has revealed that it shifted 5 million copies of the game in the first five days of availability. This tally makes Borderlands 3 the fastest selling game in 2K's history.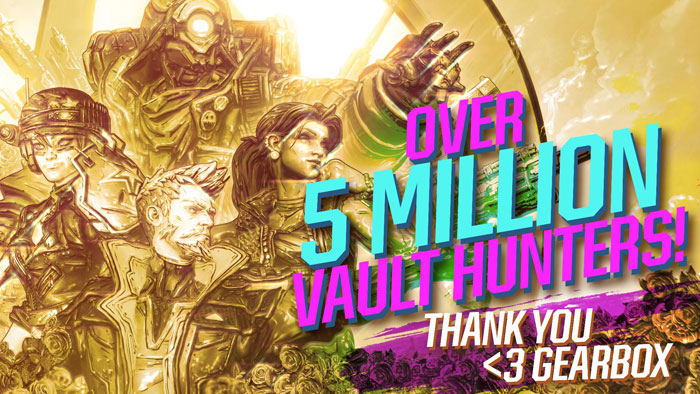 Delving deeper into the details, 70 per cent of the five million sales were digital. On the PC, despite the Epic Games Store exclusivity and expense of a new AAA game like Borderlands 3, sales have reputedly been "incredibly strong" and beyond 2K's expectations. Borderlands 3 previously set a record on the EGS for pre-orders so was a canny game to snag. Yesterday we reported that the EGS – Control exclusivity deal cost Epic Games over US$10 million. One might expect that the Borderlands 3 deal will have cost quite a bit more.
In the first episode of The Borderlands Show, embedded above, Borderlands 3 Creative Director Paul Sage joined the hosts to provide details and videos of the first post-launch additional content (skip to about 55mins 30sec).
In late October the free Bloody Harvest event will begin (lasts about 6 weeks) – timed nicely for Halloween. During this 'event' gamers will be able to collect themed legendary weapons (some with anointed terror effects), a shield, trinkets, and skins and discover new environments and enemies – eventually doing battle with Captain Haunt.
To get into the Bloody Harvest content you will have to have got through the first Pandora stages of the game and entered space.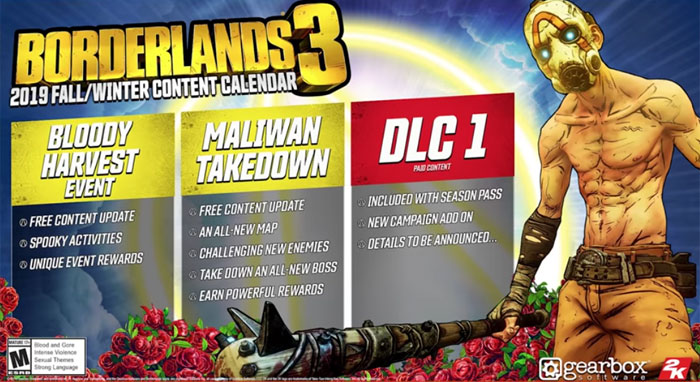 Last but not least, Borderlands 2 VR will at last arrive on PC on 22nd October. More details of that will be shared in next month's Borderlands Show on YouTube.