If you have been wondering about the scale of the fees that Epic Games has been divvying up to gain time-limited blockbuster PC games exclusivity agreements, we now have a pretty good indicator to ponder over. Just ahead of the weekend, video games analyst Daniel Ahmad spotted a €9.49 million payment in the latest accounts published by Digital Bros, the parent company of 505 Games, the Control publisher. The payment (PDF accounts link) came from Epic Games, and we can be pretty sure, due to the public relationship between the companies, that this is an exclusivity payment for Control PC. However, it isn't 100 per cent clear that there are any other strings attached to the large payment, so this outside view isn't completely transparent.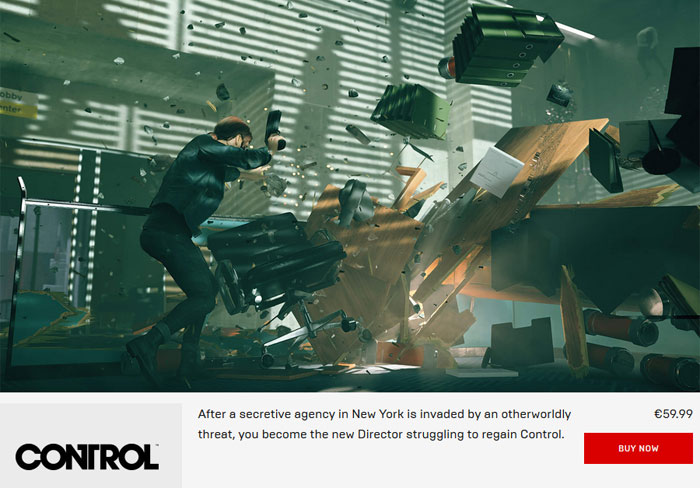 GameDaily.biz asked Epic Games directly about the exclusivity payment reports and didn't get a very satisfying answer. "We don't comment on the terms of our deals," wrote an Epic Games rep. "Everyone should play Control; it's really good."
In its financial statement, Digital Bros sounds rather pleased to have realised revenue so swiftly for Control PC, adding a large chunk of cash to its coffers before 30th June 2019. As a reminder, Control launched on PC (Epic Games Store exclusive), PS4 and Xbox One last month. Previously Remedy (the developer of Control) revealed that the development budget for Control was somewhere between €20 million and €30 million. Furthermore, Ahmad says that the payment in advance of royalties looks set to be split at 55 per cent for the publishers, and 45 per cent for the developers.
Epic looks set to continue splashing out the massive cash windfall it has earned through the success of Fortnite. It would be interesting to see the sums it paid out for exclusivity on other blockbusters like Borderlands 3, Metro Exodus, Detroit: Become Human, World War Z, and Tom Clancy's The Division 2 (also on Uplay). However, this kind of info will likely remain unavailable directly or obscured within complex accounts statements of the parties involved.