Back in July we found out that the BritBox video streaming service from BBC and ITV was due to launch between October and the end of 2019. The subscription service has launched today at £5.99pcm - no contract, no ads, cancel anytime.
BritBox originally launched back in the US in 2017 providing access to programmes like Midsomer Murders, Poirot and Only Fools and Horse to a US audience ($6.99pcm). As some might expect the content on this side of the pond isn't just a mirror of the US service - it is different for all the usual distribution, copyright and business reasons. The official site here in the UK claims "from costume to comedy, drama to detectives, we've got it all".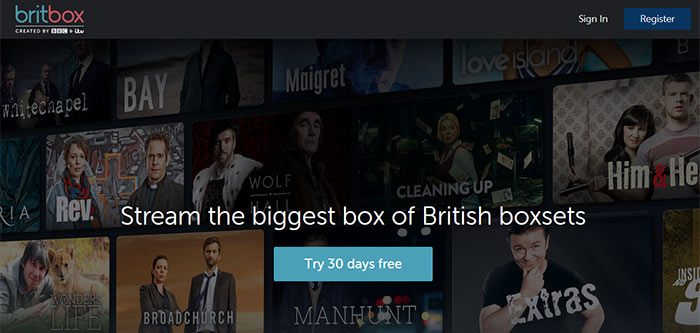 Unfortunately the offerings don't look browsable at this time without signing up for the 30 day free offer, which I don't feel like doing (requires CCard details). However, if you scroll down the page you can see a horizontal carousel which lets you check over some highlighted shows, such as Manhunt, Top Gear, Wolf Hall, Victoria, Gavin & Stacy, Deep Water, Asian Provocateur, and yes - Love Island.
Dr Who fans set your Tardis for Boxing Day 2019
The ITV press release about the launch contains some more info about the content. It notes that The Great British Bake Off (1-7), Les Miserables and The Split are due to be added to the shows available within the next 6 months, and that all 627 available episodes of classic Doctor Who, originally broadcast between 1963 and 1989, will be available to stream for the first time ever from Boxing Day.
Sometime next year Channel 4 and Film4's back catalogue will make their way to the platform, as well as original shows from Comedy Central UK.
Other than old shows and some old movies planned for the streaming service, Reemah Sakaan, ITV's group director for streaming, said there was a "whole slate of original programmes" in development for BritBox. Sakaan signalled that some shows that had previously been on streamers like Netflix and Amazon will "will now move to Britbox," - touching on an issue we considered earlier today.
At the time of writing there is a 'Try 30 day free' offer on BritBox in the UK. As well as offering an Android and iOS app, BritBox is claimed to be compatible with various Samsung and Apple TV devices. Checking the T&Cs, it seems that you won't need a TV license to watch any of this BBC sourced content.