Yesterday evening Nvidia announced its latest set of financials. The graphics chip designer headlined its quarterly results with pleasing figures; record revenue from data centre, pro visualisation, and automotive. It even raised the quarterly dividend by 7 per cent and announced its intention to return an additional $3 billion to shareholders in the coming year. However, in afterhours trading NVDA shares hit a low for the year, down 18 per cent at the time of writing, so what is the problem?

Above is the summary table and things look great for Nvidia. "AI is advancing at an incredible pace across the world, driving record revenues for our datacenter platforms," said CEO Jensen Huang in the results statement. "Our introduction of Turing GPUs is a giant leap for computer graphics and AI, bringing the magic of real-time ray tracing to games and the biggest generational performance improvements we have ever delivered."
Then Huang dropped the news behind the precipitous afterhours share price fall. "Our near-term results reflect excess channel inventory post the crypto-currency boom, which will be corrected." This news was compounded when he went on to forecast disappointing sales for the upcoming holiday quarter. As Reuters reports, Nvidia has to deal with "unsold chips piling up with distributors and retailers after the evaporation of the cryptocurrency mining boom". Looking closer at the inventory issue, it is revealed that provision for inventories expanded more than five-fold in the fiscal third quarter. Nvidia's Huang said that the new US tariffs were "not really a factor" in the way of remedying the inventory build-up.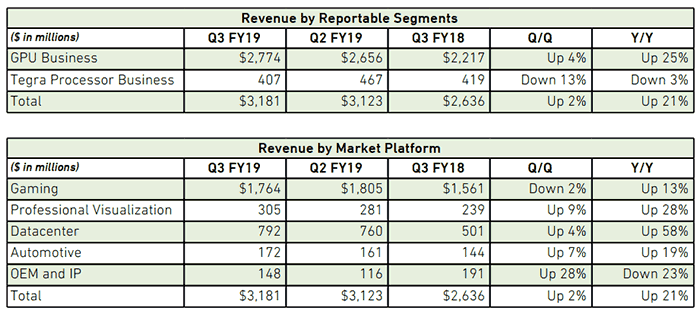 Nvidia products bought by HEXUS readers will mostly be from its GeForce gaming line. As well as the bad news about inventory, Nvidia admitted that "gaming revenue was short of our expectations". Though it believes this will be corrected in one or two further quarters, recent industry murmurings say that its Turing cards are slow sellers. It is hard to know whether the Nvidia pricing strategy is designed to stifle GeForce RTX sales for now while it maintains prices for previous generation products.

On the topic of gaming, Gina Sanchez, CEO of investments strategy firm Chantico Global, spoke to CNBC and warned that "Nvidia's bread and butter is gaming, so they have to show continued positive growth in the gaming space". The big launch of the GeForce RTX series, the first gaming GPUs based on the Turing architecture, hasn't had the gaming industry impact Nvidia might have wished for, so far.