Inside The Hadron Air
Building into a SFF chassis can be trying at times. There typically isn't a lot of room, expansion opportunities are limited, cabling can be particularly tricky, and you need to be careful when it comes to component selection. Yet, despite all these potential restrictions, the end result - a compact little box crammed full of power - is inherently satisfying.
One look inside the Hadron Air suggests that many of the aforementioned limitations will still apply, but on the flip side, the chassis' size constraints are such that you needn't rack your brain over what to put in it: a lot of those choices are made for you.
Removing the side panels reveals absolutely no room behind the motherboard tray, so those cutouts you see aren't for cable management; they're merely to allow air to pass into the chassis from the side vent. You only really need to remove the one side panel to build into the case.
As you might have guessed, there isn't a great amount of room inside the main cavern, yet EVGA's layout is logical and you can quickly begin to plot component installation. The bottom-mounted PSU is already in place, dual expansion slots are available to accommodate a high-end graphics card, mounting points for a mini-ITX motherboard are pre-installed, and three storage bays are supplied in a single cage. These are comprised of an optical bay designed for a slimline, slot-loading drive, and two pull-out plastic trays that can be used to house your choice of 2.5/3.5in drive.
Small Yet Powerful
Building into a SFF enclosure is never going to be quite as easy as a larger tower, yet EVGA's well-laid out interior makes installation feel reasonably straightforward from the off. Our usual mini-ITX test platform is based around an AMD APU platform, but the company obviously has higher ambitions for the Hadron Air and sent in some of its own components for the build - namely a Z87 Stinger motherboard and a GeForce GTX 780 ACX graphics card.
The chassis officially supports dual-slot graphics cards measuring up to 267mm in length, which is just enough room for the majority of today's fastest cards. Getting the EVGA card to slot in required a bit of patience, but whether you opt for a Titan, a GTX 780 or an R9 290X, you shouldn't run into any restrictions so long as it's a dual-slot design.
Our completed build includes the Z87 Stinger motherboard outfitted with a Core i7-4770K processor, 8GB of Corsair Vengeance memory, as well as a 240GB Crucial M500 SSD and the GeForce GTX 780 ACX graphics card. Getting everything into place proved surprisingly simple, and cable management isn't really an issue. EVGA provides a Y-splitter cable for the dual 120mm fans, allowing for both to be attached to a single fan header, and a couple of cable hooks are attached to the drive cage to help keep things tidy.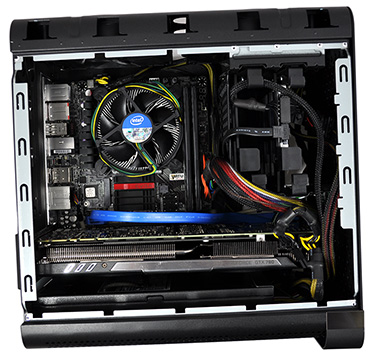 The Hadron Air can clearly be configured to pack a serious punch, but there are obvious constraints, too. You'll never be able to add a second graphics card, for example, and CPU cooler choices are going to be limited. We had trouble squeezing in the reference Intel heatsink due to the Z87 Stinger's on-board heatsinks, but if you're planning on using a tower cooler, it'll need to be reasonably compact and stand less than 140mm tall.
We'd really like to see EVGA compile a list of air coolers that are confirmed to be compatible, but as it stands, there's only one clear-cut recommendation - the company's own ACX mITX cooler. And unless you enjoy making modifications to your £170 enclosure, you should rule out liquid-cooling. As the name suggests, the Hadron Air is designed for air-cooling only. For liquid-cooling aficionados, EVGA has a larger model dubbed the Hadron Hydro that's costlier still and will launch at a later date.
Conclusion
As fans of SFF PCs, we've enjoyed our time with EVGA's Hadron Air. The compact chassis is designed with a very specific purpose - to partner a powerful CPU and GPU in as small a frame as possible - and it ultimately fulfils that ambition.
With the hardware available today, there's never been a better time for users to consider downsizing to an SFF rig. Lower TDPs, fewer moving parts, and a wider choice of mini-ITX motherboards have made it easy to create pint-sized rigs that are efficient, quiet and every bit as powerful as full-tower machines.
Well-built and styled to look good on any desk, the Hadron Air is, in our estimation, a glimpse at the next generation of gaming PC. Yet, while there's plenty of promise, a couple of obstacles remain. In an effort to sidestep the space demands of an off-the-shelf ATX PSU, EVGA has opted to include a 500W unit in a 1U form factor as standard. Doing so has enabled the manufacturer to create a high-end chassis that's impressively tidy and small, but it has also contributed toward a lofty £170 price tag.
Cost may ultimately prove prohibitive for self-builders, and for that reason alone the Hadron Air is more likely to catch the eye of system integrators who should seriously be considering EVGA's chassis for their upcoming premium SFF gaming rigs.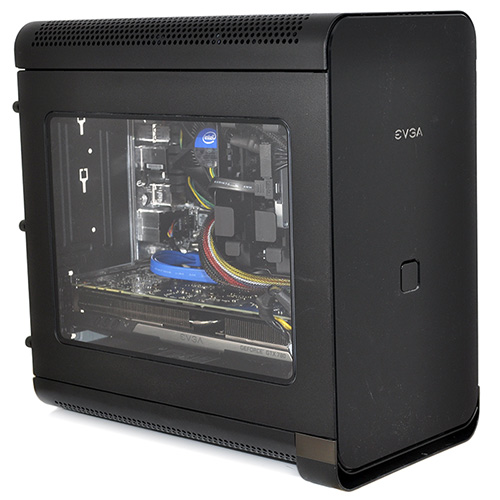 The Good
Solid build quality
Just 169mm wide and 305mm tall
Room for a high-end graphics card
Bundled 500W 80PLUS Gold-rated PSU
Large side window
Dual storage bays
The Bad
Expensive for an SFF chassis
Front panel attracts dust
CPU cooler is a tight fit
HEXUS.awards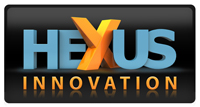 EVGA Hadron Air
HEXUS.where2buy
The EVGA Hadron Air chassis is available to purchase from Scan Computers*.
HEXUS.right2reply
At HEXUS, we invite the companies whose products we test to comment on our articles. If any company representatives for the products reviewed choose to respond, we'll publish their commentary here verbatim.