Corsair has made a number of announcements today at Computex. Perhaps the most interesting innovation it has pulled out of the bag is the Bulldog DIY 4K Gaming PC for the living room. This is said to go beyond a regular SFF PC or Steam Machine type of system due to the leveraging of proprietary Corsair technology to make it a powerful, expandable, cool running and – importantly for the living room – stylish system.
Andy Paul, CEO of Corsair Components, said that the Bulldog was designed to bring the 4K experience to the big screen in your home. "We knew we needed to deliver a solution that was elegant, powerful, and compact," said Paul. "By leveraging our leading expertise in PC case design and liquid cooling, we met that goal with Bulldog," he explained.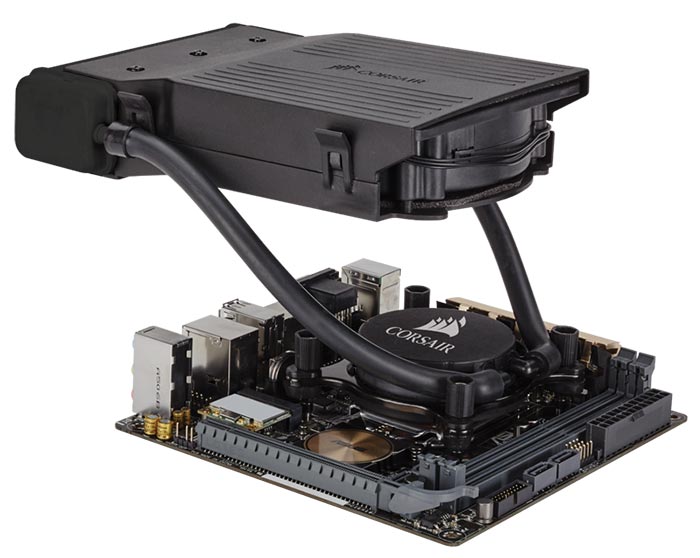 The Corsair Bulldog's 'no compromises' approach benefits from the following Corsair technologies:
Chassis design: Carefully ventilated compact chassis ensuring adequate spacing and airflow for powerful performance PC components.
Mini ITX liquid cooled CPU system: Designed specifically for the Bulldog this H5 SF unit can quietly cool the fastest Intel and AMD processors available with plenty of overclocking headroom
SFX power supply: A standard 600W unit is installed and thanks to Corsair's experience it "runs amazingly cool, and unexpectedly quiet."
Graphics card liquid cooling system (optional $99 extra): another major source of excess heat in a powerful system is often the graphics card. Corsair helps you get the best performance from your GPU while keeping it quiet with its HG10 N80 adapter/heatsink and H55 liquid cooling.
Overall, despite its compact dimensions, the Bulldog is said to be a builder-friendly system with a smart layout and tool-free accessibility. While a motherboard is included in the DIY kit, any standard mini-ITX motherboards will fit this chassis, as will other SFX12V PSUs for future-proof upgradeability. The Bulldog DIY 4K Gaming PC kit costs $399.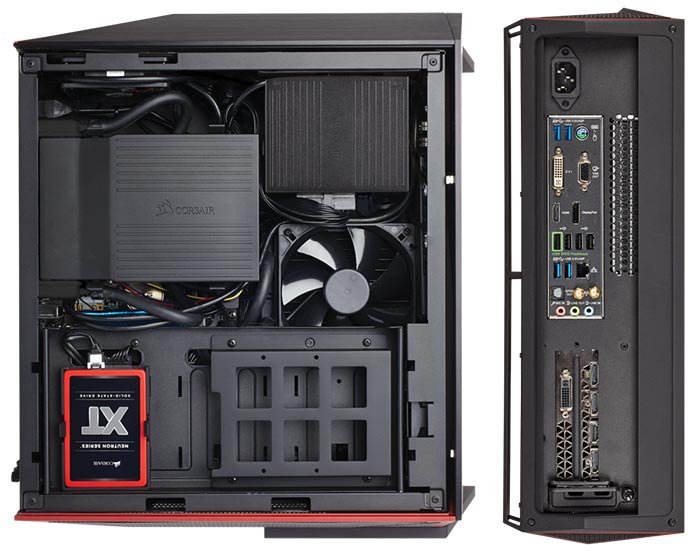 MSI and Nvidia are partnering with Corsair to bring drop in graphics card solutions that will work flawlessly with the optional GPU liquid cooling kit. Initial support is offered for the GeForce GTX Titan X, GTX 980, GTX 970, and the newly announced GeForce GTX 980 Ti.
Do you need a Lapdog?
So you have your 4K ready PC sitting under your TV in the living room. What are you going to do for input peripherals? Use a joypad controller? Well, you won't have to do anything so drastic because Corsair has also announced the Lapdog.
As you can see from the images the Lapdog melds a Corsair gaming keyboard platform with a rigid integrated mousing surface. The product is said to bring "the precision of desktop gaming to the living room". It's a wired product – for maximum performance and has the following characteristics:
Large 7x11-inch mouse mat area and keyboard dock.
Powered USB hub for keyboard, mouse, headset, game controllers and flash drives.
Memory foam underside cushion for user comfort.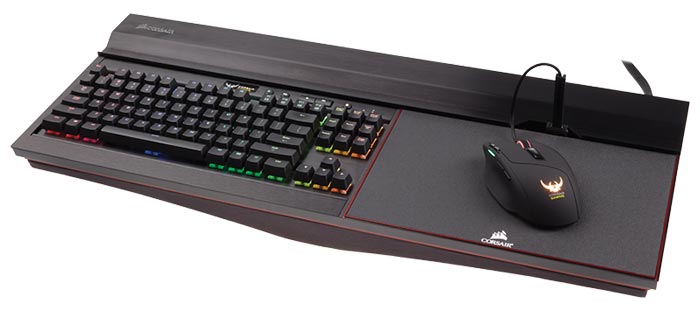 The Lapdog will be available as a standalone product for $99 and complete with a mechanical keyboard for $199. Both the Bulldog and Lapdog will be released in autumn this year.
Liquid cooling for the latest Nvidia GeForce GPUs
Corsair's new products at Computex also included some liquid cooling solutions for the latest Nvidia GPUs. Today it announced the all-in-one Hydro Series H110i GTX and new Hydro Series HG10 GPU cooling brackets for the GeForce GTX Titan X, GTX 980, GTX 980 Ti and GTX 970 graphics cards.
The self-contained, maintenance-free Hydro Series H110i GTX liquid CPU cooler combines two 140mm PWM fans with a 280mm radiator. This new model has a new generation, high-efficiency cooling block with a striking new look, including Titanium-coloured logo inserts. Red and Blue insert kits will be sold separately. It also boasts an improved coldplate and pump design.
Users can use Corsair Link software to control and monitor temperatures, fan speed, pump speeds, and the RGB LED logo on the cooling block. The MSRP of the new cooler is $139.99 and it supports Intel LGA 115x, 1366, 2011 and AMD AM2, AM3, FM1, FM2 CPUs.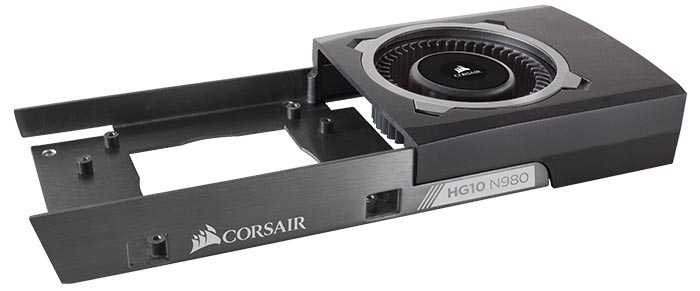 The Hydro Series HG10 N980 and N970 GPU Cooling Brackets are compatible with reference design Nvidia graphics cards as listed above. As well as provifing the liquid cooling for the GPU these brackets feature a low-noise blower fan to cool VRMs and VRAMs quietly and effectively. Expect to pay around $39.99 for the Corsair HG10 brackets.
The Hydro Series H110i GTX and Hydro Series HG10 N970 will be available in July with the other GPU cooling brackets arriving in August.