Corsair has revamped its One compact desktop lineup at CES 2019. Previously HEXUS has reviewed the Corsair One Pro (2017) and the Corsair One Elite (May 2018) but the range has now been updated with three new machines, all of which are high-end, but one is described as a 'workstation'. Despite their powerful components, Corsair has designed these PCs into a chassis approx a third of the size of a traditional PC tower (they are 12-litre designs) using an all-new internal layout.
Loading...
Been waiting a while?
Get Flash
to see this player.
The top-end new machine is the Corsair One i180 Pro compact workstation. It is powered by the Intel Core i9-9920X 12-core processor (X299 chipset) and Nvidia GeForce RTX 2080 Ti graphics, with the pair tamed by an AiO liquid cooling system. This PC is meant for content creators, from game designers to video editors and is claimed to easily handle "today's most demanding applications, from video encoding to photo editing, rendering 3D graphics and more".

Joining the powerful CPU and GPU in the Corsair One i180 Pro are; 32GB of quad-channel Corsair DDR4 memory, 960GB of high-speed M.2 SSD storage and 2TB of HDD capacity. The chassis is made of 2mm-thick aircraft-grade bead-blasted aluminium and this i180 model is in a gunmetal grey finish (the i160 and i140 models are black, picture below left and right). Corsair says its One i180 Pro is meant to be on your desk, not under it, with its pleasant design and integrated RGB light pipes.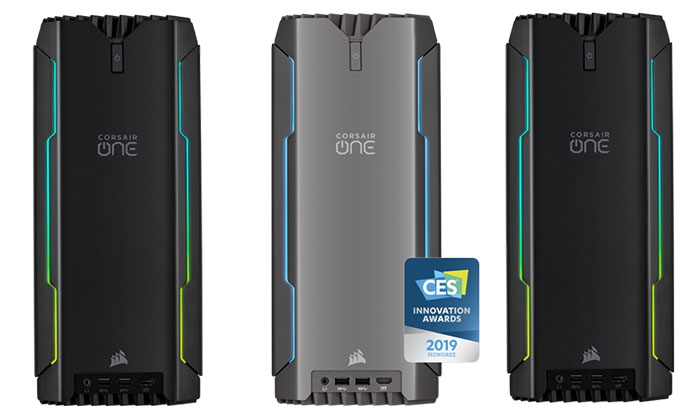 The Corsair One i160 and i140 models aren't low spec machines by any standard and come packing an Intel Core i9-9900K and Intel Core i7-9700K respectively (Z370 chipset), and GeForce RTX 2080 Ti and RTX 2080 respectively. Just like their big brother these compact desktops come fitted with 32GB RAM and 2TB HDD but they pack a smaller 480GB NVMe SSD (and Windows 10 Home, not Pro).
In an email to HEXUS, Corsair said that the Corsair One i160 and Corsair One Pro i180 will be available from the Corsair webstore early in 2019 - but the One i140 is said to be available immediately in North America where it is listed at $2,999. It looks like the Corsair One i160 costs $600 more, and the One i180 Pro costs $4,999 in the US.