Introduction
In our opinion, the biggest change in the PC landscape during the last five years hasn't been massively more performance - you expect faster components year on year - but rather the drive towards energy efficiency. We've mentioned on many occasions that it's possible to build a really good gaming system without the need for a small power station nearby.
A very pertinent case in point is our standard gaming test system, comprising an overclocked Core i7 chip, 32GB of RAM, dual SSDs and, of course, a premium graphics card. If built with due care and attention, a PC featuring a GeForce GTX 1080 Ti consumes less than 300W at the wall when gaming at 4K. And it's quiet into the bargain, too.
So, in early 2017, it makes perfect sense to take advantage of the enviable performance-per-watt characteristics to build systems small in size but big on performance. Guess what, that is exactly what a well-known company has done, and it happens to be Corsair. Let's take a look at the 'category defying' Corsair One, shall we?
Corsair says it wanted to 'create the fastest, quietest, and smallest PC possible that makes no compromises in ease-of-use or user-upgradeability.' Lofty words indeed, especially after the anaemic response to the first-generation Bulldog living room PC.
The company has taken a completely custom approach to the One. Some may think why Corsair, but with its pedigree in producing RAM, cooling, PSUs, fans and chassis, plus a close tie-up with MSI and Intel, the question really is one of why not.
The fruit of such labours is a rectangular unit measuring 380mm tall, 200mm deep and 176mm wide, or a 12-litre volume in old money. First impressions are favourable on this 7kg gaming machine. The chassis uses a high grade of anodised aluminium throughout, curved around the corners, and is very well put together. There are no squeaks nor rattles, and it looks equally good on a desk or the floor.
Rather than opt for a gaudy 'gamer' aesthetic, the One is minimalist and refined. A couple of light strips run up each side, lit in a pleasant blue, and while their brightness can be controlled - from off to a piercing luminosity in even steps, plus static, breathing and flashing modes - there's no RGB capability. That's not necessarily a bad thing in our book. The only other interruptions on the front are a USB 3.1 port and HDMI 2.0, ostensibly for connecting a virtual reality headset.
Around back, the One is well stocked with modern connectors. On top of Gigabit Ethernet and baked-in 802.11ac WiFi, there are six USB ports - 1x 3.1 Gen2 Type-C, 2x 2.0 Type-A and 3x 3.1 Gen 1 - as well as another HDMI 2.0 and a couple of DisplayPort 1.4.
Corsair has been able to achieve this plethora of ports by teaming up with MSI, who supplies the custom Z270I Mini-ITX motherboard - that looks very much like the Pro Carbon AC - as well as a watercooled GeForce GTX 1080 card - more on that later.
Chassis cooling is deliberately limited to a single ML140 fan housed at the top of the unit that comes away by depressing the single button on the back. It pulls hot air, circulating around the radiators, out of the chassis while the intricate meshing pattern on either side provides an opportunity for more air to be pulled in to cool the radiators.
Building a high-performance, potentially overclocked PC into a confined space without risking throttling or surfeit noise is no easy task. The exploded picture gives an at-a-glance indication of how the One is put together. A modified SF400 80 PLUS Gold sits at the top. Its small fan is on at all times, due to the potential for heat build-up in such a small area, and it can be heard as a very low hum. A little below sits the MSI Mini ITX motherboard. Corsair populates both DIMM slots with 16GB of DDR4-2,400 memory (2x8GB) and there is no option, for now, to choose more at the time of purchase.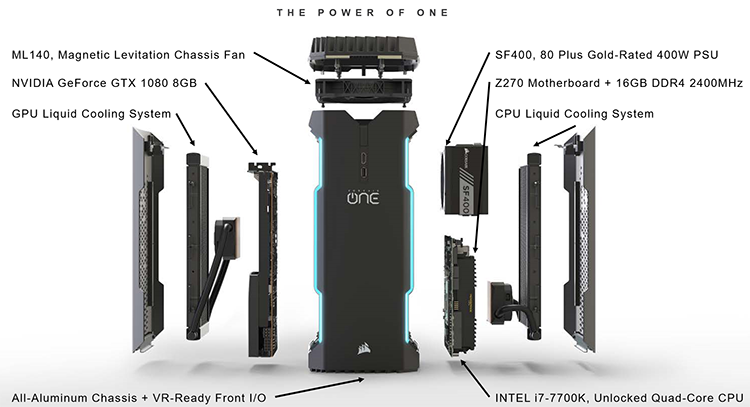 A custom Corsair all-in-one watercooler is connected to a slim 240mm radiator and the combination is tasked with keeping the CPU in check. On that front, it's either a Core i7-7700 (65W TDP) or Core i7-7700K (91W), with the option of having the K-series chip overclocked out of the box.
There's room for two 2.5in storage drives and an M.2 slot on the underside of the motherboard. Corsair, unfortunately, opts to run with its SATA-connected Force Series LE drives this time around, meaning that peak speed is limited to 560MB/s or so. When asked why M.2 wasn't used for this high-performance rig, even though the company has such a variant in the MP500 range, the answer was that it will be available as an option at a later date.
On the other side is the GPU horsepower. Corsair's previous collaboration with MSI has lead to the Seahawk range of boards being used in the Bulldog. The One uses the same basic idea and the GPU's radiator mirrors the 240mm slim version used on the CPU. Indeed, both look identical on first blush.
Though watercooled, the GPU retains a blower-style fan to keep the VRMs and memory cool, just like the standard Seahawk. Corsair One has the capability of housing a 10.5in-long graphics card that's either dual slot if watercooled or up to three slots wide if aircooled. That opens up the possibility of having a partner GeForce GTX 1080 Ti as a future option.