Corsair is teasing what looks set to be its first fully configured and branded PC. The Corsair One has its own dedicated landing page but further details are very thin on the ground online. Luckily Corsair sent HEXUS some slightly more enlightening promotional material, or we would have guessed that the One was simply a new chassis design.
The information we have been provided indicates that the Corsair One is a fully configured PC system. Corsair branched out to produce its first barebones system, the Bulldog, back at Computex 2015 but has never presented a fully configured PC system previously. Some retailers even sell Bulldog 2.0 bundle DIY kits, but they still require user-time spent on hardware and software configuration.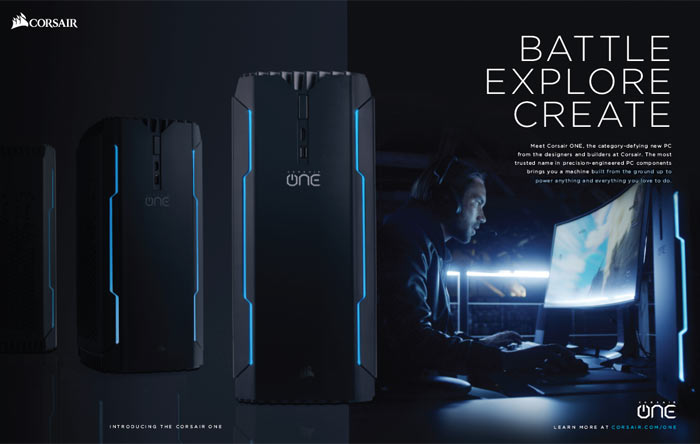 Corsair clearly wants to appeal to a wide demographic with the One. It headlines its promotional material with the words "Battle, Explore, Create." We can see that gaming is the number one focus there and the image above shows someone engrossed in what looks to be a 3D gaming experience.
The Corsair One design has some gamer styling but is not overly aggressive or flashy. This more modest and subtle look could appeal to those who want a machine that doesn't shout 'Gaming PC' from the rafters - the 'Explore, Create' types perhaps. On the Corsair One advertisement it is claimed that the One is a "category-defying new PC," but other than appealing across market segments we don't know how this will work out.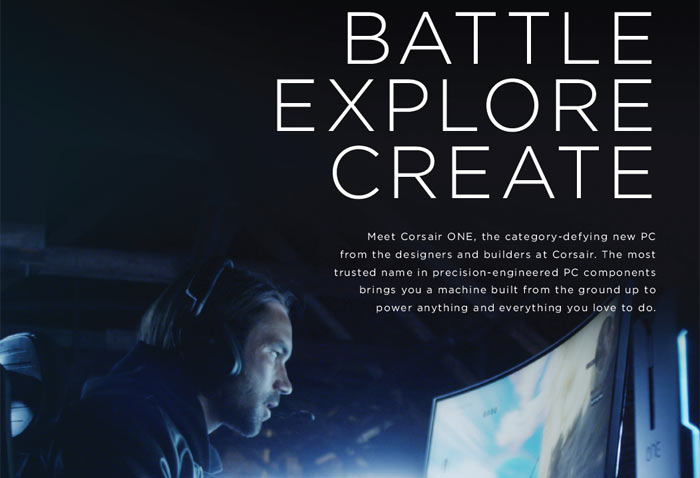 Hinting that the One will be a build-to order PC system, or at least available in a variety of configurations, Corsair says that its upcoming PC system will be "built from the ground up to power anything and everything you love to do."
So there's obviously quite a lot we don't know about the Corsair One. If it is indeed Corsair's first ever range of pre-built full PC systems then it will be interesting to see what Corsair can bring to the market to differentiate its systems from the many rivals. We don't have pricing and availability information for the Corsair One.
On an upbeat note after that uncertainty, HEXUS has been promised a Corsair One PC ahead of launch so will be providing a zero day review.