Samsung has announced that it is to begin the mass production of HBM early in 2016. At a technical session at IDF 2015 the South Korean tech giant said it would be targeting designers and makers of graphics, network and HPC products with the memory.
HBM was co-developed by AMD and SK Hynix and the first chips arrived in the AMD R9 Fury X graphics card that was launched in late June. For an in-depth look at that graphics card and how it benefits from the use of HBM have a look at the HEXUS review. You can also check out our review for the air-cooled HBM equipped Sapphire Radeon R9 Fury Tri-X OC.
There was talk of SK Hynix and AMD having an agreement which could restrict supply of HBM(2) to Nvidia next year when the green team aims to launch its Pascal GPU based flagship(s). But now it looks like Samsung could provide a lifeline for Nvidia to march ahead with its plans.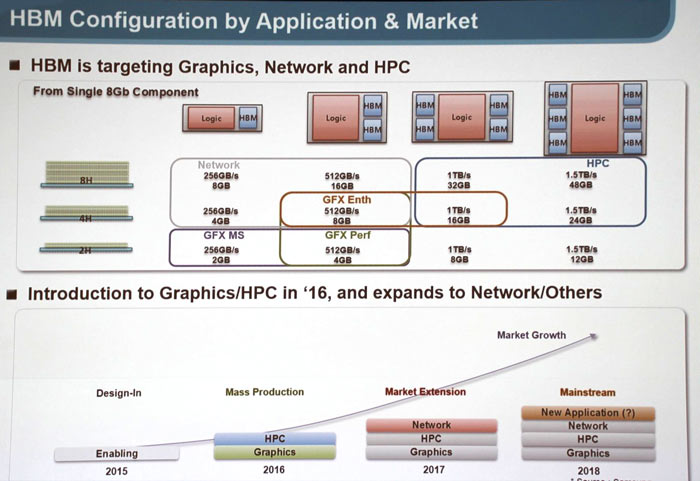 You can see from Samsung's IDF 2015 slides (via ComputerBase), in 2016 it is targeting the deployment of its HBM chips in both graphics and HPC. In 2017 the scope is extended to include network equipment and the following year a mysterious "new application," will help maintain growth in HBM demand. Samsung HBM chip packages are planned to offer up to 1.5TB/s of bandwidth in sizes of up to 48GB.
The slide below shows that Samsung predicts mainstream graphics using GDDR5 to be replaced by HBM equipped designs by 2018. It also trumpets the bandwidth and power gains that are a cornerstone of the attractiveness of this stacked memory.