Intel's fastest desktop CPUs are here, and as expected, there's a long line of supporting motherboards waiting to get in on the action.
We've already seen what Gigabyte has in store (including some brand new features), but the company's quartet has just been made official and is now popping up at retailers the world over.
The line-up consists of the £185 GA-X79-UD3, the £230 GA-X79-UD5, the £265 GA-X79-UD7 and the range-topping G1.Assassin 2 (pictured below) priced at a wallet-busting £310.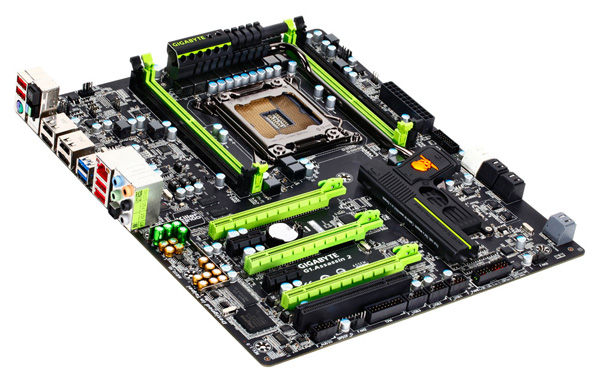 The boards certainly aren't cheap, but Intel's fastest platform was never going to be, and one glance at the specification sheet suggests that Gigabyte's boards are not for the faint-hearted.
All four offer at least two full-speed PCIe x16 slots (the UD7 can actually run four lanes at x8 apiece for quad-GPU configurations), and Gigabyte's latest tuner-friendly power-delivery system - dubbed 3D Power - is featured as standard across the range.
The G1.Assassin 2 is top of the pile in terms of price tag, but think hard before buying, as the UD7 may have the edge in features. The former is geared toward the gamer with Creative audio and an integrated Bigfoot network card, but the latter makes use of a 16-phase power design, an extra PCIe x16 slot and an XL-ATX form factor that's all about bragging rights. Decisions, decisions.
Still need help in choosing? The specification of all four variants is broken down neatly in the table below, and there's also a dedicated microsite at Gigabyte.com.
| | G1.Assassin 2 | GA-X79-UD7 | GA-X79-UD5 | GA-X79-UD3 |
| --- | --- | --- | --- | --- |
| CPU Support | 2nd Generation Intel Core Processors | 2nd Generation Intel Core Processors | 2nd Generation Intel Core Processors | 2nd Generation Intel Core Processors |
| CPU Socket | LGA 2011 | LGA 2011 | LGA 2011 | LGA 2011 |
| Interface | DMI 2.0 | DMI 2.0 | DMI 2.0 | DMI 2.0 |
| Chipset | Intel X79 chipset | Intel X79 chipset | Intel X79 chipset | Intel X79 chipset |
| Graphics Interface | 3*PCI-E 3.0 x16 slot (2*PCIEx16+1*PCIEx8) | 4*PCI-E 3.0 x16 slot (2*PCIEx16 or 4*PCIEx8) | 3*PCI-E 3.0 x16 slot (2*PCIEx16+1*PCIEx8) | 4*PCI-E 3.0 x16 slot (2*PCIEx16 or 4*PCIEx8) |
| Memory Type | 4 Channel DDR3 2400/1866/1600 MHz | 4 Channel DDR3 2400/1866/1600 MHz | 4 Channel DDR3 2400/1866/1600 MHz | 4 Channel DDR3 2400/1866/1600 MHz |
| Memory DIMM | 4*DDR3 | 4*DDR3 | 8*DDR3 | 4*DDR3 |
| Expansion Slots | 2*PCI-Ex1+1*PCI | 3*PCI-Ex1 | 2*PCI-Ex1+1*PCI | 2*PCI-Ex1+1*PCI |
| SATA connector | 4*SATA3 +4*SATA2+2*eSATA2  | 6*SATA3+4*SATA2 | 6*SATA3+4*SATA2 +2*eSATA2  | 6*SATA3+4*SATA2 +2*eSATA2  |
| SATA RAID | RAID 0,1,5,10 | RAID 0,1,5,10 | RAID 0,1,5,10 | RAID 0,1,5,10 |
| USB | 4* USB3.0+14*USB2.0 | 4*USB3.0+14*USB2.0  | 4*USB3.0+14*USB2.0  | 4*USB3.0+14*USB2.0  |
| Audio | Creative CA20K2 | 8-channel HD | 8-Channel HD | 8-Channel HD |
| 1394 | - | - | 2*1394 | - |
| LAN | Bigfoot E2100 | GbE LAN | GbE LAN | GbE LAN |
| Features & Software | HW OC Button, 8 Power Phase, Ultra Durable™ 3, 3 Way SLI,  3 Way CrossFireX, 3D Power, 3D BIOS,  UEFI DualBIOS™, On/Off Charge, Cloud OC,  Japanese Solid Capacitors,  Dolby Digital Live, DTS | OC-VRM,OC-Touch, OC-DualBIOS, OC-PEG,  16 Power Phase, Ultra Durable™ 3, 4 Way SLI, 4 Way CrossFireX,  3D Power, 3D BIOS, UEFI DualBIOS™,  On/Off Charge, Cloud OC,  Japanese Solid Capacitors,  Dolby Home Theater, 110dB | 12 Power Phase, Ultra Durable™ 3, 3 Way SLI,  3 Way CrossFireX, 3D Power, 3D BIOS,  UEFI DualBIOS™, On/Off Charge,  Cloud OC, Japanese Solid Capacitors,  Dolby Home Theater, 110dB | 8 Power Phase,  Ultra Durable™ 3, 4 Way SLI, 4 Way CrossFireX, 3D Power, 3D BIOS, UEFI DualBIOS™, On/Off Charge,  Cloud OC,  Japanese Solid Capacitors,  Dolby Home Theater, 110dB |
| Form Factor (mm) | E-ATX (305x264) | XL-ATX (325x254) | E-ATX(305x262) | ATX (305x244) |