Nvidia is today launching the GeForce GTX 980M and GeForce GTX 970M mobile GPUs based on the latest Maxwell graphics architecture, supplanting the Kepler-powered GeForce GTX 880M and GTX 870M from the top of the mobile range.
The chip company already has four Maxwell-based mobile GPUs in the current line-up - 830M, 840M, 850M and one 860M - but the second-generation architecture debuts with the two new 9-series parts.
Following hot on the heels of the desktop GPUs bearing the same name, Nvidia says it is introducing never-seen-before performance for premium notebooks. One of Maxwell's key strengths is energy efficiency and impressive performance-per-watt metrics, so it's a natural fit for gamers who want to experience desktop-like thrills and spills. Here is how the duo lines up against the previous mobile champions.
Nvidia GeForce Mobile comparisons

mGPU

Architecture

Cores

Frequency
(MHz)

Memory Speed
(MHz)

Memory Bus Width
(Bits)

SLI Support

Performance uplift over previous gen

GTX 980M

Maxwell

1,536

1,038+

5,000

256

Yes

40%

GTX 880M

Kepler

1,536

954+

5,000

256

Yes

-

GTX 970M

Maxwell

1,280

924+

5,000

192

Yes

40%

GTX 870M

Kepler

1344

941+

5,000

192

Yes

-

GTX 860M

Maxwell

640

1,029+

5,000

128

Yes

NA
Analysis
Laid out in the usual specification table, the two new Maxwell GPUs don't appear to be all that different from the Kepler models they replace. The same is true of the desktop versions, mind, but the Maxwell architecture is significantly more efficient. Nvidia says the Cuda cores are up to 40 per cent more powerful than Kepler, while memory-bandwidth optimisations increase real-world throughput by approximately 25 per cent.
GTX 980M and GTX 970M, therefore, are about 40 per cent faster than the previous generation bearing the same name. Premier mobile GPUs consume about 100W at full chat - this hasn't changed between Maxwell and Kepler - so notebook manufacturers will simply replace one with another.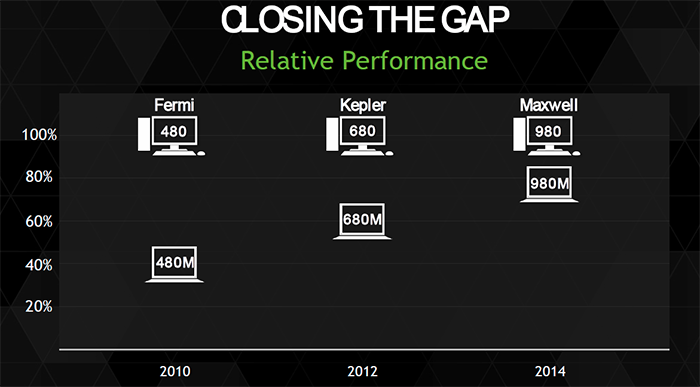 Closing the gap between desktop and mobile
As an example of performance progression and narrowing of mobile and desktop GPUs, the GTX 980M's performance uptick is enough for it to benchmark at 75 per cent of the level exhibited by the desktop GTX 980. Our benchmarks put its performance somewhere between a desktop GeForce GTX 770 and Radeon R9 290, depending upon game, intimating super-smooth performance at high-quality 1080p and reasonable oomph at 4K.
Battery Boost (Plus)
You may remember that Nvidia introduced Battery Boost for the GTX 800-series mobile GPUs. Battery Boost is an umbrella term for a collection of Nvidia technologies that extend mobile gaming time. When unplugged, most laptops equipped with decent discrete graphics tend to burn through a lot of power - CPU and GPU - in trying to replicate mains-connected performance, even though most batteries can only supply a continuous 100W.
In a nutshell, transparent to the user, and automatically activated as soon as the laptop is unplugged from the mains, Battery Boost reduces system-wide power to the minimum level where gaming can still be considered smooth. Nvidia pegs this level to 30fps and uses GeForce Experience know-how to control the frame-rate. But Battery Boost goes further than this and examines the way in which the CPU, memory and GPU interact with one other as each frame is rendered.
Now, with the GTX 980M and GTX 970M GPUs, Nvidia says that, by using Battery Boost at 1080p and limiting the framerate to 30fps, unplugged game time is further improved, by up to 55 per cent when compared to running the games without any frame- and power-limiting technology. The reason for this is GTX 9x0M's extra horsepower; dropping down to Battery Boost-mandated 30fps provides more headroom to extend battery life - the GPUs routinely put out 60fps-plus when connected to the mains
Nvidia also now ties in the game-configuration GeForce Experience settings with Battery Boost - new for the GTX 9xM - such that image-quality settings can be set lower for extra battery time.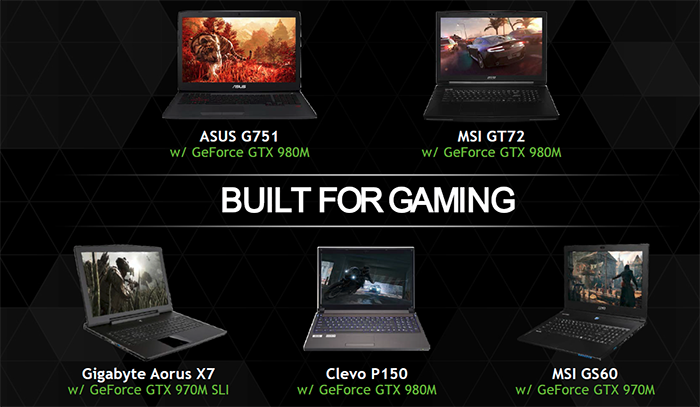 Available from today, five GTX 9xM laptops are cited by Nvidia, with the new graphics supplanting previous-generation GeForces. The wackiest of the quintet is the Gigabyte Aorus X7, now updated to run with two GeForce GTX 970M cards. We have that laptop in for review, so expect some truly groundbreaking numbers in a few days' time.