Samsung has sent out invitations to a special event in London which will take place at 7pm on 20th June. The Samsung Premiere 2013 will reveal new additions to the Android based Galaxy range and the Windows based Ativ range of devices.
In a Tweet announcing the event, on the SamsungMobile Twitter account, Samsung teases us with three close-up photographs of what we assume to be aspects of three of the new products, take a look below, you can click this image to enlarge it.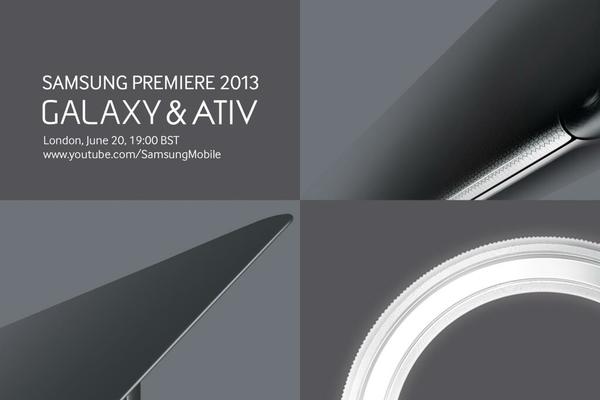 What do these close-ups look like to you? At least one of the images suggests a hybrid device of sorts and we have something that looks like a camera focus ring design detail. Also the upper right image shows a metallic fish scale texture I have seen before but can't quite recall on what... (It's not the current Samsung Ativ S Windows Phone)
With Samsung's vast array of Galaxy and Ativ devices it's hard to know what these teasers show. The Galaxy range includes smartphones, tablets and even cameras (but thankfully not the Android fridges), the Ativ range is Windows focussed and includes laptops, tablets and smartphones. Also there are a lot of rumoured Samsung devices on the brink of release.
Just a day or two ago Samsung 'accidentally' uploaded images of the Galaxy S4 Mini smartphone, this smartphone has previously been seen and detailed here and there. There is also supposed to be a ruggedized Galaxy smartphone confusingly called the Activ (a bit close to Ativ for my liking). Also it is rumoured that a smartphone with a major photography focus called the Galaxy Zoom is on its way.
Digital Trends notes that the SamsungNotebook Twitter account also advertised this London event so should offer a good balance of both Android and Windows devices. There have also been recent rumours of a Samsung Android powered notebook but according to the analysts from whom these rumours emanated it would be a little too early for that.