This is good to see, MSI is not content with resting on its laurels. The 2012 Computex Best Choice and Media's Choice award winning MSI GT70 Gaming Notebook has been updated with NVIDIA GeForce GTX 675M Graphics in place of the GTX 670M discrete graphics card it was previously equipped with.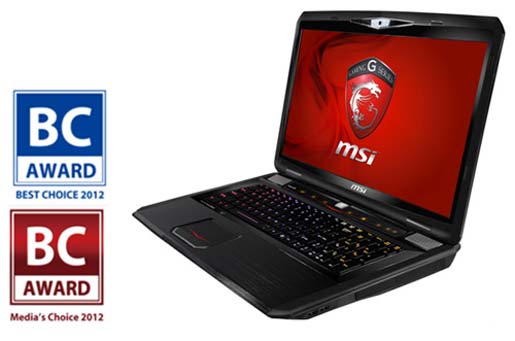 The MSI GT70 was reviewed here at HEXUS only a week ago, scored four out of five and won a HEXUS performance award. We actually pointed out that it would have been better for this Ivy Bridge laptop to have an equally modern GPU based upon the Kepler core. The GTX 670M being a rebadged GTX 570M Fermi part. Now the new graphics card is still based upon the Fermi core (a rebadged GTX 580M part) but with its extra shot of speed it is "Heralded as the fastest single-unit laptop GPU, the GTX 675M adds even more power to GT70s deadly combination of performance and multimedia experience".
The changes in the updated MSI GT70 Gaming Series laptop graphics card.
| | |
| --- | --- |
| NOW | PREVIOUSLY |
| GTX 675M | GTX 670M |
| Fermi 40nm | Fermi 40nm |
| 384 CUDA cores | 336 CUDA cores |
| 620 MHz clock | 620 MHz clock |
| 1240 MHz shader clock | 1196 MHz shader clock |
| 2GB or 4GB GDDR5 RAM at 1500 MHz | 3GB GDDR5 RAM at 1500 MHz |
| 256bit memory interface | 192bit memory interface |
In addition to the updated MSI GT70 "gaming beasts" MSI also introduced some more new gaming laptops within its menagerie; the GE70 and GE60 models. "MSI also announces the availability of GE70 and GE60, two gaming notebooks designed for gamers seeking a balance in performance, portability and affordability. The new 17-inch and 16-inch units feature a futuristic design and are equipped with the latest Intel© HM77 Chipset, NVIDIA® GTX 660M GPU, SteelSeries keyboard and Headset AMP + Gold Flash Jacks, giving them more than enough horsepower to handle the most demanding tasks."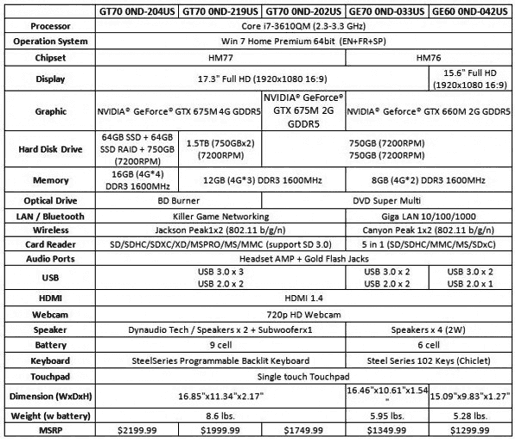 Andy Tung, Vice President of Sales for MSI US said of the news "We've given our flagship gaming notebook even more power with NVIDIA's GTX 675M, but also unveiled the GE70 and GE60, which packs affordable power for your entire daily gaming needs."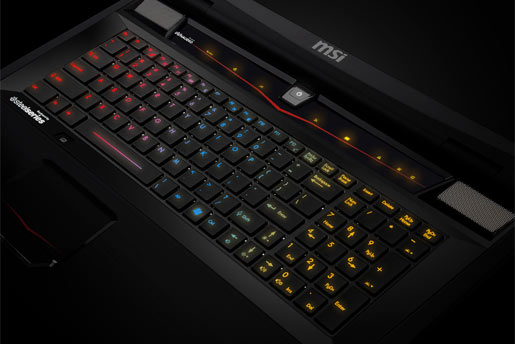 The upgrade is a good bonus if were already looking with interest at the MSI GT70 and you don't mind its dated looks and the noise under workload. However, as we noted in the review, it probably won't be that long until a Kepler architecture GTX 680M equipped gaming laptop hits the scene. Should you wait for the newer model? That's the eternal computer hardware question.