Introduction
Gaming-grade laptops serve a niche market, but love them or loathe them, they kindle interest by showcasing the very latest mobile technologies packed into a somewhat-portable frame.
Take for example MSI's newest G-Series laptop, the GT70. In a world in which ultra-thin and super-sexy systems are all the rage, this unashamed relic weighs a hefty 3.8kg and is literally obese at 55mm thick around the mid-section.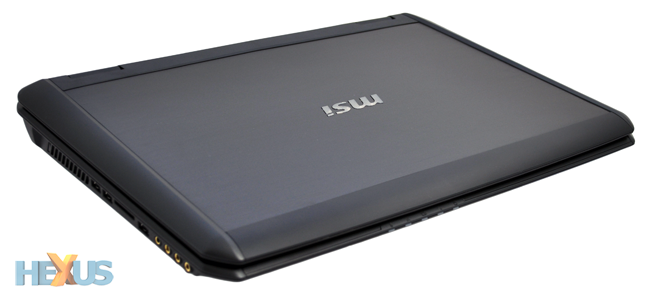 The GT70 is a long way from sleek, and pricing starts at a knee-wobbling £1,900, but this old-fashioned dinosaur has enough roar to make an Ultrabook feel comparatively feeble. You see, underneath its chunky lid, the GT70 boasts a cutting-edge Intel Ivy Bridge processor coupled with powerful NVIDIA GeForce GTX 670M graphics.
A potent mobile pairing if ever there was one, and though the system isn't what we'd call ultra-portable (you'd be hard pushed to carry this in one hand) it is surprisingly subdued in appearance for a product aimed primarily at teenage gamers. Whereas MSI G-Series laptops of old came adorned in bright red accents and sports-car-like designs, the GT70 follows in the footsteps of last year's GT780DXR with a relatively simple shell; it's a mix of black and grey, and there isn't much of note on the chassis other than the MSI logo in the middle.
The largely-plastic shell doesn't look particularly modern alongside current-generation laptops that are carved from premium metals, and you consequently won't fall in love with the GT70's exterior design. But if you do have your heart set on a true mobile powerhouse, you'll appreciate the fact that MSI's latest isn't the least bit gaudy - for a gaming system, it's surprisingly clean and minimalist. Though, at this price point it's a shame MSI hasn't giving the GT70 at least a bit of a makeover - the GT70 looks a little bit too familiar.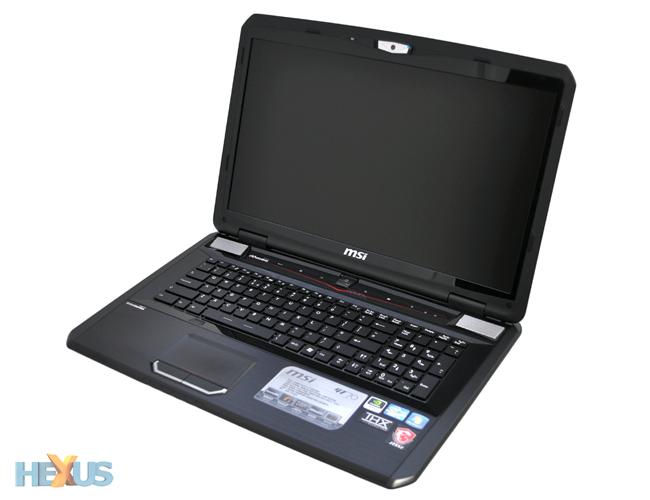 Continuing to show a sense of restraint, MSI's kept the GT70 interior looking reasonably straightforward, too. The red accents are limited to small lines on the trackpad and touch panel - both of which compliment the laptop's aesthetics quite nicely - and the unnecessary stickers on the palm rest are the only tasteless distraction.
What's clear is that the GT70 has the makings of a well-rounded multimedia workstation - there's a full-size keyboard designed by SteelSeries, a roomy multi-touch trackpad with dedicated left and right buttons, a pair of upward-facing stereo speakers that are joined by an underlying subwoofer, and of course the pièce de résistanc; a large 17.3in display offering a full-HD 1,920x1,080 resolution.
Specification
A couple of variants of the GT70 will be made available to UK consumers, with storage capacity acting as the main differentiator between SKUs. We're diving in at the deep end by taking a look at the top-of-the-line GT70-0NC-015UK.
Priced at £2,100, this ultimate configuration consists of a 2.3GHz Core i7-3610QM processor weaved from a 22nm Ivy Bridge fabric, integrated Intel HD 4000 graphics, a massive 16GB of DDR3 memory, and for those added gaming kicks a discrete NVIDIA GeForce GTX 670M graphics card with a large 3GB frame buffer.
Intel's 45W Ivy Bridge CPU is all-new and arguably the star of the show, but the NVIDIA GPU doesn't quite live up to those exacting standards. Despite the somewhat naughty use of 600-series branding, NVIDIA's GeForce GTX 670M isn't a new 28nm Kepler GPU - it's actually last year's 40nm GeForce GTX 570M rebadged and set to run at higher frequencies. The GPU continues to provide the same 336 processing cores and 192-bit memory interface, but the GTX 670M in the GT70 is overclocked to run at 620MHz - up from 575MHz on the 2011 GTX 570M.
The good news is that the GPU should prove to be quick, but would-be buyers should note that a GTX 680M derived from the 2012 Kepler architecture is surely just around the corner. And, if it's cutting-edge graphics you're after, you may feel short changed in spending £2,100 on a laptop armed with a discrete GPU dating back 12 months or so.



The rebadged GPU, clearly, is a point of contention, but it's hard to fault the rest of MSI's specification. With the aim of delivering a multimedia laptop experience that's second to none, the GT70 includes a full-HD LED-backlit 17.3in display, Dynaudio 2.1 speakers, a backlit SteelSeries keyboard, a Killer E2200 gigabit Ethernet controller, Wireless N and Bluetooth connectivity, and a high-end storage subsystem that consists of two 64GB SanDisk U100 SSDs configured in RAID 0 for the system drive and a 750GB hard disk for storage.
Making use of every last bit of space, there's an HD webcam bundled in, along with a Blu-ray writer, two USB 2.0 ports, three USB 3.0 ports, a multi-card reader, eSATA, VGA and HDMI outputs, four gold-plated audio jacks and a nine-cell battery as standard. It's a spec. sheet that puts most desktops to shame, so let's see what it can do.