Although a lot of people have written off Windows 7 on tablets, there are still a lot of redeeming qualities to having a fully featured OS on a mobile device. The engineers at Samsung certainly seem to believe this, and they've tried to strike the perfect balance with the innovative 7 Series slider.
When closed, the 10in 7 Series looks like a normal - albeit quite chunky - tablet. However, a firm push on the base of the screen will smoothly slide it up to expose the keyboard and locking it into place will turn the device into a normal looking laptop.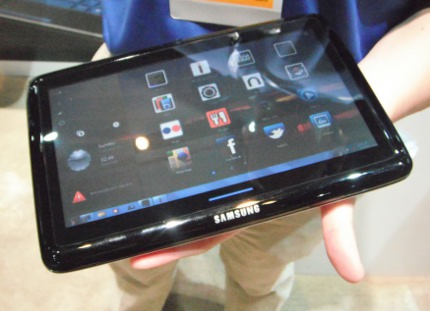 The mechanism was very smooth - even on these pre-production devices - and the spring loaded sliders seemed to give it a reassuring heft. The screen should be protected from scrapes and knocks courtesy of Corning's hard wearing Gorilla Glass, and a lock screen will prevent accidental key-pushes when the laptop is carried about.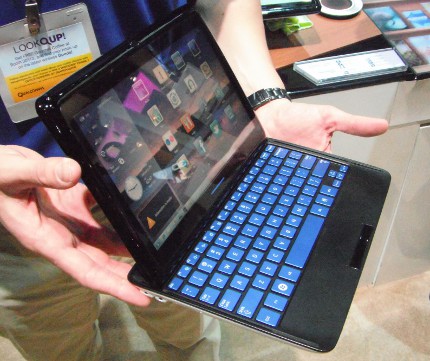 Powering the system is a 1.5GHz Intel Atom processor belonging to the new Oak Trail family that we've been seeing popping up in quite a few tablets. The benefit of this processor is that it should enable the battery to last for up to eight hours.
Other specs include a 1,366x768px display, a 32 or 64GB SSD and support for 3G out of the box. The OS will be Windows 7 Home Premium and Samsung is working on a custom touch-based interface for use when the screen is in tablet mode. Although it looks quite chunky, the slider only weighs 997g.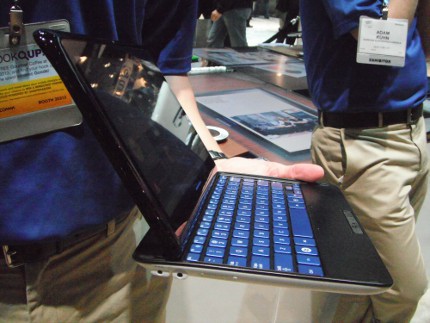 Unfortunately, we weren't able to tease out any information on pricing - other than the fact that it'll be 'competitive' - but we do know that the 7 Series will be available to buy in the first half of the year, with the goal being to have it in customers' hands in April.