Loading...
Been waiting a while?
Get Flash
to see this player.
MSI GS65 Stealth
I've had my eye on the MSI GS65 Stealth laptop since it came out due to its appealing balance of horsepower and portability. Last April it featured in the HEXUS news when it was launched with 8th Gen Intel processors and Nvidia GeForce GTX 1070 / 1060 GPU options under the bonnet. Then in August it was transmogrified, slightly, into the sleek white P65 Creator laptop at IFA. Now, at CES 2019 it has benefitted from a significant GPU boost with options for up to an Nvidia GeForce RTX 2080 Max-Q coming on line.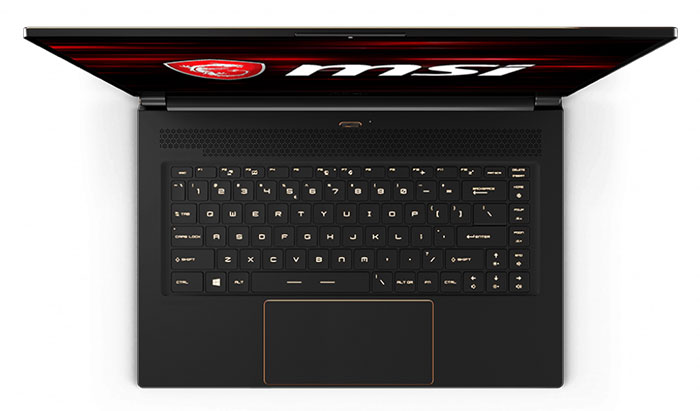 The new MSI GS65 Stealth measures and weighs the same as its predecessor at 357.7 x 247.7 x 17.7mm / 1.79kg. The finish is the same too, as are the rest of the stated specs so it is reasonable to assume that the only change is in the option to specify Nvidia GeForce RTX GPUs. The top end spec is said to be the GeForce RTX 2080 Max-Q option, but if you head on over to the official product spec pages you can see that there are RTX 2060 and RTX 2070 Max-Q options too.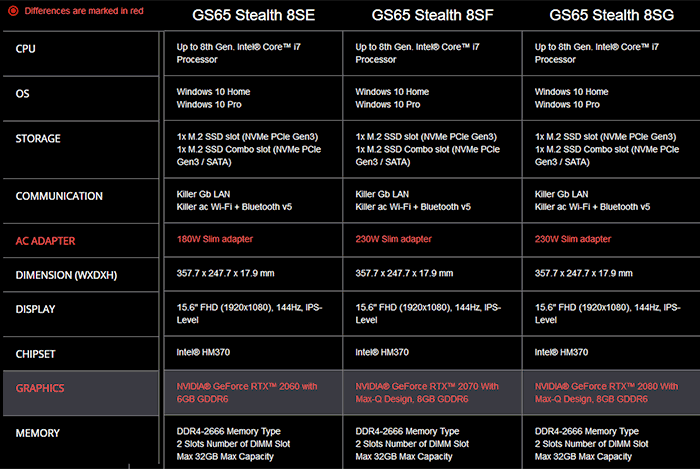 MSI GS75 Stealth
Here is an all new gaming laptop from MSI, obviously created off the back of the success of the GS65. This new 17.3-inch laptop appears to boast the same specs as its smaller brother but is graced by this larger screen with 4-sided thin bezels and 144Hz max refresh rate. The resulting laptop is larger/weightier as follows; 396.1 x 259.5 x 18.95mm / 2.25kg. Checking the official specs page the GPU options are the same as the 15.6-inch version.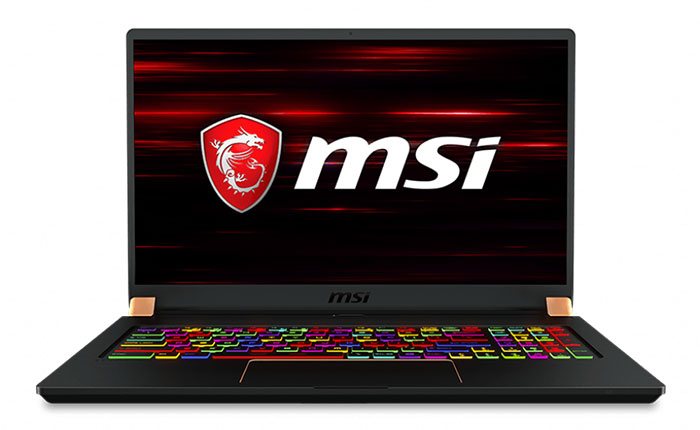 MSI's promotional blurb claims that the GS75 Stealth packs its 17.3-inch screen in a chassis "up to 60 per cent smaller than regular 17-inch laptops." Despite it slender frame it is said to be stable and rigid and the chassis affords an extra-large touchpad with smooth glass surface. A particular innovation featuring in the GS75 is "the first passive radiator design on laptop speakers," says MSI, a design choice that helps the speakers provide greater bass, we are told.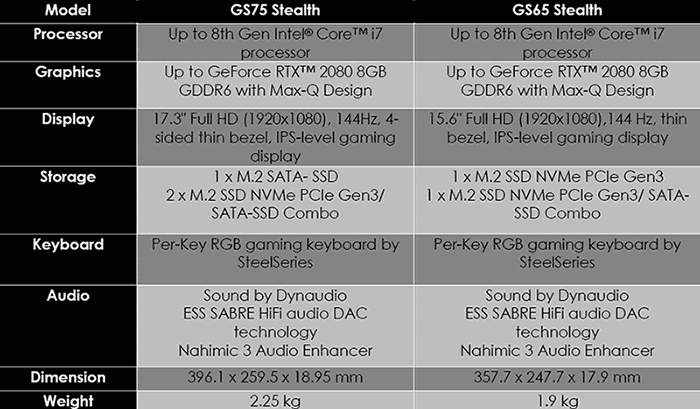 Other MSI gaming laptops
MSI didn't limit its RTX 20 gaming laptop bolstering activity to its Stealth range. Other existing families boosted by "up to GeForce RTX 2080" graphics include the GTXX Titan, GEXX Raider and GL series laptops. Note that it is only with the Stealth line that MSI mentions that the Max-Q versions of the RTX 2080 GPU is the highest configuration.