According to reports there is a new dual-screen Surface device in the works at Microsoft, this isn't the mobile 'Surface Phone' type device but something more notebook sized. Windows Central's sources indicate that the new member of the Surface range is in some ways similar to Intel's Tiger Rapids prototype (seen at Computex this summer, pictured below as a reminder), and in some ways akin to Microsoft's Courier project. This new Surface form factor has a working project name of Centaurus and is currently a higher priority for Microsoft than the pocketable Surface mobile device codenamed Andromeda.
Sources speaking to Windows Central indicate that Centaurus will be Microsoft's first dual-screen 2-in-1. The two screens can work in tandem in productivity, input, and other tasks. Microsoft is probably looking at various saleable use cases not too far away from how mobile makers are looking for USPs related to the operation of the nascent foldable screen form factors.

With Intel as a key hardware partner, Microsoft will be building its first Centaurus devices on the x86 platform. However, reports suggest that it may be one of the first devices to come with a restricted version of Windows 10 called Windows Core OS. Designed from the ground-up for dual-screen devices, this OS will only run apps from the Microsoft Store. "Microsoft has been focused on getting as many Win32 programs into the Microsoft Store as possible during the last couple of years," says Windows Central, so that should go some way to softening the impact of that restriction.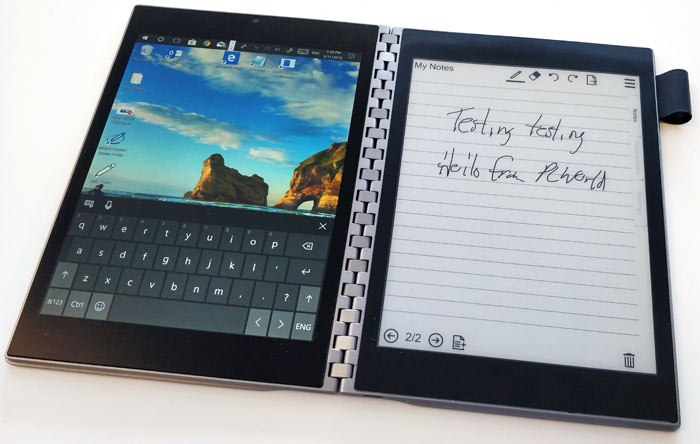 If you are interested in further emerging details about Windows Core OS, I recommend the recent article about it by MJ Foley on ZDNet. Those wishing to see more of the hardware will have to wait until next year, possibly as late as autumn. That gives the project developers quite some time to refine the Centaurus proposition. Perhaps Microsoft will use the time to absorb some inspiration from the multiple foldable phone devices we expect to see early next year too.