The winners of the Best Choice Awards for Computex Taipei have been announced. It is now a week before the Computex ICT show is due to start (5th – 9th June 2012). The Taipei Computer Association has already looked through the products to be showcased and reviews of the products by analysts, editors and academics have taken place to determine the best products, within 9 key categories, which will be showcased at the event.
You can find the full list of award winners at the Computex Best Choice Awards web site. Over 400 products were entered into the competition for places and only 37 winners were chosen within the 9 entry categories. The winners are said to show that "users have shifted their interests toward thin-light, power saving, eco-friendly and product design features" and away from pure performance factors.
To vote on which are the best of the 37 products chosen by the jury you can visit the Best Choice Awards voting page online now or vote in person if you're lucky enough to be at Computex Taipei from 5th to 8th June. The overall winner will then be announced at the show on the 9th June.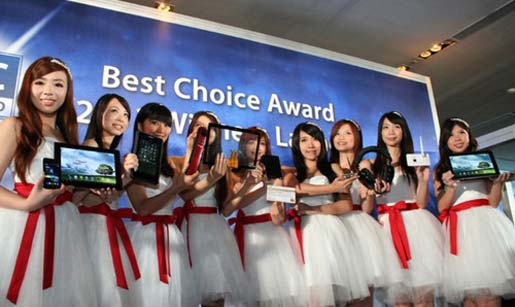 As the results stand ASUS have done extremely well in scooping 6 awards in total for products including their PadFone, Nettop EB1033 and Transformer Pad Infinity. AMD are also very happy with their award for the Trinity APU series, as can be read from their press release. The AMD Vice President, Chris Cloran, said in response to their award in the IC & Components category "The overwhelming market reception and industry accolades for the AMD A-Series APUs demonstrate that AMD is uniquely meeting the needs of our customers and a new generation of PC buyers."
Other multiple winners are Acer who have two winning products in the shape of the Aspire S5-391 Ultrabook and their CloudMobile smartphone. Also Nvidia have two winners with the GTX 680 graphics card for desktops and the Tegra 3 mobile chipset.
So far in the public voting there is a runaway winner in the shape of the intriguingly named USB 3.0 Wormhole Station by KaiJet. The Wormhole Station is "Designed for cross-platform use between two computers. Two computers, connected side-by-side, can be controlled simultaneously by either computer's keyboard and mouse. File transfer, drag/drop, between a Mac and Windows provides speed and convenience without system or data formatting issues."Has the Wormhole Station got legs to win the long race, rather than just today's online voting sprint? We shall see. I expect something less niche to be the overall winner
Related News;
The Taipei Times has an article discussing Windows 8 debut and how the new OS will feature on Ultrabooks at Computex next week.