Introduction
There's always something bigger and better just around the corner (cough GK110 cough) but as it stands it's hard to pick fault with NVIDIA's GeForce GTX 680 graphics card.
It's the fastest single-GPU card to date, and despite offering face-melting performance across a wide range of games, it trots along calmly with excellent power-draw characteristics, low-noise operation and temperatures that, as far as GPUs are concerned, are barely warm.
Kudos to NVIDIA, the reference design is stellar, but that isn't always a good thing for partners - you see, they now need to best what's already on offer if they're to stand out from the crowd. There are many ways to achieve this goal, but few attempts are as extreme as ASUS's GeForce GTX 680 DirectCU II TOP.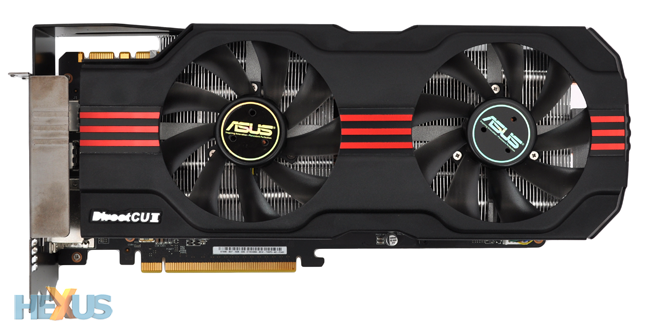 The name's a mouthful, and the card even more so. Measuring 300mm in length, this custom behemoth is almost 50mm longer than NVIDIA's reference board and it's considerably heavier, too, tipping the scales at 1,186g. Putting that figure into perspective, a regular GeForce GTX 680 is a relative lightweight at just 805g.
ASUS's card is meaty enough to put a vegetarian right off, and the price tag may even have carnivores thinking twice. When it arrives at retail in a couple of weeks' time, it'll do so carrying a frightening fee of £500.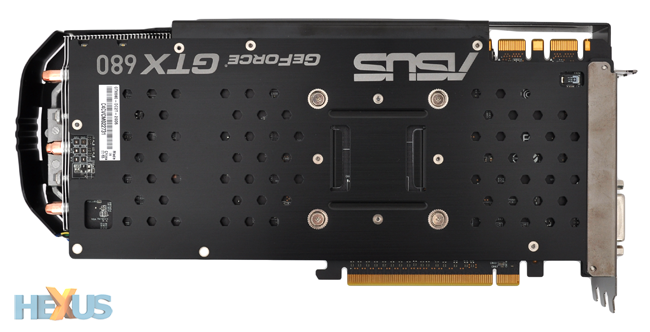 Regular GTX 680s are currently available starting at £410, so we're looking at a 22 per cent premium for ASUS's DirectCU II TOP variant. A big ask, so what else are you getting for your money? There are no bundled games to speak of - in fact the bundle includes little more than a power cable and SLI bridge - so the weight of the price tag rests solely on the card's admittedly-large shoulders.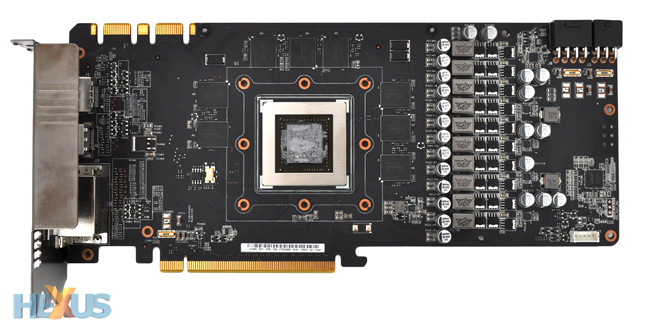 As you'd expect, the DirectCU II TOP's first parlour trick is a factory-overclocked GK104 GPU that runs at 1,137MHz - 131MHz above reference, and likely more when GPU Boost kicks in. A healthy bump in core speed, though memory surprisingly remains stock in terms of both size and frequency - it's a standard 2GB GDDR5 frame buffer operating at an effective 6,008MHz.
ASUS's custom PCB is sandwiched between a metal backplate and the gargantuan cooler, and it incorporates a myriad of high-end features - including a pair of SLI fingers for quad-card configurations, six- and eight-pin PCIe power connectors, a 10-phase power delivery, dedicated voltage measurement points and support for VGA Hotwire. The latter is an ASUS exclusive that allows modders to 'hotwire' the card to an ASUS ROG motherboard for detailed voltage control through the system BIOS.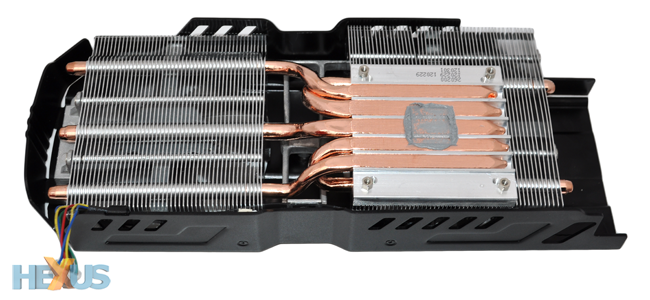 The card's dressed to impress and nowhere is that more evident than the elaborate DirectCU cooler. Designed to let the GTX 680 run 20 per cent cooler and 14dB quieter than NVIDIA's reference solution, ASUS's cooler is equipped with five direct-touch copper heatpipes, fed through an array of aluminium fins that sit beneath two PWM-controlled fans.
It's a monster from head to toe, though, having gone to such extremes, it's a surprise to see ASUS sticking with just 2GB of memory. A large 4GB frame buffer would have been befitting a card of this size, and doubling up on memory would have enabled the card to step out of the shadow cast by the new dual-GPU king of the hill, GeForce GTX 690.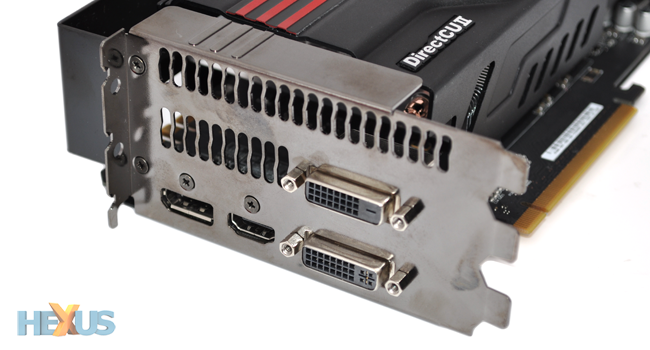 Still, ASUS's GTX 680 DirectCU II TOP is a beast of a card, and you don't really get a sense of its dimensions until you look at it sideways on. Yep, you're not seeing things, it is almost 60mm thick and it does eat up the best part of three expansion slots.
The GeForce GTX 680 impressed by not being excessively large, but ASUS is aiming for visual impact; the DirectCU II TOP is far larger than it needs to be, but it looks aggressive and the message here is clear; if you're not shy when it comes to funding your PC gaming experience, this should be one of the very best single-GPU graphics cards on the market.