On Monday at the Tesla Autonomy Investor Day, CEO Elon Musk announced a big change to the self-driving computers that are installed in Tesla automobiles. In brief, Tesla has started to transition away from Nvidia processors and instead will be using an in-house chip design, dubbed the FSD chip, in its Autopilot v3.0 hardware. Mr Musk claimed the reason might sound improbable but Tesla has designed "the best chip in the world… by a huge margin." Interestingly, the chip changeover has already happened, with Tesla Model S and Model X moving to the in-house designed FSD chips about a month ago, and the Model 3 about 11 days ago.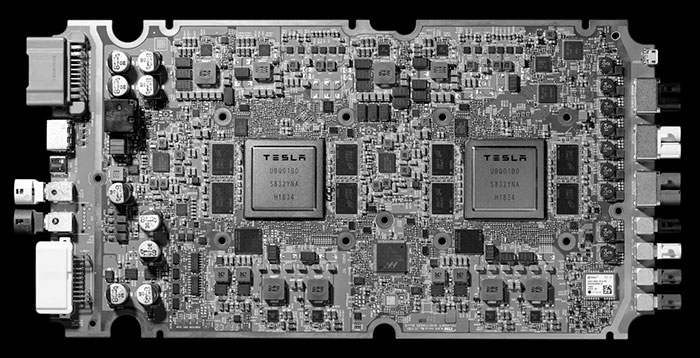 At the event yesterday Tesla's lead chip designer, Pete Bannon, claimed that Tesla's FSD (Full Self-Driving) chip achieves a 21-fold jump in TOPS performance compared to Nvidia DGX processors. Former Apple employee Bannon remarked that of all the previous projects he had worked on they had never experienced an uplift beyond 3x.
The FSD chip design was discussed during the presentation yesterday, and you can see the full Tesla Autonomy Day event on YouTube here. The presentation is nearly 4 hours long but you can skip forward to about 1hr 12mins, when Pete Bannon is invited to the stage.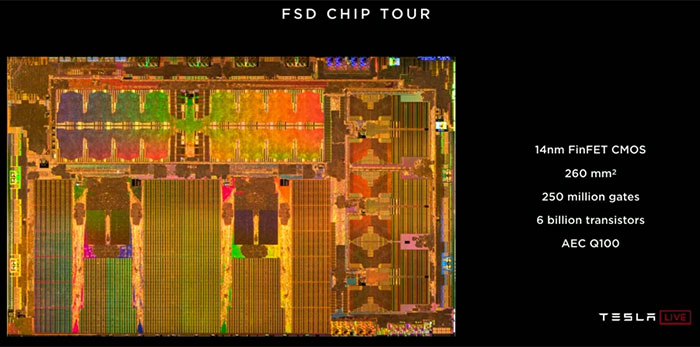 As you can see in the slide above, the FSD chip is built on the 14nm FinFET process (by Samsung) and has an area of 260mm2 which contains 6 billion transistors. The SoC, which has been in the works since 2016, has many custom components such as; 12 ARM A72 CPU cores at 2.2GHz, a "modest" 1GHz GPU capable of 600 GFLOPS, a camera interface to "ingest 2.5 billion pixels per second", on chip network, LPDDR4 DRAM, an ISP with 24-bit pipeline, and H.265 video encoder, plus a hardware (and software verification) safety system.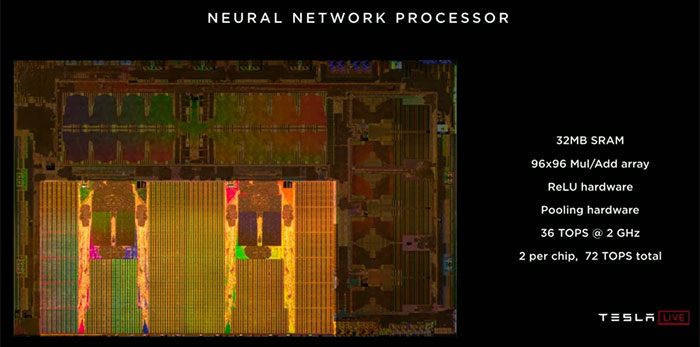 Twin neural network accelerators (NNAs) take up most of the chip area and provide 72 TOPS total, which easily exceeded the internal goal of 50 TOPs.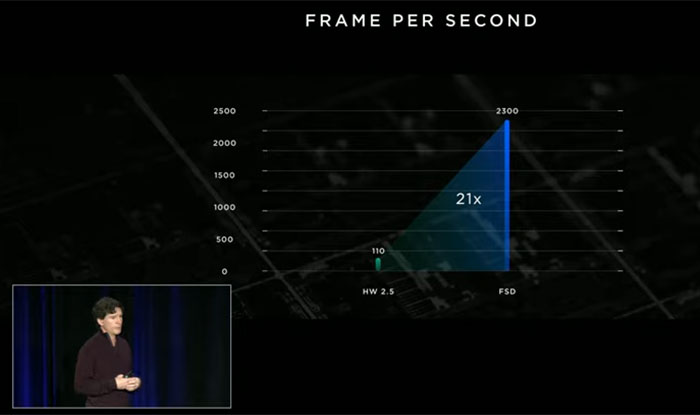 Perhaps the most significant slide is the above one, which shows the frames per second of processing capability available to Autopilot v3.0 hardware, compared to the previous Nvidia-powered HW 2.5 (discussion at around 1hr 32mins in the presentation video).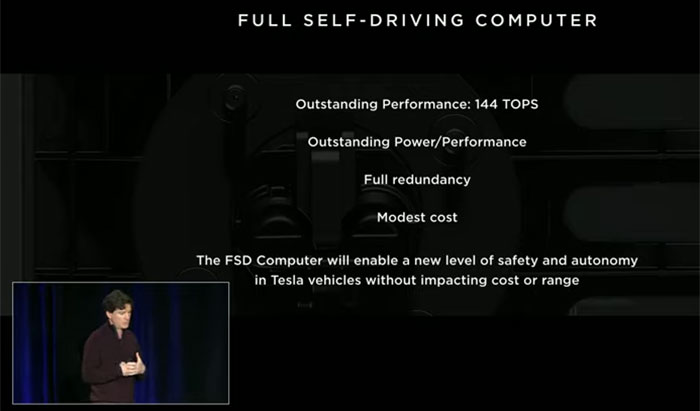 Nvidia has publically responded to the Tesla's claims about its processors. "Tesla was inaccurate in comparing its Full Self Driving computer at 144 TOPS of processing with Nvidia Drive Xavier at 21 TOPS," a spokesman said in an email. "The correct comparison would have been against Nvidia's full self-driving computer, Nvidia Drive AGX Pegasus, which delivers 320 TOPS for AI perception, localization and path planning."