Currently the range of AMD Navi GPU based graphics cards available is rather limited. The Radeon RX 5700 / RX 5700 XT were launched in August and HEXUS already has multiple board reviews available for you to peruse. However, AMD has appeared to stutter with the roll out of subsequent members of the family. For example, the RX 5500 series was paper launched back in early October and we are only just seeing dribs and drabs of third party info about hardware release dates (AIB, mobile, OEM). Last week we heard that the consumer-bound desktop add in cards from AMD partners will at last start becoming available from 12th December.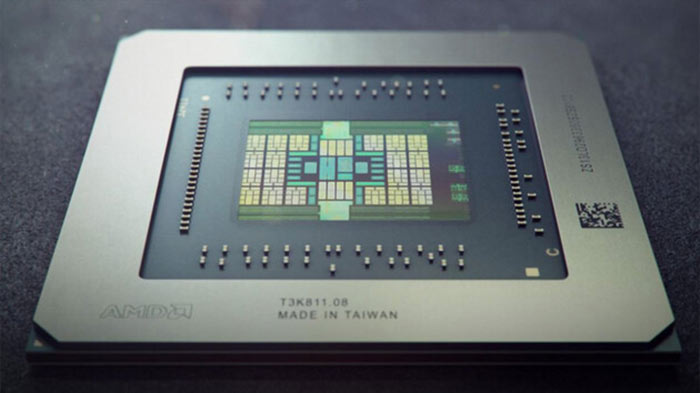 Now, video card leaking experts at VideoCardz have published their first ever mention of an upcoming Radeon RX 5600 XT graphics card. It says that two or more AMD AIB partners are working on Radeon RX 5600 XT designs. Furthermore, it will feature 6GB of GDDR6 memory, this will likely be on a 192-bit bus, but there was no information on the GPU configuration (cores/sharers) at this time.
One important thing about the purported RX 5600 XT is that it is due early in 2020, according to the source. Arriving as soon as January it can't come early enough as Nvidia has recently busied itself fleshing out its mid-range GeForce GTX Super lineup to become more competitive.
Laptop with AMD Radeon RX 5300M mobile GPU tested
Apple launched its MacBook Pro 16-inch with a headlining AMD Radeon Pro 5500M option. However, it also offers a version with the Radeon Pro 5300M. Note the word 'Pro' stuffed in these GPU names - AMD is making non-Pro versions available to laptop PC makers. The 'regular' 5300M has a 96-bit bus (168GB/s) and 3GB VRAM (vs a 128-bit bus and 4GB of the Pro).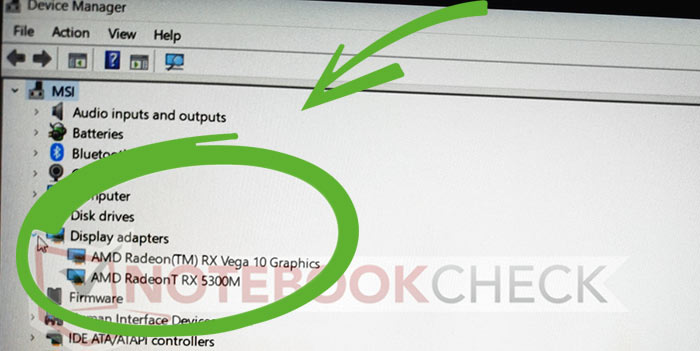 NoteBookCheck today published some preliminary 3DMark benchmarks of a pre-production laptop featuring an AMD Ryzen 7 3750H with Vega 10 graphics plus a dedicated Radeon RX 5300M GPU. The benchmarks it received from its source include runs in 3DMark Fire Strike and 3DMark Fire Strike Performance. In all the tests the pre-production laptop was faster than a GeForce GTX 1650 packing competitor (Dell G3 3590 with Intel Core i5 9300H). The performance advantage ranged from negligible to 10 per cent.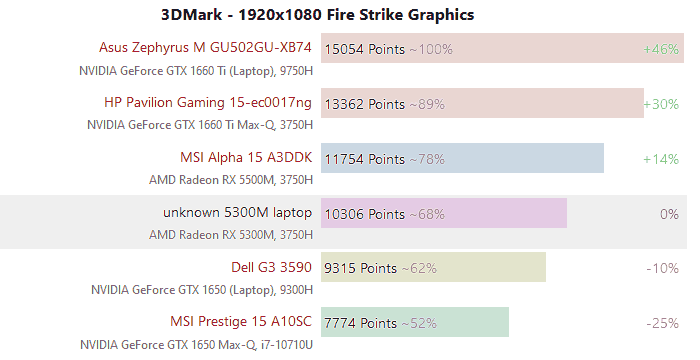 Chart from NoteBookCheck
Driver support arrives for the RX 5300M
Radeon Software Adrenalin 2019 Edition 19.12.1 is now available, with support for Radeon RX 5300M and a performance fix for 1080p and low settings gameplay with Radeon RX 5700 series.