Introduction
AMD has returned from the premium graphics wilderness with the launch of its Radeon RX 5700 Series graphics cards. Powered by the 7nm Navi architecture, the first two boards - RX 5700 XT and RX 5700 - have made things interesting in the mid-to-high-end space, and a solid showing from reference boards has left us eager to see how custom partner cards will fare.
That wait ends today with the arrival of Sapphire Pulse variants priced at £425 and £365, respectively. We're beginning with the dearer RX 5700 XT Pulse, with the RX 5700 Pulse to follow, so let's get stuck in.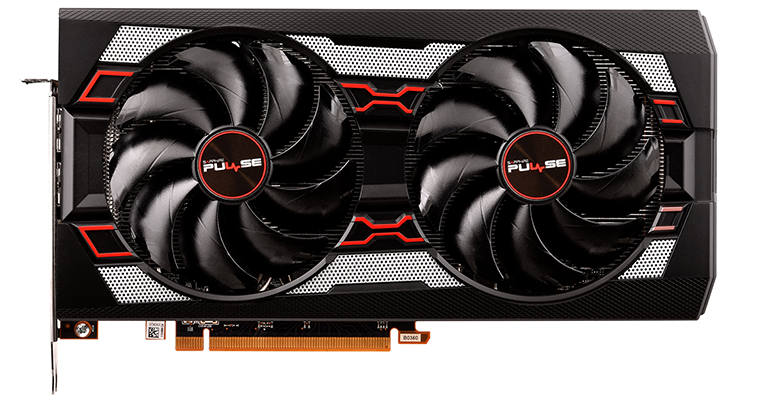 Measuring 254mm x 135mm x 47mm, Sapphire's Pulse is actually shorter than the 272mm reference board, but stands a fair amount taller than the PCIe bracket and is wide enough to spill into the third expansion slot. Weight is kept to a reasonable 925g, and this can be attributed to a plastic top shroud that exhibits a bit of flex around the edges.
Sapphire is presumably reserving all-metal construction for premium models - there's bound to be a Nitro model equipped with a vapour chamber, one would think - but Pulse should easily outperform the reference card in the cooling department, and as you'd expect from the long-standing AMD partner, overall build quality is of a good standard.
What's up for debate is the card's appearance and in particular colour scheme. Black, grey and red all work together, but it isn't a universal combination and won't suit every type of build. Still, it's a neat piece of kit and we like the fact that Sapphire has shown some restraint when it comes to LED lighting; only the brand logo across the top is illuminated in red. What's more of a pressing concern for those who've been waiting for custom cards is what lies under the hood.

There's good news as Pulse brings plenty of cooling potential to the table. Starting from the top and working our way down, there are two 95mm dual-ball-bearing fans that switch off at low load and are held in one place by just one screw apiece for easy cleaning. Beneath the fans, five nickel-plated heatpipes navigate a full-length aluminium heatsink outfitted with a good-sized copper contact plate. Sandwiched between the heatsink and PCB, there's a secondary cooling plate whose fins are tasked with drawing heat away from the VRMs and memory. Rounding it all off, an aluminium backplate gives the whole board extra rigidity, and Sapphire promises high-quality components throughout, including long-life capacitors and a 12-layer PCB design.
Given that the backplate is considerably taller than the PCB, the 8+6-pin power connectors are inset along the top edge. This configuration seemed somewhat awkward at first glance, but once the cables are attached, it turns out this is a neat way of keeping those bulky PCIe connectors partly out of view. Further along, another inset is present for access to a BIOS switch that allows the user to alternate between Performance and Silent modes.
As you might have guessed, the default Performance BIOS includes a factory overclock, with Sapphire raising boost clock from 1,905MHz on the reference board to 1,925MHz on the Pulse. Not a huge gain, but it's interesting to note that game clock - the average speed the manufacturer reckons you'll see when gaming - climbs from 1,755MHz to 1,815MHz. Silent mode, meanwhile, drops speeds back down to reference levels, and the 8GB GDDR6 frame buffer is clocked to a default 14Gbps irrespective of BIOS selection.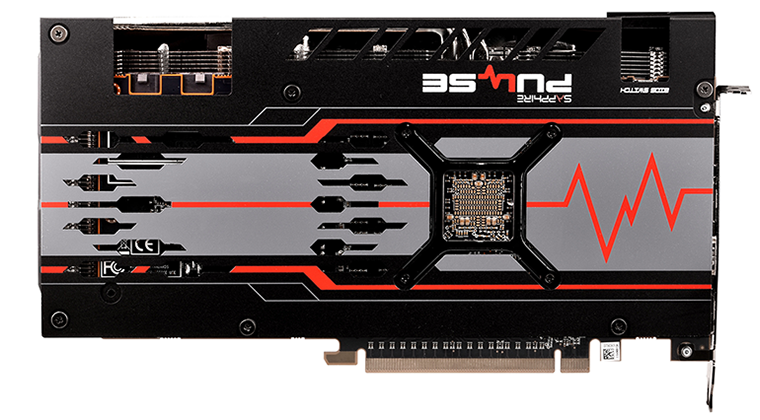 On paper, Sapphire has most of the essentials covered - there's even a 7+2-phase power design to ensure clean delivery - but, in an unexpected twist, it is not only the hardware that makes the 5700 XT Pulse particularly interesting. Wanting to make full use of AMD's Radeon Image Sharpening (RIS), Sapphire has refreshed its TriXX software utility to include a new TriXX Boost feature that harnesses the AMD tech in a useful way.
Appreciating the fact that upscaling is a common occurrence on consoles, TriXX Boost gives the user the option of rendering a game at a lower resolution, before the output is upscaled and sharpened using the aforementioned RIS. The upside, says Sapphire, is that adjusting resolution from, say, 2,560x1,440 to 2,304x1,296 can result in a 10 per cent in-game performance improvement with barely any discernible impact to image quality. Interesting claims, and we'll be exploring TriXX Boost more thoroughly later in the review.
Using such tactics to boost performance isn't anything new - custom resolutions have been around for some time, and Radeon Image Sharpening is offered to any RX 5700 Series GPU via the AMD Settings app - but Sapphire's implementation makes it available in an easy-to-use format. RIS is, in a way, similar to Nvidia's DLSS, but it is interesting to note that while the latter requires developer support and cloud learning, RIS will work on any game using the DirectX 12, DirectX 9 or Vulkan APIs. The big caveat, as you might have noticed, is that DirectX 11 isn't yet supported.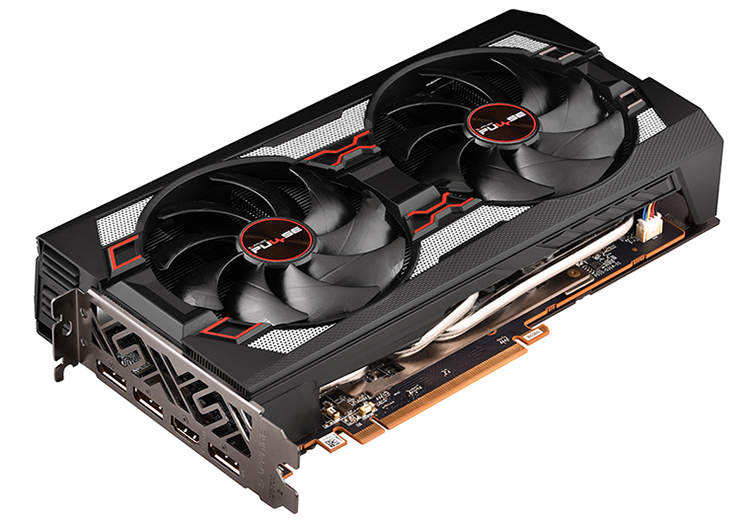 In the output department, Sapphire keeps it simple by equipping all Pulse cards with a single HDMI and three DisplayPort. The final piece of the jigsaw is pricing, and it seems the response to last week's leak has encouraged Sapphire to adjust its launch price by a fraction, from £429 to £425. The card is also eligible for AMD's Game Pass promotion, giving buyers three months of PC games with Xbox Game Pass, however we'd liked to have seen custom cards come in as close to the £379 reference board as possible, and a £46 premium isn't going to be easy to justify. In contrast, Sapphire's suggested retail price in the US is $409, representing just a $10 increase over AMD's $399 launch price.
Sapphire's less forgiving UK pricing puts the RX 5700 XT Pulse closer to the jaws of Nvidia's £475 GeForce RTX 2070 Super, so without further ado, let's run the benchmarks and see how things pan out.