In early October AMD launched the AMD Radeon RX 5500 Series. More specifically, a desktop graphics card was launched alongside a variant for laptops, the RX 5500M. AMD boasted that its most advanced graphics technology would be coming to all gamers thanks to this accessibly priced GTX 1650 beating Navi GPU based product.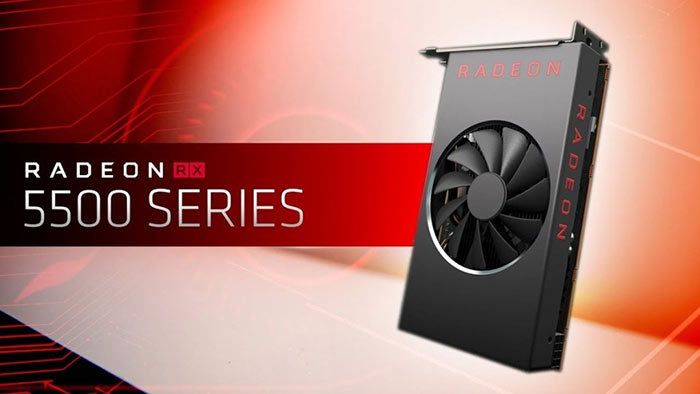 Several weeks down the line and we are still waiting for the RX 5500 to hit the shelves. However, our wait was punctuated last week when an OEM version of the desktop RX 5500 was wrenched out of a pre-built HP PC for some preliminary testing. Now Chinese tech site IT Home asserts that the physical release date for AMD Radeon RX 5500 graphics cards is 12th December 2019.
According to IT Home this date comes from a reliable news source. It explained that AMD has informed its AIB partners to prepare distribution for this date.
To recap, the AMD Radeon RX 5500 graphics card will utilise the 158mm2 Navi 14 GPU with 22 CUs, which is paired with either 4GB or 8GB of GDDR6 memory on a 128-bit bus. The desktop variant is configured with a 1717MHz game clock which can boost to 1845MHz. The mobile version has a game clock of 1448MHz and can boost up to 1645MHz.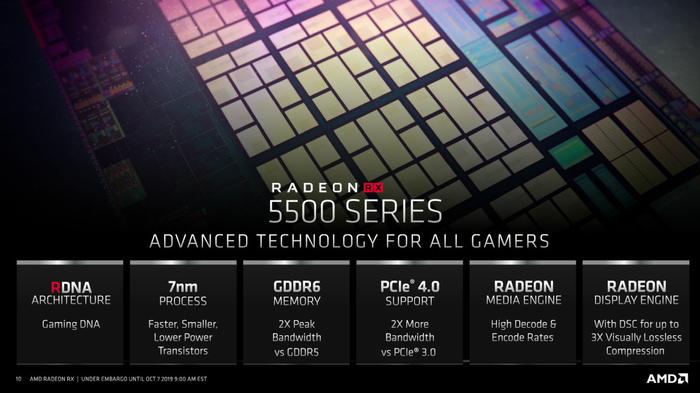 At launch AMD compared it with the GTX 1650 from Nvidia and shows it clearly beating this card in a raft of eSports games at 1080p. However, Nvidia has since launched the GeForce GTX 1650 Super, which is a significant step up from its suffix-less brother for not much more cash - about £155 on average at Scan UK. Early reviews show even the GTX 1650 Super model isn't much faster than the ageing Radeon RX580 though.
AMD CPUs are Amazon's top sellers
While the new Radeons might seem reluctant to leave the factory gates, AMD seems to be doing a roaring trade with its Ryzen CPU line. A recent article by TechPowerUp scanned through Amazon's CPU top sellers lists in the UK, US and Germany to check the state of play. It found that even of the top 10 were Ryzen CPUs in the UK, eight out of 10 in the US, and seven out of ten in Germany.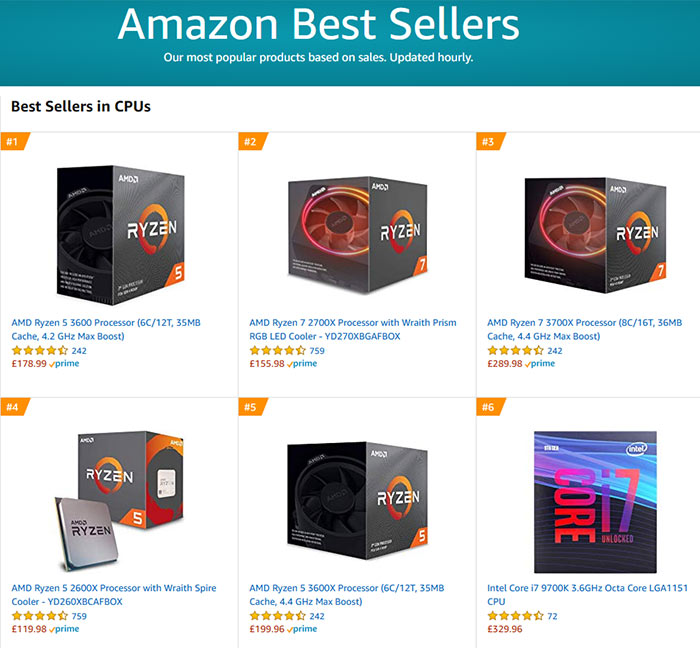 Here in the UK, for example, the top five selling CPUs are Ryzen chips, with the Ryzen 5 3600 in pole position. Intel's top entry was the Core i7 9700K in position six.