Apple has updated its range of MacBook Pro laptops with a new 16-inch model. The firm highlights this laptop as "the best for the brightest," and it is claimed to be "by far the most powerful," it has ever made. As well as the immersive new 16-inch IPS 3072‑by‑1920 pixels 500nits true-tone screen it can be configured with up to 9th Gen Intel Core i9 (octa-core) processors, up to 64GB of RAM, up to 8TB SSD - as well as a choice of dual graphics featuring an AMD Navi GPU and Intel UHD Graphics 630.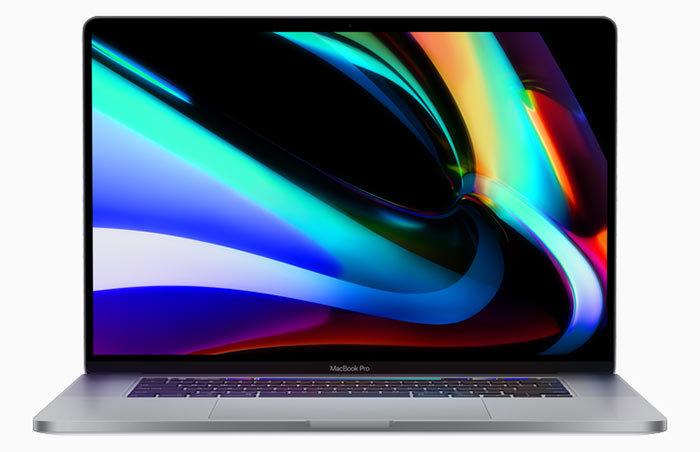 Some other important news for MacBook fans is that Apple has changed the keyboard mechanism away from the troubled butterfly type switches (it has moved back to scissor switches with 1mm key travel). Furthermore, the predicted change of Touch Bar configuration has materialised - so now there is a dedicated Esc key and the finger print sensor built into the power key on the opposite side of the deck.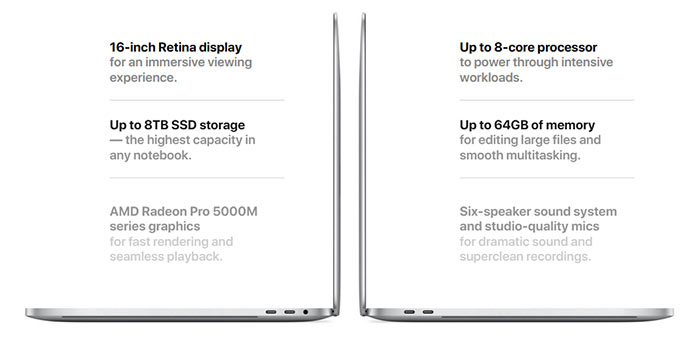 AMD wrote its own news piece about the 16-inch Apple MacBook Pro as it is the first laptop to ship with the Radeon Pro 5500M and 5300M mobile GPUs. The new RDNA graphics chips are great for mobile "video editing, 3D content creation and macOS-based game development," says AMD. What are the specs of these GPUs? Please check out the table below: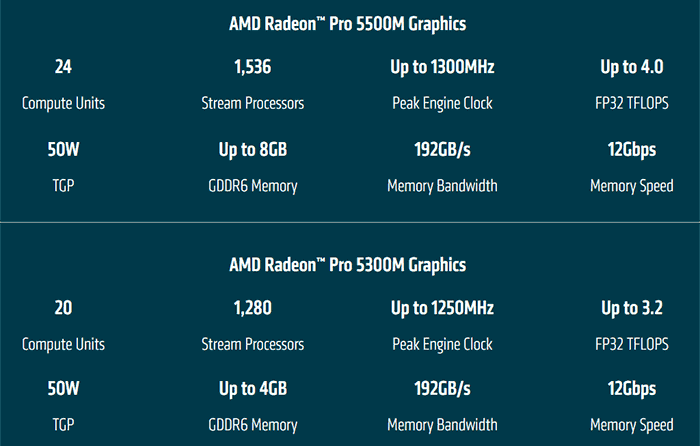 The above GPUs with up to 8GB of GDDR6 deliver up to 192GB/s bandwidth and up to 4.0TFLOPS of single-precision floating-point (FP32) performance. "The Radeon Pro 5000M series GPUs provide MacBook Pro users with the horsepower and unmatched visual fidelity allowing them to focus on unleashing their creativity and delivering amazing results," gushed Scott Herkelman CVP and GM of the Radeon Technologies Group.
AMD launched the (non-Pro) Radeon RX 5500 and RX 5500M back in early October but we are still awaiting hardware availability. However, you might want to know how they stack up against the new Radeon Pro 5000M GPUs. To recap the key specs, please refer to the official slide below.

Immediately you will note the much faster GPU base/boost clocks on the desktop RX 5500. Comparing the mobile Radeon RX 5500M and Radeon Pro 5500M you will note that the Pro version has more CUs enabled (and thus SPs) but lower GPU clocks - probably in a move to conserve battery life and keep things cool.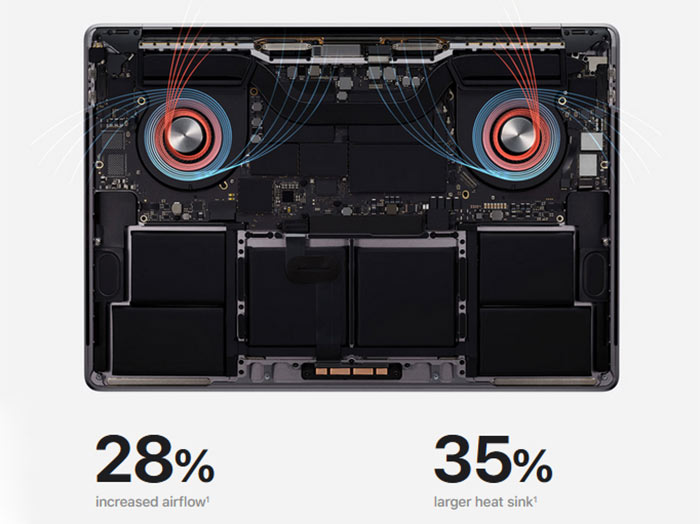 Incidentally, Apple is touting an all-new thermal solution in its 16-inch Apple MacBook Pro to "sustain higher performance for longer periods of time." The new thermal architecture offers 28 per cent more airflow, redesigned fans, and a 35 per cent larger heatsink. Buying the new MacBook Pro will cost you from $2,399 and up.