The official online Final Fantasy XV benchmarks results browser gained some interesting new scores this weekend. PC enthusiasts and gamers are currently on tenterhooks awaiting the launches of the newest graphics cards from both green and red teams, and the FFXV benchmarks page conveniently hosts a direct comparison between systems sporting the Nvidia GeForce RTX 2070 Super, the AMD Radeon RX 5700 XT, and the RX 5700.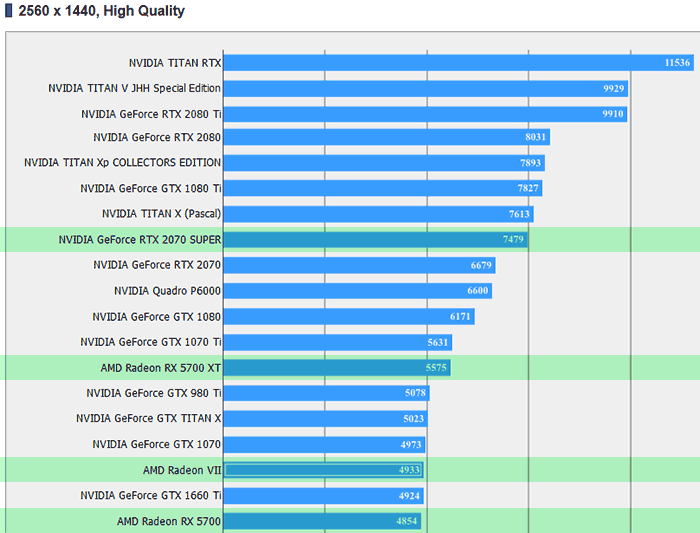 FFXV benchmark results, some results truncated for height
In summary, the benchmark shows the new Nvidia card is some way ahead of AMD's upcoming Navi offerings. However, it is important to remember that the FFXV game and benchmark distinctly favours Nvidia graphics hardware, such is the nature of its gaming engine.
At the E3 show Next Horizon Gaming event, AMD showed the Radeon RX 5700 beating down the GeForce RTX 2060 in 1440p gaming, and the Radeon RX 5700 XT rising above the RTX 2070 in a selection of 10 AAA games. In the face of the newest leaks and rumours it looks like Nvidia has moved the goalposts with its GeForce RTX Super series.
Getting back to the topic of the new FFXV results, we see that the Nvidia GeForce RTX 2070 Super scored 7479 points, a good step up from the AMD Radeon RX 5700 XT at 5575, and the Radeon RX 5700 at 4854. If we want to compare against the nearest known AMD card in FFXV, we are looking at the Radeon VII which scores 4933 in the 2560 x 1440, High Quality benchmark. HEXUS reviewed the Radeon VII back in Feb, and after our suite of tests concluded it fitted in just below an Nvidia RTX 2080 FE card but suffered from noise under load, even with its high-spec cooler.

Mr Apisak has continued to unearth new CPU and GPU benchmark runs over the last couple of days. Relevant to the tests above, a few hours ago he has shared some Geekbench OpenCL runs featuring the GeForce RTX 2070 Super and RTX 2060 Super (screenshot above). You can head on over to the Open CL league tables page to see how these scores fit into the GPU landscape, according to this test.