Radeon RX 5700 XT and RX 5700
There ought to be sufficient understanding of the Navi architecture now that you can appreciate it does more than GCN with the same nominal shaders and memory bandwidth. You will first see it on cards bearing the Navi 10 implementation.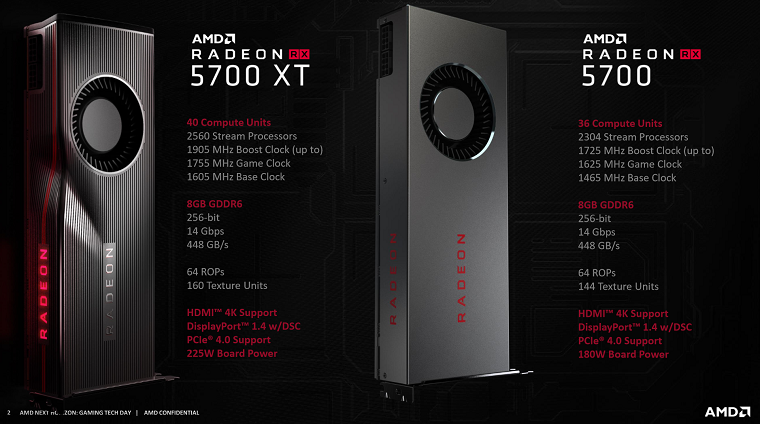 And here they are. The Radeon RX 5700 XT is a full implementation of said die which measures 251mm² and is hewn on that leading-edge TSMC 7nm process. It also packs over 10bn transistors for good measure.
Both support, in concert with the new Ryzen chips, compatibility with PCIe Gen 4 for twice as much card-to-system bandwidth. Not so useful for games of today, but perhaps a boon for content creators running super-high resolutions and massive datasets.
The physical cards use a 10.5in-long PCB, adhere to a strict dual-slot form factor, and continue to use a blower-style fan that doesn't switch off at low loads. Notice the 'dent' on the RX 5700 XT? It's there for aesthetics and is known as the 'power contour' by folks at AMD. There's no USB Type-C on the back, even though the architecture can support it.
Back to specs, both GPUs feature a 256-bit-wide memory controller allied to GDDR6 memory operating at 14Gbps, thus offering up 448GB/s of nominal bandwidth.
And the key difference is that Radeon RX 5700 XT uses 40 CUs and 2,560 shaders while the regular part houses 36 CUs and 2,304 shaders, which is further hamstrung by with slower frequencies. For those that care, non-XT also uses the same Navi 10 die albeit with those aforementioned bits switched off.
Remember we said that a chief aim of Navi was to get the hot-clock frequency up compared to Vega? This appears to be the case as the XT runs at 1,605MHz base, 1,755MHz game, and 1,905MHz boost. The non-XT reins it in to 1,465/1,625/1,725MHz.
Hold on, Game Clock? What gives?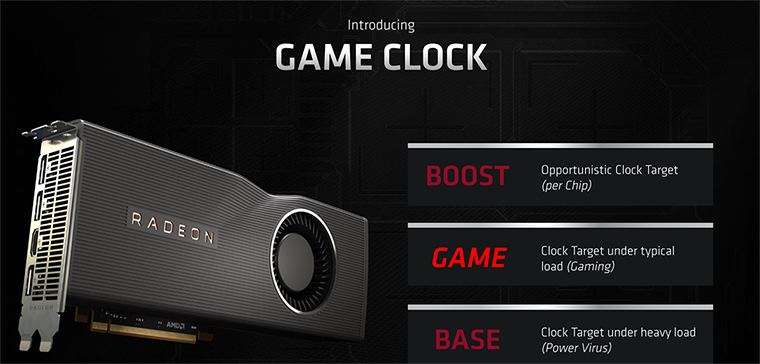 Ah, a third clock. The Game Clock is a conservative estimate of the kind of frequency you ought to expect with a card in your system. It's the real-world clock that we oftentimes reference in reviews. The purpose, AMD says, is to give the uneducated user a solid guide into the frequencies they can expect.
The base clock is still present because, even though it is not of much use, the company's legal team is not comfortable getting rid of it. The boost, of course, means how high the GPU ought to scale under optimum conditions.
Let's do some calculations. The Radeon RX 5700 XT's TFLOPS throughput is around 9TFLOPS while the non-XT chimes in at about 7.5TFLOPS. Those numbers are higher than RX 590 but lower than Vega 64/56, conveniently ignoring performance benefits from the RDNA architecture discussed on the previous page.
AMD will release both cards in reference form some time in July. They're a tad thirstier than we'd like, specified at 225W and 180W, respectively, and it's reasonable to believe that having some compatibility with GCN is to 'blame' for the power consumption that's higher than rival Nvidia GPUs. Power for both is sourced via a combination of 8-pin and 6-pin power connectors.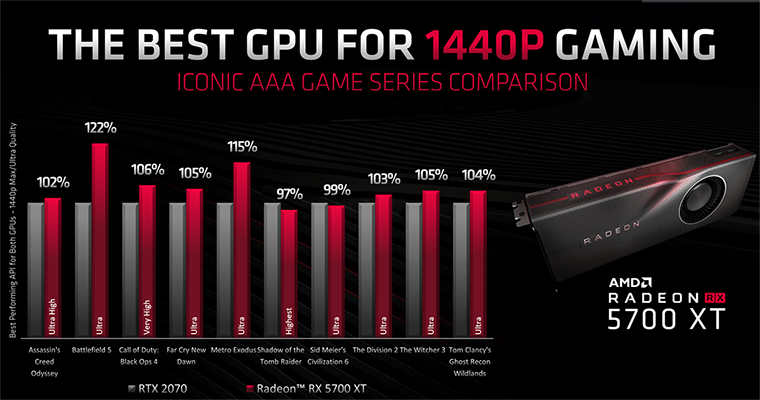 Speaking of which, AMD reckons that Radeon RX 5700 XT is a bit faster than the GeForce RTX 2070 across a range of titles and highest-performing API - around six per cent. We'll know more when we come to test it.
The numbers, on first glance, seem optimistic given what's under the hood, and being fair, there's no ray tracing support here, so pricing will be interesting.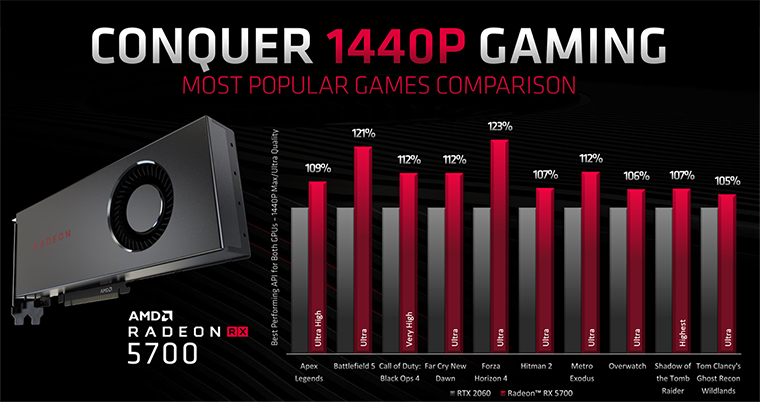 On a similar AMD-provided footing, the vanilla Radeon RX 5700 promises to beat out the GeForce RTX 2060 in most tests run at a 1440p resolution and high-quality settings.
Truth be told, we're seeing performance that is marginally ahead of Radeon Vega 64 and around Vega 56 levels from these two new GPUs. The key aspect is that they use a much smaller die and greater levels of efficiency to churn out the frame rate.
Navi 10 was never designed as a GeForce-killer - it can't touch the RTX 2080 Ti, of course - but, from what we have learned thus far, is a credible threat in the £250-£400 space currently occupied by the expensive-to-produce Vega cards.
A leaner, cleaner architecture, smarter caching, and 7nm production combine to bring AMD back in the performance and, to a lesser extent, efficiency game as far as enthusiast-class GPUs are concerned.
Given how price ravaged current Radeons are, no matter how much of a leap the Navi architecture affords, Radeon RX 5700 XT and 5700 will also live or die by their pricing.
To that end, at the official launch event in LA, AMD stated that the RX 5700 is set to be available on July 7 from $379 and the RX 5700 XT from $449. This includes a three-month XBox GamePass sub. What do you think? Does that pricing make sense in the current climate? Let us know your thoughts in the forums. Feels at least 10 per cent too expensive to me.
In a final twist, AMD announced the availability of a special Radeon RX 5700 XT 50th Anniversary Edition, complete with gold livery around the fan and shroud. It has higher frequencies, coming in at 1,680MHz base, 1,830MHz game, and 1,980MHz boost, and it will cost an extra $50, at $499.