Nvidia took the wraps off its new Parker SoC at the Hot Chips symposium in Cupertino yesterday. The headline purpose Parker is as a next-gen mobile processor designed to "power the next generation of autonomous vehicles". Thus it will be found in upcoming deep learning-based self-driving AI cockpit systems. With its combination of Pascal GPU and Nvidia Denver CPU architecture Parker can efficiently deliver up to 1.5 teraflops.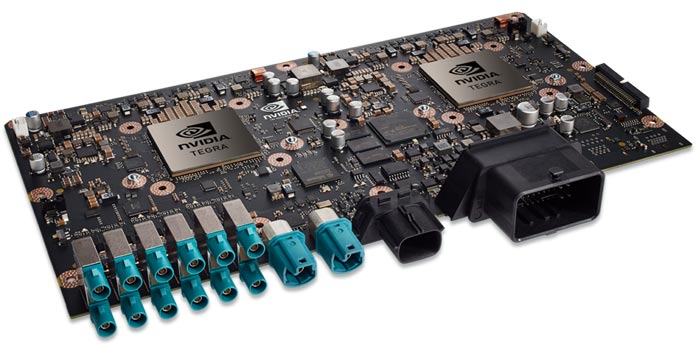 Nvidia DRIVE PX2 with a pair of Parker SoCs on board
Parker is equipped with "a new 256-core Pascal GPU" which offers both fast, fluid graphics for multiple in car displays and fast deep learning processing power. For CPU power Parker uses a complex of two next-generation 64-bit Denver CPU cores (Denver 2.0) paired with four 64-bit ARM Cortex A57 CPUs. Working together in a fully coherent heterogeneous multi-processor configuration, these CPUs are said to deliver "50 to 100 percent higher multi-core CPU performance" than other mobile processors.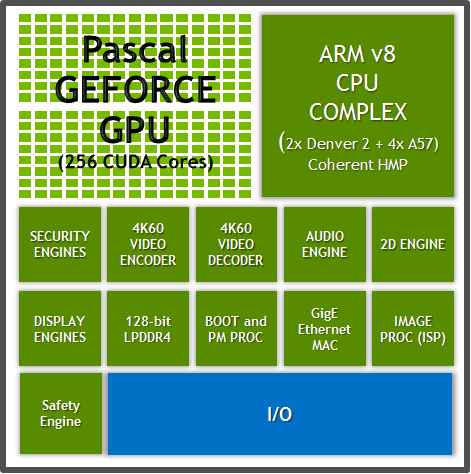 As you can see in the block diagram, above, among its components the Parker SoC includes a Safety Engine, always monitoring for faults and errors. Additionally, Parker's support for decode and encode of video streams, up to 4K resolution at 60 frames per second, helps automakers employ the highest resolution video cameras for object detection. The 4K graphics capabilities can equally be used for in-car displays / entertainment.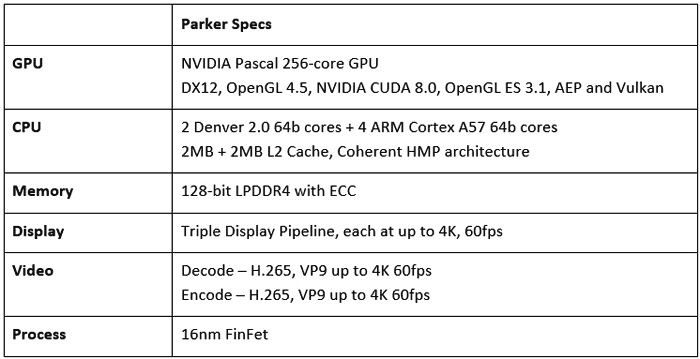 Automakers can take advantage of the scalability offered by Parker, using a single unit for simple efficient systems or using a system like the Nvidia DRIVE PX2 with a pair of Parker chips and two discrete Pascal GPU cores. Furthermore, Parker's hardware-enabled virtualization supports up to eight virtual machines for in-car systems to simultaneously run multiple systems in different parts of the car.