Advanced Micro Devices plans to reveal its new low-power Jaguar core at the Hot Chips Symposium next month. The new processor core, aimed at the tablet/netbook market, is expected to become available in Q1 2013. Like AMD's current line of processing solutions for PCs, these low-power cores will be integrated into an APU unit with a relatively powerful graphics processor to create a part offering well balanced system performance.
The AMD Jaguar will have its first showing on Tuesday August 28th, presented by Jeff Rupley of AMD. The first utilisation of Jaguar cores is expected within the Kabini and Temash 28nm APUs in low-cost, low-power tablets and netbooks. Intel's rival Clover Trail Atom processors, launching later this year, are based upon 32nm transistors and paired with a less able graphics processor. Whether TSMC or Global Foundries are making the Jaguar based APUs should be revealed during the Symposium in California next month.
Before the Jaguar cores become available, in Kabini and Temash APUs, AMD will be pushing tablets based upon Hondo, its first gen ultra low power APU which utilises the 40nm Bobcat architecture. In addition to shrinking the process size, Jaguar cores are expected to have other performance and power consumption advantages over Bobcat. As things stand AMD is notably absent from the up and coming tablet and mobile markets, yet Windows 8 is launching shortly with a touchscreen and tablet focus. x86 versions of Windows 8 tablets are going to be more useful for content creators due to the large library of legacy applications.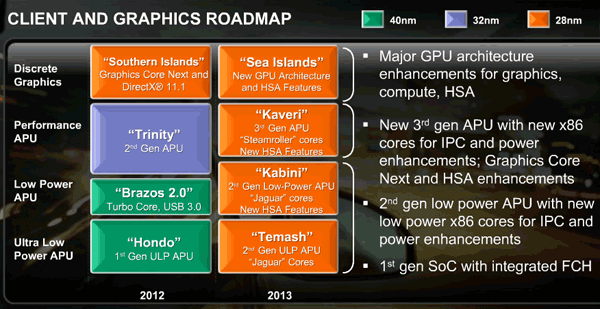 AMD Jaguar key features
Temash ULP APU: 2 Jaguar cores
Kabini Low-power APU: 2 or 4 Jaguar cores
28nm process, ARM CPUs are currently made at 40nm, Clover Trail Intel Atom will be 32nm
IPC (instructions per clock) improvements
HSA (heterogeneous system architecture) enhancements
Tighter integration of CPU and GPU integration will also save energy
GPU performance should give an edge over rivals
The Jaguar core looks promising for AMD, it will be really interesting to see what combination of performance and power consumption is on offer from Temash and Kabini when tablets and netbooks ship with these APUs. The sooner the better for both AMD and for those consumers more interested in x86 Windows 8 than Windows RT tablets.