A new report on the VR-Zone technology blog discusses the prices of upcoming Windows on ARM devices. The VR-Zone team took time to ask about pricing whenever they were in meetings with manufacturers planning to produce Windows RT devices.
Previous industry rumours suggested Microsoft may sell Windows RT at a lower price, at least initially, to help establish the market and make the devices more competitive. A figure of $35 per license was put forward. However in meetings with several major vendors at Computex last week VR-Zone was told of prices ranging from $80 to $95, but most commonly $85 per license. (All prices in US Dollars).
In terms of price competitiveness an ARM tablet with the same spec running Android therefore can be $85 cheaper for the end user than a Windows RT one. How this will rub with the end users/buyers is not known until we see the devices released and on shop shelves and in internet retailers online stores. When that happens we might discover that Windows RT devices aren't aiming at the penny pinching end of the market but want to be in or even higher priced than the Apple iPad. In a similar fashion to how Intel's Ultrabooks are aiming to get some premium pricing action by targeting the MacBook Air market.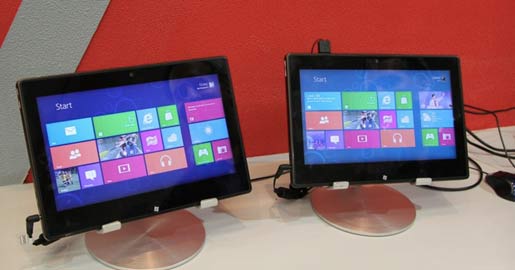 At Computex most of the Windows 8 tablets we saw weren't looking like they wanted to compete at the lower end of the market with Android devices, so perhaps this higher pricing strategy will ring true when we see a decent amount of Windows RT products released onto the market. VR-Zone say launch-time Windows RT tablets will mostly be released within the price range of $549 to $799, with premium examples hitting the $899 region. We saw Wintel Windows 8 tablets from Acer at even higher price targets, so perhaps these price ranges will be accurate. The hardware/software combination on offer from Microsoft will have to be compelling to compete with the Retina display equipped iPad 3 available at $499 and older but practical iPad 2 models at $399.