Is the Future Fusion?
Regardless of what might be happening with its Bulldozer and Llano CPUs, AMD is still on track to launch the Bobcat processors for low-power and ultraportable systems at the start of next year. To help start building buzz for the new chips, the manufacturer invited a few members of the press to its facility in Austin, Texas, for some quality time with what will become the Brazos platform.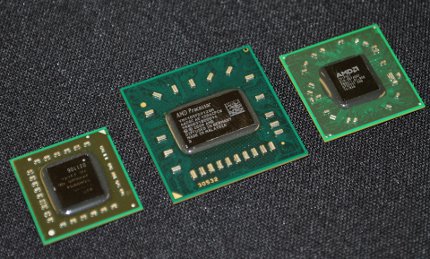 Zacate (left) compared to AMD's current V105 two-chip low-power mobile solution
Zacate hotness
The stars of the show were the 1.5GHz single-core E-240 and 1.6GHz dual-core E-350 Zacate APUs which are destined to be used in low-power notebooks and desktops - think AMD's answer to Intel's Pentium CPUs. The chips will be kitted out with 1MB L2 cache, 500MHz Radeon HD 6310 GPUs and DDR3 and SATA 6Gbps support - all with a TDP of only 18W. The manufacturer believes that the inclusion of a competent GPU alongside the CPU will result in a more balanced design and a smoother overall user experience.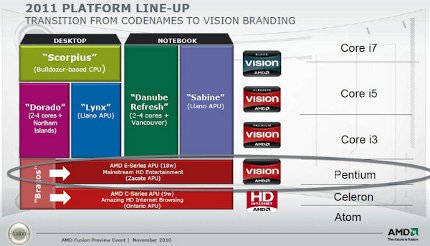 There are times when 18W is just too much, though, and for that, AMD will have the Ontario APUs. Based on the same Bobcat architecture, these chips will manage to bring the thermal envelope down to 9W, making them an ideal fit for next-gen netbooks. Available as 1GHz dual-core and 1.2GHz single-core models, the C-series chips will again contain a DX11-class GPU, though this time it's the 280MHz Radeon HD 6250.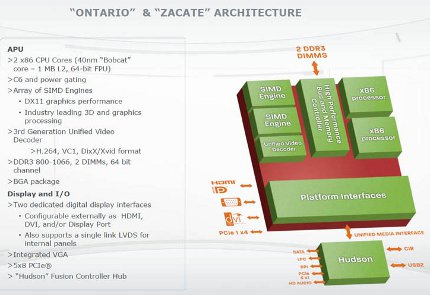 Show us what you can do
The journalists in attendance were then given the opportunity to run some tests on the hardware, in the form of both an open test-bed and a prototype Zacate-powered notebook from MSI. While performance numbers are still being kept under NDA, those in attendance reported that the platform offered good performance - especially given the power-draw - while running impressively cool. High-def 1080p video clips weren't an issue and the chip even managed to handle some gaming tests - selected by the journalists, not AMD - comfortably.
We're still waiting to get our own hands-on time with the Brazos platform, but from these early impressions, it looks like AMD might just deliver on its promise of low-power chips with impressive performance numbers. If you want more details, both Hot Hardware and HardOCP were on hand and have the full run-down on the Fusion APUs.