Qualcomm unveiled the Snapdragon 850 mobile compute platform back at Computex 2018. It was touted as a fast new processor that is optimised for larger form factors, with more surface area to dissipate hea,t and with a greater need for horsepower. Yes, it is basically aiming at the next generation of Windows on Arm devices - Cellular PCs, Always Connected PCs, or whatever you want to call these long battery life LTE laptops and 2-in-1s.
If you head on over to the official SD850 product page you can see it is optimised for always on, always connected, AI, entertainment, and Windows 10. With reference to that latter feature, it is said to deliver the "complete Windows 10 experience, maximizing productivity, entertainment and security". Importantly, it is also expected to give Windows 10 performance a noticeable speed uplift.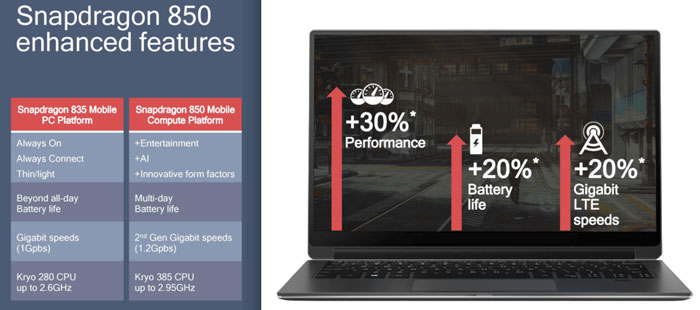 Reviews of existing Windows on Arm devices, like the Asus NovaGo (SD835), say that they feel "really, really slow for a laptop with a starting price of $599". Thus the SD850 is highly anticipated and expected to deliver a significant usability boost. Qualcomm says that the new chip will be up to 30 per cent faster than the chip used in existing Windows on Arm devices. It thinks users will appreciate the difference whether they are "web-browsing, gaming, creating a video, or listening to music".
Will Qualcomm's promises translate to the real world? Yesterday WinFuture.de, via Liliputing, shared some early benchmarks of a machine powered by the SD850 and the results are pretty much as a jaded tech enthusiast might expect.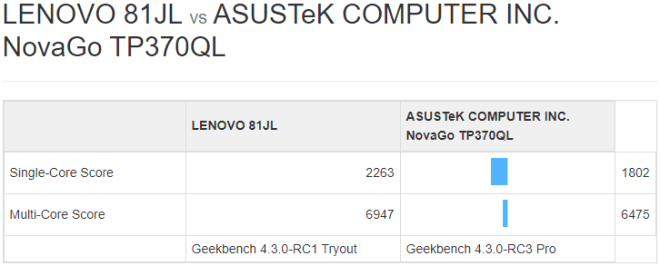 Running Geekbench 4.3.0 an unreleased Lenovo device, powered by the SD850 showed it could offer a 25 per cent uplift in single-core scores. However, its multi-core score wasn't a big improvement, just about 7 per cent better with the new chipset.
We must remember that these results are with just one benchmark and that Microsoft, Qualcomm and the respective hardware partners might still be optimising for the SD850. We will have to wait until more extensive real-world tests are shared and we find out the pricing of the new SD850 powered laptops to consider whether Windows on Arm will be able to make strides forward with this generation. Qualcomm previously stated that Snapdragon 850 powered PCs will be "available for the holiday season".