Last week we reported on Windows 10 Enterprise being demonstrated to run smoothly on a Qualcomm Snapdragon 820 powered device. It wasn't only the OS that appeared to operate slickly, in the published demonstration video, even behemoth desktops apps such as Adobe Photoshop CC, and Windows Store UWP games like World of Tanks Blitz confidently strutted their stuff. "Fast and smooth" repeated video narrator throughout the demonstration.
All this was down to Microsoft's new emulation of x86 on 64-bit ARM processors. While the demo was done on a Snapdragon 820, we hear that the functionality won't be ready for prime-time until the arrival of the Snapdragon 835 and beyond. The announcement of the Microsoft Windows / Qualcomm Snapdragon partnership is a milestone in the creation of the "truly mobile, power efficient, always-connected cellular PC," noted Microsoft's Terry Myerson.
Showing off the 10nm Qualcomm Snapdragon 835 processor
Already Microsoft's traditional hardware partners have taken notice and started to ready 'Cellular PC' devices, reports Taiwanese PC industry journal DigiTimes. Its sources say that many vendors are already designing, and even testing, laptops and tablets powered by Qualcomm Snapdragon processors, running Windows 10.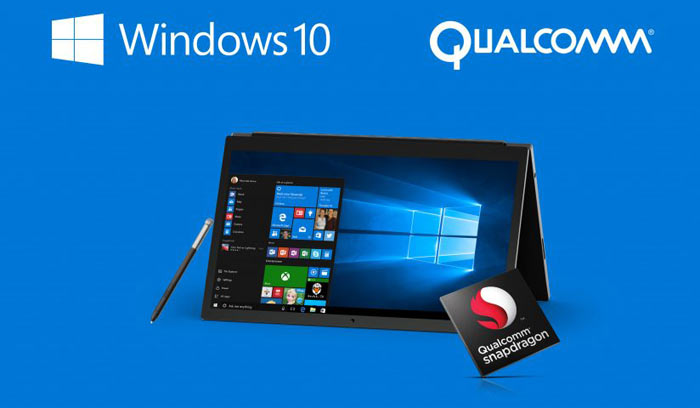 Cellular PCs should arrive in H2 2017
There are a number of attractions reeling in the device makers. As touted by Terry Myerson, you have the power efficiency and battery life benefits. DigiTimes also thinks that there could be cost benefits making it worthwhile to invest in cellular PC design. With greater differentiation and new form factors sprouting from this Windows 10 innovation, we could see some interesting new devices. It is noted that another WinHEC event is currently taking place in Taipei (as a follow up to the Shenzhen, China event).
The first 'cellular PCs' are expected to debut in summer, just in time for Computex 2017 product launches perhaps.