Deepcool has a reputation for eye catching and innovative PC chassis designs. At the CES is January we saw the stunning looking Tristellar chassis. This formed the basis of the CyberPowerPC Trinity gaming PC which launched in April.
Pushing the boundaries in a different direction at Computex this week Deepcool was proud to show off a pair of Mini-ITX chassis that employ a concept called 'GPU Outside'. The designers haven't actually placed the system graphics card outside of the chassis but positioned it in a prominent place within a clear Perspex section of the chassis. One of the new chassis is slab-like, like a games console, the other is like an elongated cube.
Loading...
Been waiting a while?
Get Flash
to see this player.
The first chassis you will see in our video is the GamerStorm Nephrite ITX concept chassis. We were told that it is constructed from carbon fibre panels, supported by a steel structure with a clear colourless Perspex top compartment for your graphics card. Standing up on your desk this chassis gives a great view of your graphics card running. The two compartment chassis measures 330 x 100 x 428mm (DxWxH). There is a pre-installed 500W SFX power supply in the Nephrite. Max compatibility is said to be a 300mm graphics card, 120mm tall CPU cooler, 1 x 3.5-inch bay and 2 x 2.5-inch bays. There's room for a 25mm thick 120mm fan or radiator in the chassis.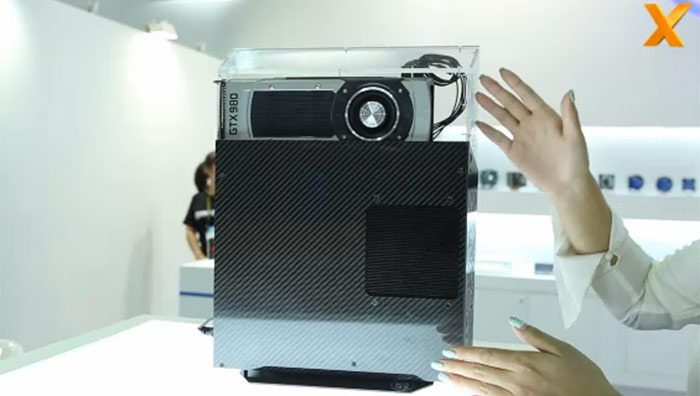 Next we saw an unnamed mini-ITX chassis, an elongated cube design measuring 334 x 240 x 264mm. Despite its compact nature Deepcool insists that users can fit in high end PC components, to provide a "great gaming experience". A central + shaped joypad on the front of the case facilitates control of power, reset, LED lighting on/off and LED lighting colours. The chassis front panel I/O is just a little set back from the right edge to help maintain the clean, minimal look of the design.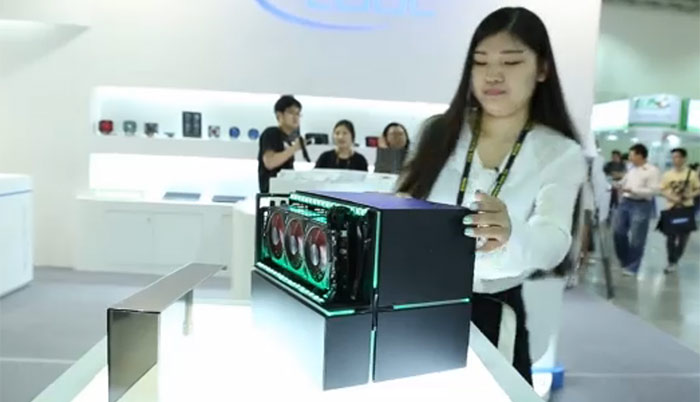 The cube style chassis at first glance presents an all-black look but the upper left quadrant is black smoked Perspex – again featuring Deepcool's 'GPU Outside' concept. When you have a flashy graphics card installed and powered up any lighting present will really add to the look of this chassis. Again the maximum compatibility for graphics cards is 300mm and 120mm clearance for CPU coolers. This unnamed chassis provides 2 x 3.5-inch and 2 x 2.5-inch drive bays. These fit in a cage in the upper right compartment where the motherboard also resides and there is room for case fans or a liquid cooling setup.