A new stainless steel and aluminium PC case will appear on crowdfunding platform Kickstarter on 21st October, as long as it isn't halted by complications. I've added that proviso as the Dune Pro case could possibly be stopped in its tracks by legal eagles, given its similar appearance to the latest Mac Pro computer from Apple.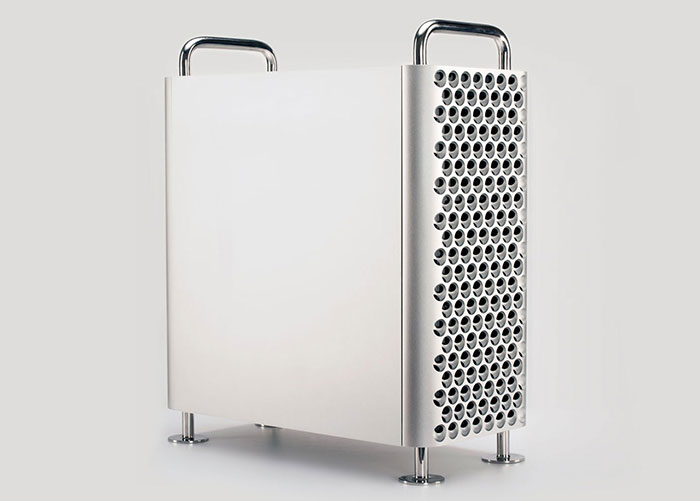 The new Mac Pro is yet to arrive, and in the UK we have no options to pre-order or configure, just a measly 'notify me' form to fill in. Arriving later in autumn, Apple Mac Pro configurations are said to start from $5,999 in the US. Almost as soon as it was announced the cheese grater jokes, jibes and memes began. However, some in the Windows PC world must have looked across in envy and the result is this tribute from Dune. Dune's marketing arguably takes a leaf from the Apple design book too, with its minimal web site layout and hyperbole about the appeal the PC case has.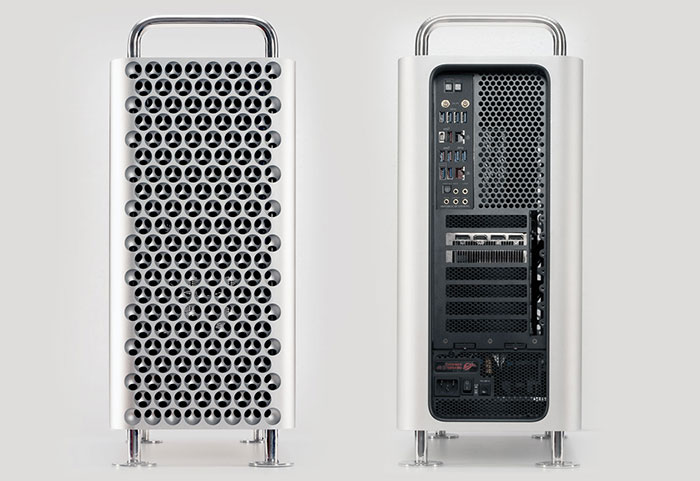 Outwardly the Dune Pro mixes the same stainless steel and sandblasted aluminium aestheitics. Even the way the front panel venting is constructed looks the same in some images. Things start to differ when the Dune Pro comes under closer observation and is readied for components. It doesn't use the swivelling handle - opening chassis mechanism, for example, rather users just clip off the side panel to gain access, like with most PC desktops.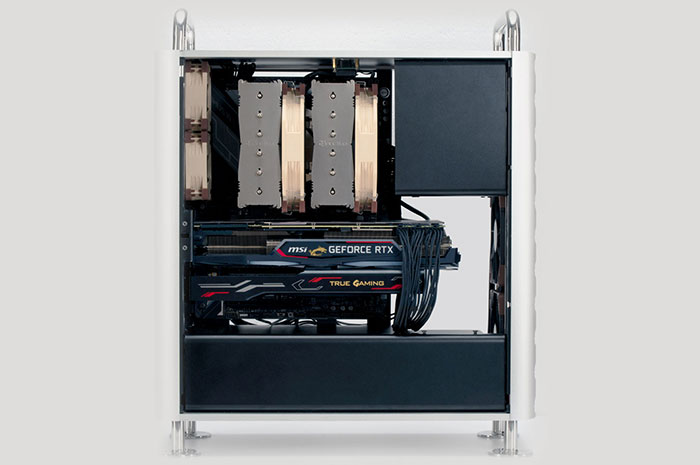 Dune Pro specs
Dimension: 8.58 in x 17.7 in x 20.8 in, 218 mm x 450 mm x 529 mm
Form Factor: Mid-tower Chassis
Material: Aluminium (3mm), Stainless Steel Handles & Feet
Motherboard Support: EEB *(width 341.5 mm, 13.4 in), E-ATX ATX, Micro ATX, Mini ITX
Top I/O: USB3.1 Type-C (Type-E Male) *Supports USB3.1 Gen 2, USB3.0 Type-C (USB3 20Pin), Reset Button
PCI-e expansion: 7 Slots
Hard drive support: 11 x Internal 3.5, 5 x Internal 2.5
Front cooling options: 120mm fan 3x, 140mm fan 2x, 360mm, 240mm, 120mm (2x) water-cooling radiator, 140mm (2x), 280mm water-cooling radiator
Rear cooling: 80mm fan 2x
Graphic card clearance: 250mm (9.8 in) HDD enclosures installed, 380mm (14.9 in) without HDD enclosure
CPU Cooler clearance: 160mm (6.3 in) [Noctua D15 supported]
PSU length clearance: 200mm (7.8 in) bottom HDD enclosure installed, 320mm (12.6 in) without HDD enclosure
PC World's Gordon Mah Ung does his Jonny Ive impression
Pricing and estimated availability details will be released when the Kickstarter project opens, this time next week.
Dune previously launched the 'Dune Case' which looked rather similar to the Mac Pro cylinder style computer. This $199 Mini ITX / SFX case is still not generally available at the time of writing but "will be available for pre-order soon," with beta hardware currently available for reviewers.