Apple kicked off its Worldwide Developers Conference (WWDC) in San Jose yesterday evening. The firm made a decent number of significant announcements but probably the most interesting for tech enthusiasts was the unveiling of the all-new Mac Pro computer and Pro Display XDR monitor.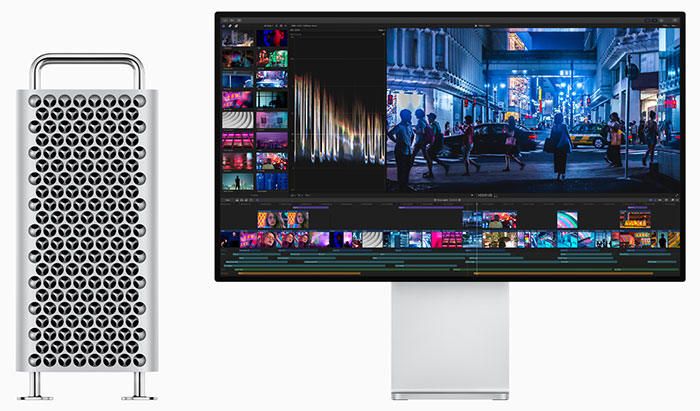 From the outside the new Mac Pro looks to be a reworking of the old PowerMac G5 tower but its front perforations and handles have been reworked. Furthermore, for lugging this 18kg, 52 x 45 x 22cm machine around, buyers can even spec it with wheels.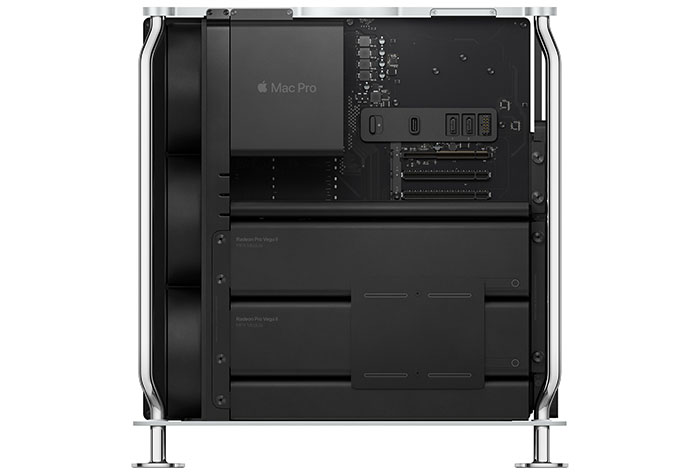 Inside the all-new Mac Pro buyers have a range of powerful options they can configure. For brevity and clarity I have bullet pointed the choices and base specs below:
Support for up to 28C/56T Intel Xeon W processor,
You can configure up to 1.5 terabytes of DDR4 ECC system memory (12x 128GB DIMMs),
Up to 4TB of built-in SSD storage with up to 2.6GB/s sequential read and 2.7GB/s sequential write
8 internal PCI slots (four double-wide, 3 single-wide, one half-length slot for an IO board that has two USB-3 ports and two Thunderbolt 3 ports),
Two MPX modules for up to four GPUs - delivering up to 56 teraflops of graphics performance (with two Radeon Pro Vega II Duo graphics cards),
Apple Afterburner accelerator card - featuring a programmable ASIC capable of decoding up to 6.3 billion pixels per second capable of decoding "up to three streams of 8K ProRes RAW video or 12 streams of 4K ProRes RAW video in real time",
A 1.4 kW power supply,
I/O card featuring 2x USB 3.0 ports, 2x Thundebolt 3 ports, two 10Gb Ethernet ports. Wi-Fi ac and BT 5 are also supported
It is "As quiet as an iMac Pro",
The base system features an 8-core Intel Xeon processor, an AMD Radeon Pro 580X, 32GB of memory, and a 256GB SSD, from a price of US$5,999 (from Autumn).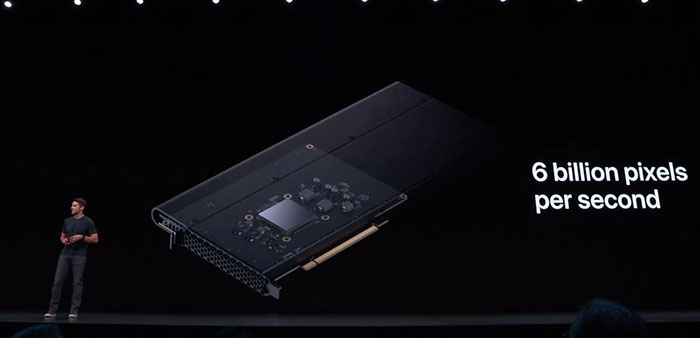 Afterburner ASIC card
Apple has launched a companion monitor that will be a good match for your new Mac Pro. The new Apple Pro Display XDR is a 32-inch Retina 6K display. Apple says that it is so far beyond HDR it has coined the acronym XDR, meaning "Extreme Dynamic Range". Pro Display XDR produces an industry-leading 1000nits of full-screen sustained brightness and 1600nits at its peak. It has a 1,000,000:1 contrast ratio and superwide viewing angle. For colour reproduction this display offers a true 10-bit colour depth and P3 wide gamut. Furthermore, the screen is engineered for extremely low reflectivity - low glare.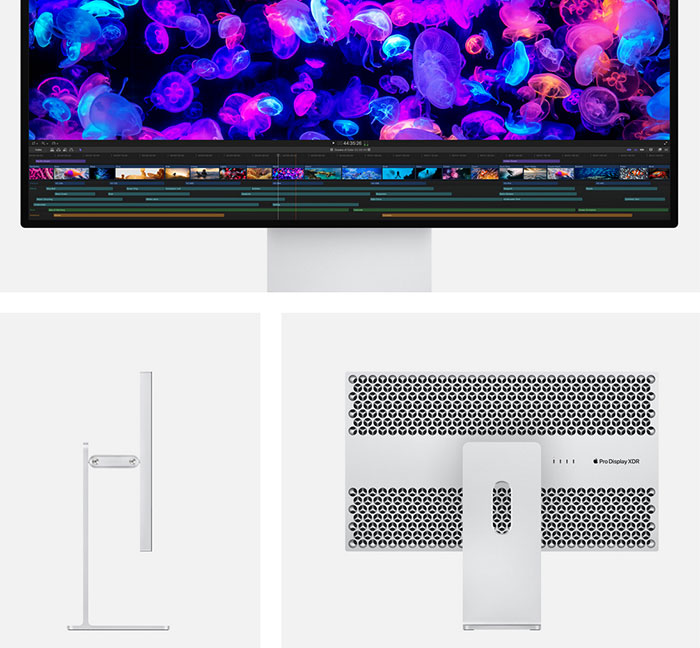 Using the Apple Pro Display XDR, content creators will have a canvas upon which to easily manipulate 4K content, and al their tools on one screen. Apple calibrates the screen and backlight LEDs and the screen offers reference modes for checking content on intended target devices. For connecting to this monitor you will use the single Thunderbolt 3 (USB-C) port. It also features three USB-C (USB 2) ports for charging or syncing. Full tech specs are available here.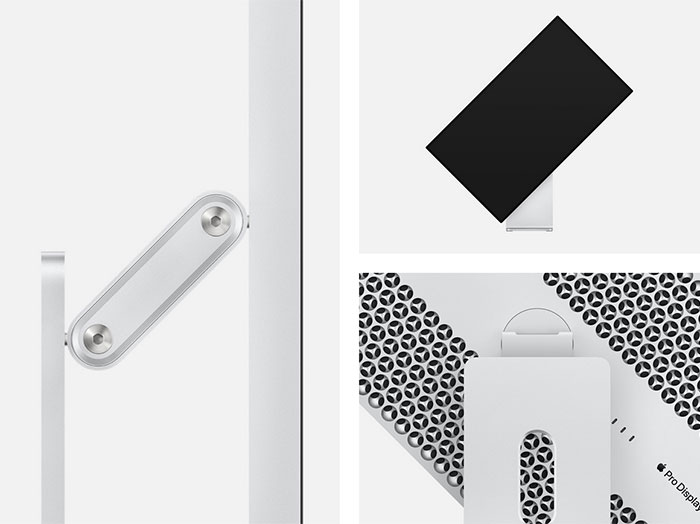 Considering the physical qualities of the Apple Pro Display XDR, you will first see that it shares the design aesthetic of the all-new Mac Pro. The air vents in this case are said to facilitate the airflow necessary to sustain high levels of brightness over long periods. The supplied stand (VESA mount available if required) is adjustable in the expected height and tilt, and but can rotate the screen to portrait mode.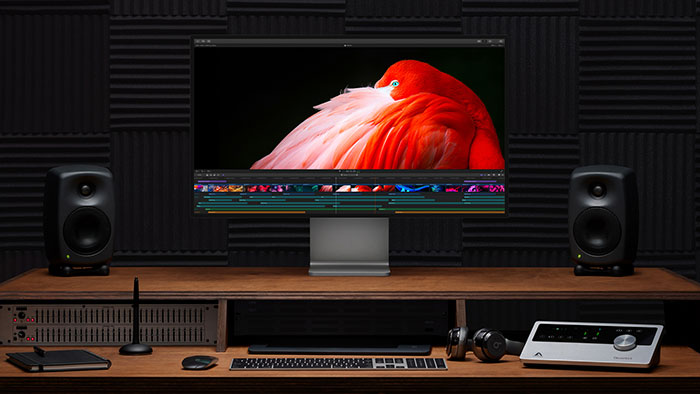 The Apple Pro Display XDR costs from $4999 with standard glass finish - but without the Pro Stand ($999) or VESA adaptor ($199).