This summer HEXUS was at Computex 2019 and enjoyed a guided tour of the InWin booth where the firm was showing off a wide range of PC chassis designs from the minimalistic traditional aluminium (InWin 905), through kitsch BAD and fabric (InWin Alice), to organics-inspired avant-garde constructs (InWin Yong). The InWin Yong range of five base designs, each with hundreds of permutations of tweaks configurable online in the customisation stage, are now available in Europe.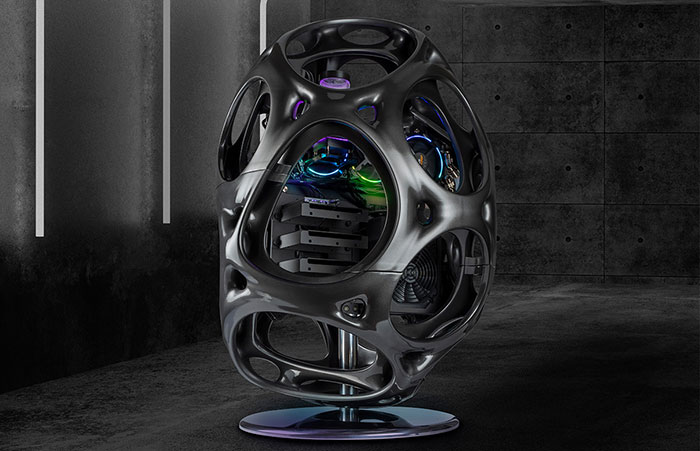 InWin started making Yong full tower chassis available to order worldwide about three weeks ago but only today announced the full range is available in Europe. To recap, the Yong chassis is inspired by nature. Its original form resembled a butterfly's pupation stage but other inspirations from nature were said to include bird bone structure - well known for its lightness and strength.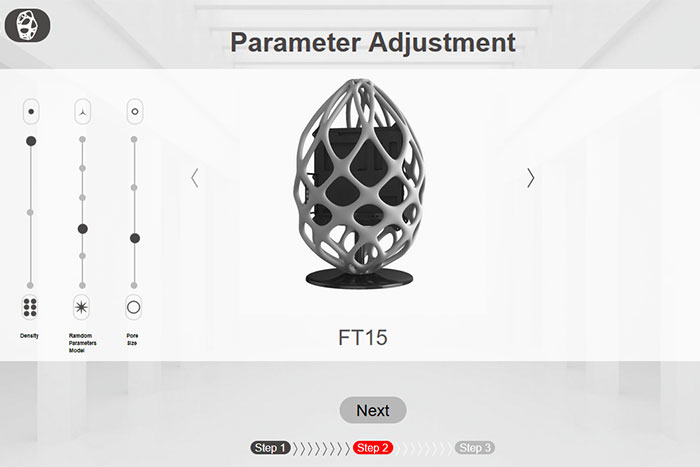 Now, if you head on over to the Yong customise page you will be presented with five base forms. On clicking on one of these you are taken to the parameter adjustment page where you adjust a trio of sliders for density, randomness, and pore size. Next you can save and download your design or go on to add it to the cart, which will send you to the checkout page, with an example shown below.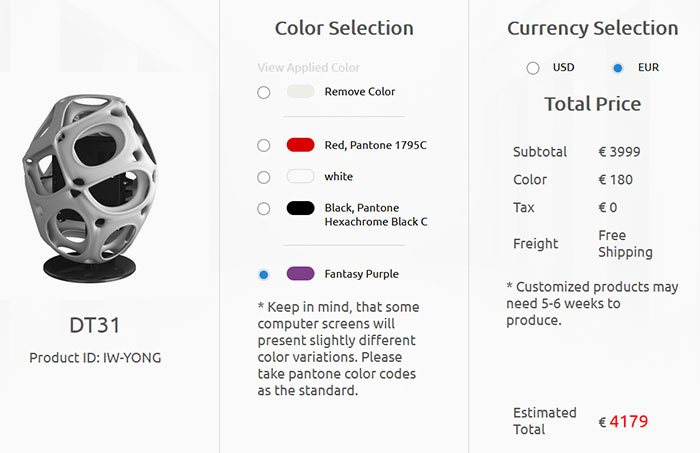 In the checkout area some further customisation takes place - I think it is here as the colour choice affects pricing. I tried a few designs and it seems like no-added colour is a free options, red, white or black finishes add €90 to the price and the fantasy purple option adds €180 to the total. You might be looking at the price on my screenshot - yes, the base price is €3,999 (or $4,399 in the US).
It takes 5 or 6 weeks from order for your one-of-a-kind Yong chassis to arrive. The reason for the slow shipment is that each Yong is 3D printed and then has to go through "13 different complicated and delicate processes of shaping and polishing by hand to ensure each enclosure meets our visionary standards," explains InWin.
Specifications
Model: Yǒng
Part Number: IW-YONG
Case Type: Full Tower
Materials: Aluminium, Dimengel
M/B Compatibility: 12" x 13" E-ATX, ATX, Micro-ATX
Expansion Slots: PCI-E x 8
Maximum Compatibility: VGA Card Length: 340mm Maximum (GPUs with unique designs may prevent installation), CPU Heatsink Height: 170mm (CPU Die Surface to Side Panel)
I/O Ports: 1 x USB 3.1 Gen 2 Type-C, 2 x USB 3.0, HD Audio
Internal Drive Bays: 8 x 2.5" / 4 x 3.5"
Thermal Solution Compatibility: 3 x 120mm Side Fan / 360mm Radiator, Side: 50mm Maximum Height including Fans (Radiators with unique designs may prevent installation)
Power Supply Compatibility: PSII: ATX12V and EPS12V, - Length: 210mm Maximum
Product Dimensions: (H x W x D) 750 x 593 x 604mm - 880 x 650 x 740mm,29.6" x 23.4" x 23.8" - 34.7" x 25.6" x 29.2" (The product dimensions vary depending on the shape.)
Net Weight: 12.5kg - 14.7kg ,27.6lb - 32.4lb