Corsair has quietly unveiled a new Carbide family, value mid-tower chassis. The new Corsair Carbide SPEC-05 Mid Tower PC gaming case is listed on various online retailers here in the UK with imminent availability - towards the end of this week.
The Corsair Carbide SPEC-05 mid-tower offers an understated appeal with its matt black steel smooth edged design. The front features a hockey stick shaped intersection which is an air intake and through which you can see the glow of an internal 120mm red LED lit fan (included in price). Providing higher-end looks is a full transparent side panel which is acrylic but affixed in a way that mimics tempered glass designs. Out last observation about the exterior is that the I/O is situated along the top front edge and features (left to right) a recessed power button, USB 3.0 port, USB port, headphone socked, mic socket, and reset button.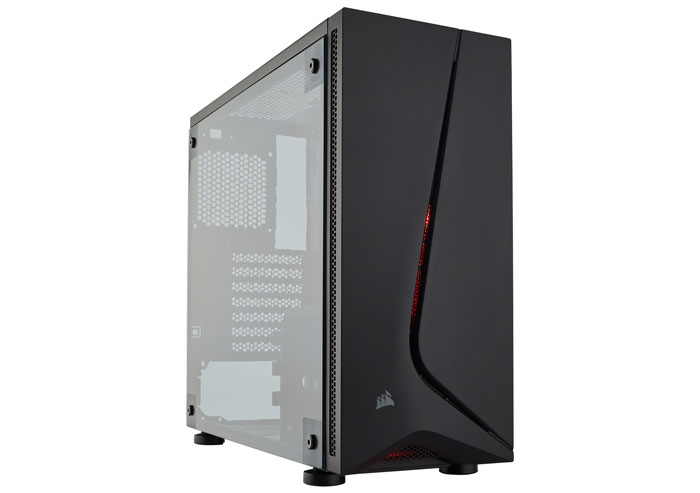 Inside the 199 mm x 483 mm x 433 mm (WxDxH) 4kg mid-tower you should find ample room for expansion with 7 expansion slots. With respect to cooling there is room for either 3x 120mm fans or 2x 140mm intake fans in the front, 2x 140/120 mm top exhaust fans, and a 120 mm rear exhaust fan. The case is alternatively compatible with various radiators of 120, 140, or 240mm in size such as supplied with the Corsair H55, H60, H75, H80i, H90, H100i LCS. Removable dust filters are fitted to keep the innards clean.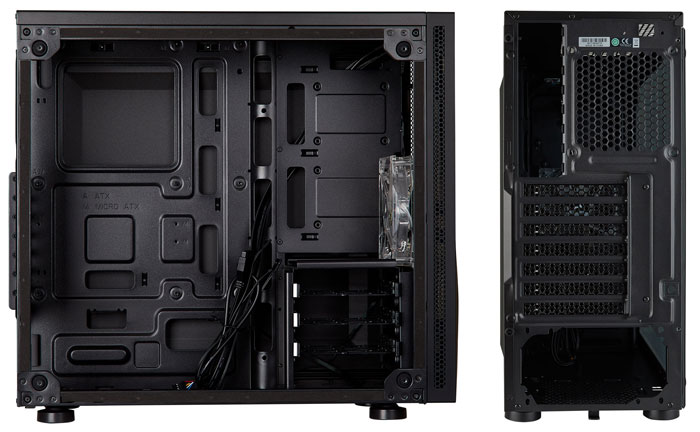 Component storage capacity isn't great but should be ample for most with room for 3x 2.5 and 2x 3.5-inch drives. On the topic of capacity, the SPEC-05 has maximum compatibility of 370mm for GPUs, 150mm for cooler height, and 180mm for PSU length. Cable routing cut outs and tie-down points make for a clean build with uncomplicated airflow.
The Corsair Carbide SPEC-05 looks like it will be available by Friday, according to the listing at Scan Computers. There it is priced at RRP, of £49.99. In other regions the chassis is priced at US$49.99 or €55.