HEXUS reported on Vodafone UK's 5G rollout plans back in mid-May. At that time we got to see an outline of its rollout plans which included switch on locations at launch and throughout 2019. Additionally Vodafone shared details about its launch devices which could make the most of 5G connectivity, and announced 5G roaming in four European countries.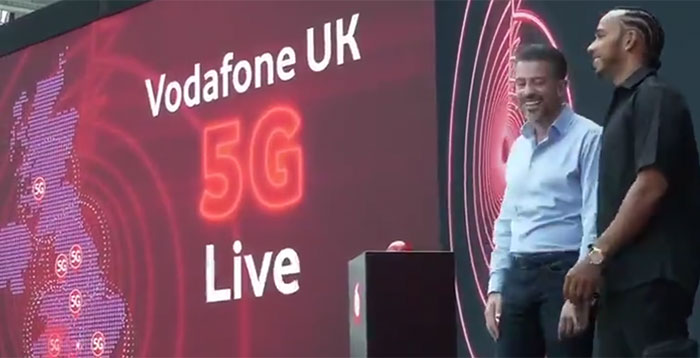 Today Vodafone 5G has gone live in Birmingham, Bristol, Cardiff, Glasgow, Manchester, Liverpool and London (and in 27 cities in total across Europe). Formula 1 champion race driver Lewis Hamilton pushed the big red button to active it… Importantly, with the service turned on, we can now look at the prices and plans it is implementing.
No premium for 5G
Vodafone's 5G offering in the UK is said to come without any premium pricing attached. Furthermore, the firm is offering unlimited mobile data plans from £23 pcm. There is a catch, however, in the way Vodafone structures its plans, as you will see in the overview table below.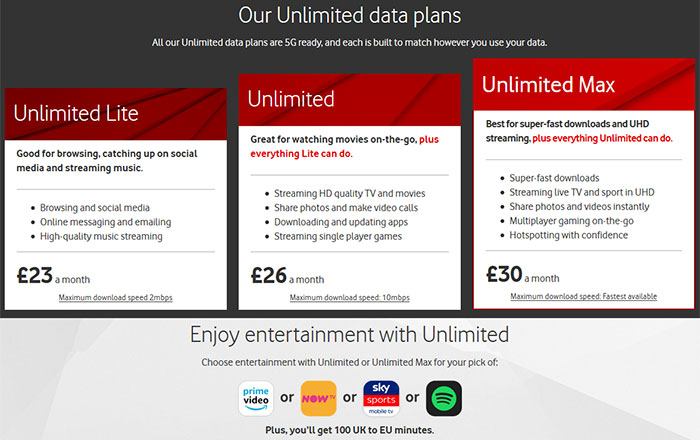 In brief, to get the most of what 5G is often said to represent you will probably want to choose the 'Unlimited Max' plan which allows your mobile device to connect without any throttling all the time. There looks to be some video/audio streaming service bundling too, however these plans aren't ready to subscribe to until 10th July, for some reason. You can sign up for notifications of the plans going live, if you are interested.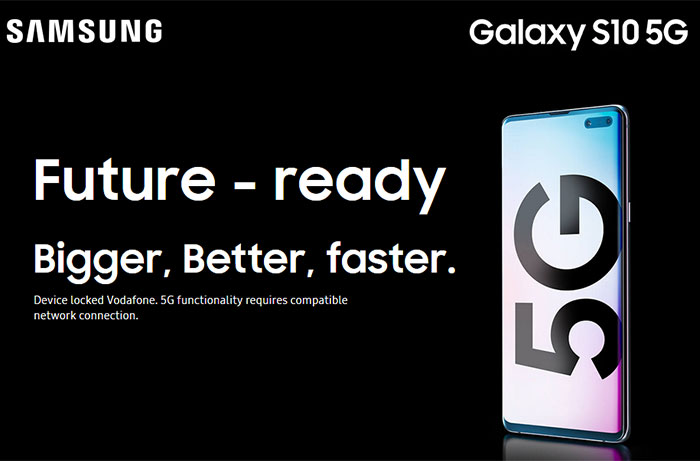 In addition to the above, Vodafone has a couple of 5G phones / contracts available featuring the Samsung Galaxy S10 5G, the Xiaomi Mi MIX 3 5G, and the (Huawei) Vodafone 5G GigaCube router. If you follow that router link you will see a sextet of 5G home broadband options available. From the trio of 18 month contract options, unlimited 5G data costs £50pcm, a 200GB allowance costs £40pcm, and a 100GB allowance is £30pcm. You will also face an upfront cost varying from £50 to £100 with these contracts - to help pay the router cost I guess. The 30-day contracts all come with a one-off fee of £325 for the router, and then the data charges are the same as the 18-month offerings but you can opt in and out very easily month to month.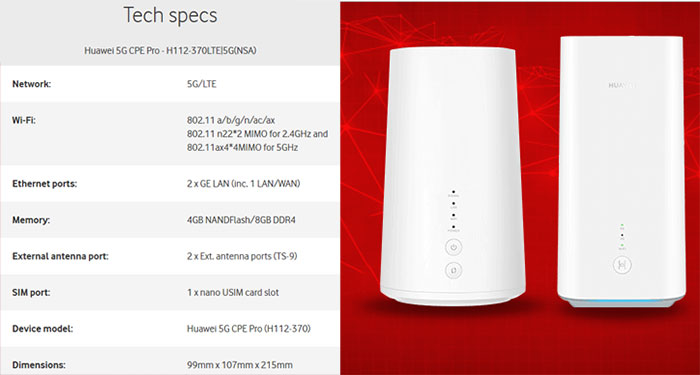 Vodafone is making some other tweaks and changes to its mobile and broadband offerings today. Firstly, it is said to be simplifying its Red plans from 10th July. Secondly, the new Vodafone Together plans combine unlimited mobile plans and home broadband in one deal, on one bill, all managed from the My Vodafone App. For example customers can get Unlimited Max and Vodafone Superfast Broadband 1 plus a free Amazon Echo Plus for £50pcm, extra family lines come with a 15 per cent discount.
HEXUS recently reported upon EE's 5G launch, EE's 5G mobile broadband plans, and Three's 5G launch plans for August - if you want to get up to speed with UK 5G service. The other member of the 'big 4', O2, hasn't released any 5G news recently, but we know it plans to roll out its 5G services before the summer is out.